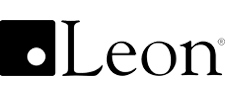 Leon Speakers is an American manufacturer of custom audio and audiovisual solutions that combine art with audio, design, and technology. Established in 1997, Leon's team of artists, designers, engineers, and craftsmen meticulously handcraft a full palette of custom speakers and media treatments that deliver Picture Perfect Sound® to any environment. Leon products are available exclusively through a global network of high-end audio/video dealers.
Visit www.leonspeakers.com or call (888) 213-5015 to learn more.
Leon Speakers will be exhibiting their full lineup of products at this year's InfoComm 2018 show (booth N2938) in Las Vegas from June 6–8. The company will be introducing new models to their in-ceiling line and showing an expansion of their outdoor speaker portfolio resulting from their recent acquisition of Terra Speakers. After much anticipation, the Axis Pro Design Series will be debuting at InfoComm 2018, the first commercial-grade in-ceiling speakers that Leon has offered.
read more
Ready to create content that wins?
Let's start the process with a quick no-pressure conversation.