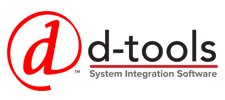 CEDIA BOOTH #2512
D-Tools Announces New Third Party Software Integrations at CEDIA 2016
As part of its ongoing mission to provide integrators with a comprehensive end-to-end solution, D-Tools announces integrations with popular third-party software that serve to complement its core business platform for home technologists

D-Tools Inc., the worldwide leader in data-driven system integration software, announces integrations with several third party software providers in order to extend the reach and increase the value of its flagship software platform, System Integrator 2016, at CEDIA booth #2512 in the Kay Bailey Hutchinson Convention Center in Dallas, Texas, September 15 – 17.
These strategic partnerships move D-Tools closer to its goal of providing AV, IT, and security system integrators and consultants with a complete end-to-end solution that allows data to flow seamlessly throughout the project lifecycle – from initial client contact through the ongoing service relationship. D-Tools' API and integration strategy is an integral component of the company's core vision – to provide integrators of every type and size with a software platform that gives them the flexibility to select and adopt the various tools that best suit the needs of their business.
Initially, D-Tools SI 2016 will integrate with the following best-of-breed software solutions:
Connectwise – This business management platform combines help desk and customer service, CRM, marketing campaigns, and project management, along with business analytics, in one cloud-based solution. This integration adds D-Tools' powerful estimation and drawing capabilities to form a more comprehensive solution from the initial point of contact in a new sales opportunity through servicing and invoicing.
Slateplan – Modern sales software for the home technology industry, Slateplan helps salespeople and their customers collaborate, learn about and select the right products, and agree on budget, all during a single meeting. Slateplan accelerates the sales process, promotes client engagement and eliminates pre-sales engineering hours. When integrated with D-Tools' data-driven platform, Slateplan customers benefit by using their existing D-Tools product catalog which results in quick and accurate scope and budget development.  Further, that same product and labor data can then be pushed back into D-Tools to streamline the process of generating professional proposals.
TRX.io – This state-of-the-art inventory and asset management solution provides real-time tracking and management of all inventory, whether in the warehouse, in a technician's van, or on-site, allowing for clear and consistent communication of product whereabouts between staff members. The integration with D-Tools allows technology professionals to accurately track products from procurement through installation, better manage inventory, replace manual processes, eliminate inventory-related accounting errors and inaccuracies and, as a result, improve cash flow and overall profitability.
Ihiji – When D-Tools integrates with Ihiji's new, award-winning ServiceManager, users will benefit from streamlined project documentation, trouble-ticket tracking, and service management to create greater efficiencies and better ongoing service. All project details including customer information, product information, and even engineering drawings will flow seamlessly from D-Tools into Ihiji's ServiceManager, ensuring data integrity and a seamless workflow as a project moves from completion to post-installation servicing.
ProjX360 – A future integration planned with this platform will enable users to utilize ProjX360's sales CRM and project management tools without the need for double data entry, allowing critical project information to maintain its integrity and seamlessly flow between the two systems. Users of this integrated solution will be able to more effectively manage every aspect of a project's lifecycle from initial client contact through estimation, system design, installation, and post-installation service.
"For system integrators, the ability to utilize these other best-of-breed solutions in combination with the D-Tools platform creates a true end-to-end software solution in which data flows seamlessly through the project lifecycle," says D-Tools CEO Randy Stearns. "As part of our long-standing mission to streamline the business process for the thousands of system integrators that we serve, these initial integrations, and those that will follow, move us substantially closer to that goal."
Increased Capabilities for SI 2016 R2
In addition, D-Tools SI 2016 R2, introduced for the first time at CEDIA 2016 and available as a free upgrade to current D-Tools customers, provides users with the capabilities to import project information from Middle Atlantic's Configurator software and Portal by SupplyStream directly into SI 2016, making generating bids, proposals, equipment lists and project documentation even faster and easier.
Support for AutoCAD 2017 and an all-new, clean pdf file import process in Visio are among the improvements to D-Tools' legendary drawing capabilities.
CEDIA attendees interested in seeing the enhancements to D-Tools SI 2016 R2 and receiving a demonstration of the software platform should stop by booth #2512 during the show or visit www.d-tools.com for more information.
About D-Tools, Inc.
D-Tools, founded in 1998 and based in Concord, California, is a worldwide leader in accessible, highly accurate system design and documentation software. The company's flagship product, System Integrator™ (SI), is a robust solution that utilizes Autodesk® AutoCAD and Microsoft® Visio to facilitate comprehensive system design, documentation and project management. D-Tools enables residential and commercial integrators to streamline business processes and increase revenues while reducing the time and cost associated with the installation and integration of low-voltage electronic systems. More than 5,000 leading companies in 87 countries currently use the award-winning D-Tools platform to reduce time, costs and to streamline the system integration process. Product updates and related information can be obtained at www.d-tools.com or by following D-Tools on Twitter, Facebook, and on LinkedIn.
Press Contacts

Tim Bigoness, D-Tools, Inc.,  (925) 270-4102, [email protected]
Katye (McGregor) Bennett, KMB Communications, Inc., (425) 328-8640, [email protected],www.kmbcomm.com
MVP Contact
Josh Carlson, D-Tools, Inc., (925) 270-4105, [email protected]
All products, product names, trademarks and registrations are the property of their respective owners, all rights reserved. # # #