FOR IMMEDIATE RELEASE
D-Tools and TRXio Integration Adds Inventory Tracking and Management to the System Integrator Platform
New API integration between D-Tools and TRXio platforms simplifies inventory management and improves operational efficiency
CONCORD, CA — January 10, 2017 — D-Tools, Inc., the worldwide leader in data-driven system integration software, and TRXio, a state-of-the-art inventory management and asset-tracking solution for the audiovisual industry, announced today that a API integration between the two platforms is officially available. The D-Tools and TRXio API integration includes inventory tracking and management to ensure data integrity throughout project lifecycle and provides a seamless workflow from the initial proposal through installation. Not only does this give users the ability to track products from procurement through installation, they will also be able to better manage inventory and, as a result, improve cash flow and overall profitability.
When used together, D-Tools' estimation, system design, and project management platform and TRXio's inventory management and asset-tracking solution enables system integrators to have a comprehensive project workflow that delivers the tools they need, both in the office and in the field, to increase productivity and profitability. Through this integration, D-Tools users will benefit from a number of enhancements that can be realized across multiple departments within their organizations, including:
Ready access to product status (i.e. requested, purchased, received, staged, delivered) throughout the project workflow
Precise inventory tracking that leads to time and cost savings
Reduced need for communications between the office/warehouse and the field
Increased field efficiency
Reduced inventory for better cash flow management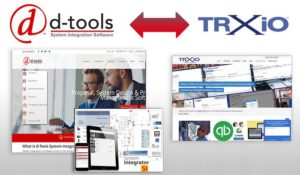 To introduce and share details of the new API integration, a webinar is being offered on Thursday, January 12, 2017 from 1:00 – 2:00 p.m. EST. The session, "Improve Operational Efficiency with D-Tools and TRXio" will teach participants how to execute a seamless workflow from the initial proposal through the install. Space is limited, register here to reserve your spot.  
Those interested in learning more about the new D-Tools and TRXio API integration, should visit http://d-tools.com/trxio_integration/.
To see how D-Tools and the company's award-winning System Integrator software platform drive proven results are encouraged to register for a demonstration by visiting http://d-tools.com/live-demo-webinar/. A free 30-day trial can be downloaded by following this link http://d-tools.com/30-day-free-trial/.
About D-Tools, Inc.
D-Tools, founded in 1998 and based in Concord, California, is a worldwide leader in accessible, highly accurate system design and documentation software platform. The company's flagship product, System Integrator™ (SI), is a robust solution that utilizes Autodesk® AutoCAD and Microsoft® Visio to facilitate comprehensive system design, documentation and project management. D-Tools enables residential and commercial integrators to streamline business processes and increase revenues while reducing the time and cost associated with the installation and integration of low voltage electronic systems. More than 5,000 leading companies in 87 countries currently use the award-winning D-Tools platform to reduce time, costs and to streamline the system integration process. Product updates and related information can be obtained by following D-Tools on Twitter, Facebook, and LinkedIn.
About TRXio, powered by Cairnstack Software:
The single largest point of loss and misuse of resources that a business can control is directly tied to physical inventory and assets. Knowing this key link in the chain for all businesses large and small, Cairnstack Software was developed from being a custom built internal application to a commercial grade inventory management and traceability solution for several industries that include, fresh produce, medical equipment and even sporting goods. Reid Hanson, founder, has been a CE industry veteran for 20 years it made sense to bring the 'best practice' tools back to the CE industry. With users around the globe, TRXio is delivering real clarity of inventory levels and locations while keeping costs low with a subscription-based cloud application. For more information, please visit http://www.trxio.com/about/. Keep up with the latest news by connecting with TRXio on Facebook, Twitter and LinkedIn.
D-Tools Media Contacts 
Tim Bigoness, D-Tools, Inc., (925) 270-4102, [email protected]
Katye (McGregor) Bennett, KMB Communications, Inc., (425) 328-8640, [email protected]
TRXio Media Contacts 
Brittany Schwartz, TRXio powered by Cairnstack Software, 844-TO-TRACK, [email protected]
Morgan Roush, Marketing Matters, (954) 925-1511 ext. 1, [email protected]
MVP Program Contact
Josh Carlson, D-Tools, Inc., (925) 270-4105, [email protected]
All products, product names, trademarks, and registrations mentioned are the property of their respective owners, all rights reserved.
# # #