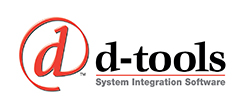 FOR IMMEDIATE RELEASE
D-Tools CEDIA Booth #2512
D-Tools Manufacturer Vantage Point (MVP) Partners Showcase New Products CEDIA Expo 2016
CONCORD, Calif. (September 1, 2016) — D-Tools Inc., the worldwide leader in data-driven system integration software, today announced that a record number of the company's Manufacturer Vantage Point (MVP) partners will be exhibiting at CEDIA Expo 2016, being held September 15-17 in Dallas, TX. Over 85 brands will showcase their latest solutions at CEDIA Expo, the world's premier showcase for home technology.
By participating in D-Tools' MVP program, manufacturer partners ensure systems designers, specifiers, integrators, and installers using D-Tools System Integrator (SI) estimation, design, and project management platform have access to the most up-to-date and detailed product information available, in a format that can be utilized effectively in a cross-functional capacity to deliver maximum workflow efficiency. It also gives manufacturer partners critical insights and a direct connection with the D-Tools user database, which helps build customer loyalty by ensuring that dealers have the information they need to recommend, specify, install and integrate its products. SI users are granted free access to the D-Tools product library and MVPs have the ability to track how many dealers are downloading product data by day, month, or year, and monitor which products are being downloaded in order to gain valuable insights and better manage their pipeline.
The following D-Tools MVP partners will be exhibiting at CEDIA Expo 2016:
Those interested in learning more about the D-Tools MVP Program or D-Tools System Integrator platform are encouraged to visit D-Tools CEDIA booth #2512, or visit www.d-tools.com, call (925) 270-4105, or e-mail [email protected] or [email protected].
About D-Tools, Inc.
D-Tools, founded in 1998 and based in Concord, California, is a worldwide leader in accessible, highly accurate system design and documentation software platform. The company's flagship product, System Integrator™ (SI), is a robust solution that utilizes Autodesk® AutoCAD and Microsoft® Visio to facilitate comprehensive system design, documentation and project management. D-Tools enables residential and commercial integrators to streamline business processes and increase revenues while reducing the time and cost associated with the installation and integration of low voltage electronic systems. More than 5,000 leading companies in 87 countries currently use the award-winning D-Tools platform to reduce time, costs and to streamline the system integration process. Product updates and related information can be obtained by following D-Tools on Twitter, Facebook, and LinkedIn.
 Media Contacts 
Tim Bigoness, D-Tools, Inc., (925) 270-4102, [email protected]
 Katye (McGregor) Bennett, KMB Communications, Inc., (425) 328-8640, [email protected]
MVP Program Contact
Josh Carlson, D-Tools, Inc., (925) 270-4105, [email protected]
All products, product names, trademarks, and registrations mentioned are the property of their respective owners, all rights reserved. # # #