FOR IMMEDIATE RELEASE
D-TOOLS AND DOMOTZ PARTNER TO LAUNCH SPEEDY NETWORK MANAGEMENT SETUP FOR D-TOOLS USERS AT ISE 2017

D-Tools System Integrator (SI) users can now write specifications in D-Tools software and import them directly into Domotz PRO

CONCORD, CA & AMSTERDAM, NL – January 30, 2017 – D-Tools, the worldwide leader in data-driven system integration software, and Domotz, a leading provider of network monitoring and remote tech support systems for integration companies and IT professionals, announced today that an integration between the two platforms to facilitate the on-going monitoring and maintenance of systems designed in D-Tools System Integrator (SI) has been completed and is now available to those utilizing the D-Tools platform. This integration streamlines the process of setting up a new network for remote management with Domotz PRO.
"Acknowledging that the installation phase of a project is typically the beginning of a long-term customer relationship," said Randy Stearns, CEO of D-Tools, "the integration with Domotz enables D-Tools users to plan for ongoing service and monitoring from the outset of every client engagement."
"Even though setting up Domotz PRO is already easy, our partnership with D-Tools will make this process much quicker and even more seamless," said Domenico Crapanzano CEO & Founder of Domotz. "By working with D-Tools we're able to reduce the new network set-up time down to merely minutes, which will save our integrators a lot of time and equip them for wide scale roll-out of the technology."
Streamlined Network Blueprinting and Setup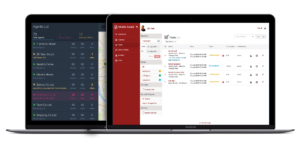 The D-Tools SI software is used in over 5,000 companies globally to increase productivity and efficiency by bringing together estimation, system design, and project management into a single data-driven process. Now any user writing specifications for a project with D-Tools will be able to upload all device information to Domotz PRO without having to re-input device names and location information.
Upon setup of Domotz PRO with D-Tools device information, all recognized devices on the network will automatically be matched with their corresponding names and rooms. Then the software will guide the user through matching any unidentified devices with their correct name and room. At a later phase of the integration, any changes made in the D-Tools software to device names and rooms will also be automatically reflected in Domotz PRO.
D-Tools Feature Launch & Availability

The new D-Tools feature will be delivered in Domotz PRO in Q1 2017.
To see how D-Tools and the company's award-winning System Integrator software platform drive proven results, register for a demonstration by visiting http://d-tools.com/live-demo-webinar/. A free 30-day trial can be downloaded by following this link: http://d-tools.com/30-day-free-trial/.
ABOUT DOMOTZ
Founded in 2014, Domotz' develops remote network management, monitoring and tech support systems for integration companies, IT professionals and hardware manufacturers. With more than 15 million downloads, Domotz's Fing app is the #1 network scanner for iOS and Android. It's flagship Domotz PRO solution is powering client care in 90+ countries and is used by leading integration companies like Magnolia at Best Buy.  Domotz PRO recently won the Consumer Technology Association's TechHome Mark of Excellence for Installation/Technology Management Product of the year in 2017.
A quickly growing player in the smart home space, Domotz has established partnerships with 10+ leading hardware manufacturers including Luxul, Crestron, Lutron, Dish, HD Anywhere and many more.
For more information about Domotz solutions visit www.domotz.com.
ABOUT D-TOOLS
D-Tools, founded in 1998 and based in Concord, California, is a worldwide leader in accessible, highly accurate system design and documentation software platform. The company's flagship product, System Integrator™ (SI), is a robust solution that utilizes Autodesk® AutoCAD and Microsoft® Visio to facilitate comprehensive system design, documentation and project management. D-Tools enables residential and commercial integrators to streamline business processes and increase revenues while reducing the time and cost associated with the installation and integration of low-voltage electronic systems. More than 5,000 leading companies in 87 countries currently use the award-winning D-Tools platform to reduce time, costs and to streamline the system integration process. Product updates and related information can be obtained at www.d-tools.com or by following D-Tools on Twitter, Facebook, and on LinkedIn.
D-Tools Media Contacts 
Tim Bigoness, D-Tools, Inc., (925) 270-4102, [email protected]
Katye (McGregor) Bennett, KMB Communications, Inc., (425) 328-8640, [email protected]
MVP Program Contact
Josh Carlson, D-Tools, Inc., (925) 270-4105, [email protected]
All products, product names, trademarks and registrations mentioned are the property of their respective owners, all rights reserved.
# # #