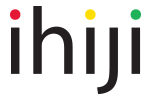 FOR IMMEDIATE RELEASE
CEDIA Booth #3329
Ihiji Announces Lifetime Licensing, Giving Dealers Option To Move Away From Monthly Subscription Charges
Lifetime licenses for Ihiji service can now be purchased with Ihiji Remote Systems Management appliances, eliminating the requirement for a monthly or annual Ihiji subscription 
Austin, TX & San Diego, CA (September 5, 2017) – Ihiji, the leading provider of Remote Systems Management (RSM) solutions for technology integrators since 2009, announces "freemium" service and the addition of no-monthly-fee, lifetime pricing options. The new pricing allows a dealer to reap the benefits of RSM without being tied to customer renewals or monthly charges. The addition of the new pricing option is one of many new announcements from the long-time provider of RSM solutions. Interested dealers can learn more about Ihiji's new pricing in booth #3329 during CEDIA, being held in San Diego, September 5-9, 2017.
The new pricing option is available starting at the CEDIA show and has attractive conversion options for dealers who wish to convert existing monthly-subscription sites to lifetime licenses. The new pricing is the result of dealer feedback as a way to simplify the deployment of RSM solutions and the business models around them.
"The Remote Systems Management category continues to evolve and the new Ihiji pricing model gives dealers more flexibility in how they chose to adopt a business model around these solutions and services," states Michael Maniscalco, Co-Founder and VP of Product at Ihiji. "We are very excited about the future with the addition of the new lifetime pricing alongside the launch of Ihiji ProVue." 
To learn more about the new pricing and the award-winning Ihiji solutions and services, see Ihiji at CEDIA in booth #3329, contact an Ihiji account manager, visit www.ihiji.com, and follow @ihiji on Twitter and Facebook. 
About Ihiji
Ihiji (eye-hee-jee) provides cloud-based SaaS solutions that empower systems integrators and technology professionals to cost-effectively deliver remote network management services to their clients. These solutions not only allow for efficient management of the network and devices that make up the Internet of Things (IoT) inside the modern home and office, they also enable resellers to create a recurring revenue stream for their business by reducing or eliminating unnecessary site visits. In fact, resellers utilizing Ihiji SaaS solutions benefit from improved network performance and uptime, along with fewer service and support concerns. An award-winning global SaaS solutions provider, Ihiji is based in Austin, Texas and is privately held. To learn more, visit www.ihiji.com and follow Ihiji on Twitter. If it has an IP… Ihiji.
All products, product names, trademarks and registrations mentioned herein are the property of their respective owners, all rights reserved.
Media Contact
For interviews, editorial appointments, or media tours, please contact Katye (McGregor) Bennett of KMB Communications, Inc. by phoning (425) 328-8640 or emailing [email protected].