FOR IMMEDIATE RELEASE | DOWNLOAD IMAGES HERE
Azione Unlimited Adds Health and Wellness Technology Firm SmartCare
Strategic vendor partnership provides members opportunity to offer 'future of senior living' to millions of baby boomers
Chester Springs, PA – (January 30, 2018) – Introducing a strategic new market for its members, Azione Unlimited (AU) is partnering with SmartCare, a St. Charles, MO-based health and wellness analytics technology firm which joins the buying group's esteemed list of vendor members. Poised to transform how 60 million older adults age in place or in senior care communities, SmartCare offers an unprecedented opportunity for residential and commercial audiovisual integrators.
SmartCare uses a cloud-based technology platform that utilizes sensor fusion to aggregate data, discretely collected through wireless sensors that track movement, room temperature, sleep habits, incontinence, and more. SmartCare's data conveys a person's current abilities to perform daily activities as well as receive special alerts, providing older adults the ability to live safer, more independent lives while giving caregivers important insight into a senior's overall well-being.

SmartCare works in any private home or senior care community. Azione dealers can also use SmartCare's unique qualities as an upsell for existing 'aging in place' clients who have already taken steps toward the adoption of technology by using conventional smart home systems.  
SmartCare can also open profit opportunities with light commercial installations in senior care communities. This is all about helping to improve the quality of life for older adults and their caregivers.
As part of the SmartCare package, integrators will combine a number of smart devices, including motion sensors, outlet covering guide lights, a bed pressure pad, and incontinence pads along with a monitoring base and wireless gateway. The base packages are expandable, too. Productive and meaningful features like showering behavior monitoring and room temperature tracking are available, to name a few. These valuable add-ons will continue to grow.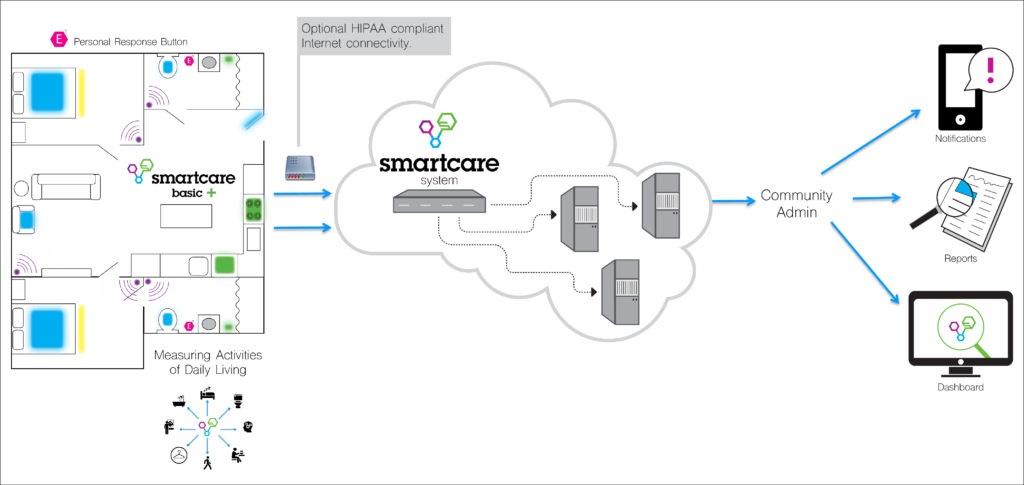 SmartCare's technology was first presented to Azione members at the 2017 Fall Conference, provoking great interest.
"SmartCare is the future of senior living. And, that future is now. We transform aging by capturing wellness trends — knowledge that connects families and caregivers to make a better and safer life possible," says SmartCare President Scott Mosher. "Azione is a forward-thinking organization and its membership is ready to embrace our offerings as yet another facet of smart home technology."  
"This is technology at its finest, smart devices being used to provide peace-of-mind for caregivers and help older adults live independently longer," says Richard Glikes, President of Azione Unlimited, the audio-video industry's only education and buying group made up of custom installers, home technology professionals, and manufacturers. "We are honored to bring SmartCare onboard and provide our dealers access to this life-changing, life-saving, easy-to-install technology for new and existing customers."
About Azione Unlimited
Azione Unlimited, the education and buying group for integrators, is a consortium of like-minded custom installers, home technology professionals, and vendors. The organization helps its members achieve greater levels of prosperity, technical acumen, and sophistication in running their businesses and serving customers. Founded by industry veteran Richard Glikes and headquartered in Chester Springs, PA, the organization is celebrating its sixth year. In addition to two high-energy, information-packed conferences per year, Azione provides its members with a host of benefits, from product discounts to educational middle management meetings, and marketing tools. Learn more at AzioneUnlimited.com. Follow on social media: Twitter @AzioneUnlimited or Facebook.com/AzioneUnlimited.
All products, product names, trademarks and registrations mentioned are the property of their respective owners, all rights reserved.
Media Contact
For interviews or media tours please contact Katye (McGregor) Bennett of KMB Communications, Inc. by phoning (425) 328-8640 or emailing [email protected].