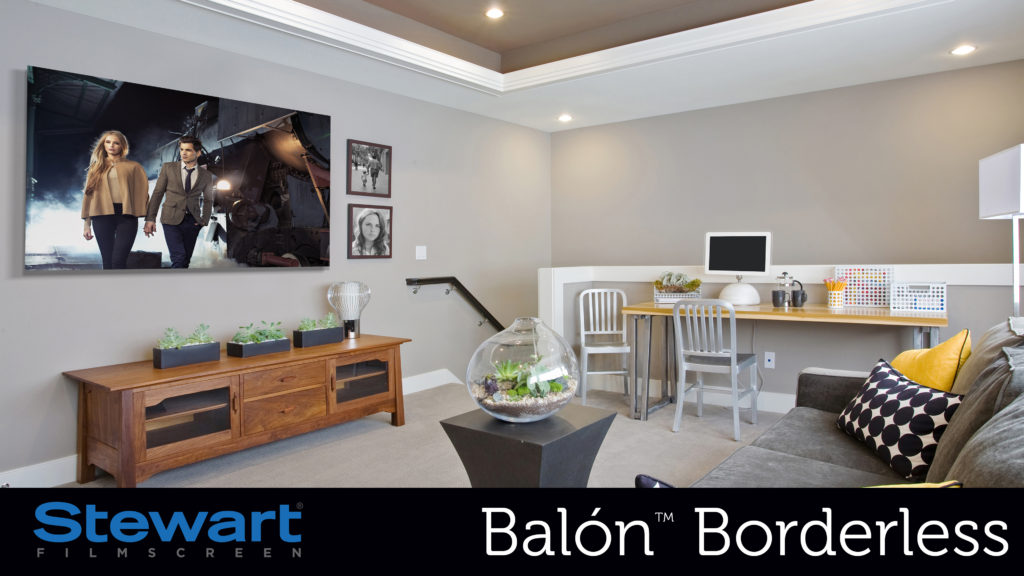 FOR IMMEDIATE RELEASE | DOWNLOAD IMAGES HERE
ISE 2018 Stand #1-F50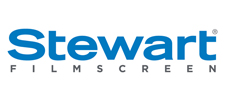 "Go Where You Wanna Go," With Stewart's Balόn Borderless
Slimmer, easier to mount, and now featuring an innovative LED Light Kit, Balόn Borderless delivers an impeccable, impressive floating image appearance
TORRANCE, CA (January 25, 2018) Stewart Filmscreen®—the only two-time Academy Award® winning manufacturer of professional projection screens and projection screen materials for the audiovisual industry, continues to build upon its 70 plus year legacy in the projection screen category. During ISE 2018, Stewart will debut a newly enhanced version of Balόn™ Borderless fixed frame projection screen for the international marketplace in stand #1-F50 at the RAI Amsterdam, taking place February 6–9, 2018.
Balόn Borderless provides a contemporary "floating image" appearance. The screen's unique beveled frame structure allows the film screen material to seamlessly wrap around the frame and snap smoothly into place, thereby eliminating any visible edge, border, or masking around the screen. Balόn Borderless utilizes Stewart Filmscreen's EZ-Mount Bracket and Telescoping Wall Mount Systems to expedite installation and ensure a consistently level image. At only 0.97-inch (25 mm) thick, or 1.10 inches (28 mm) — if back bracing is required — and with a completely smooth side profile without any visible puckering or scalloping, Balón Borderless' design focuses the audience's attention on the high fidelity image presented on the screen's surface for a more immersive entertainment experience.
Balón Borderless is available with most of Stewart Filmscreen's application driven materials, including proprietary acoustically transparent options that enable placement of speakers behind the screen for an even cleaner looking installation. Additionally, Balόn Borderless now features an LED Light Kit that easily facilitates optional LED backlighting. Balόn Borderless helps integrators and consultants tailor each projection screen experience to best suit the needs of the user, application, and environment.
"The new Balόn Borderless screen is really an exercise in refinement," says Shannon Townley, President and CEO of Stewart Filmscreen. "A borderless screen has to be perfect, and we're introducing even more design details to Balόn to make it look impeccable – whether it's lit up or not in use. Of course, you can add any of Stewart's award winning screen materials to dial it in to the environment. We think the international audience at ISE18 will want to see this beautiful screen in action."
Attendees of ISE 2018 are invited to see Balόn Borderless at the Stewart Filmscreen stand #1-F50 and, "Go Where You Wanna Go!"
About Stewart Filmscreen®
Stewart Filmscreen Corporation is the premier manufacturer of professional projection screens since 1947. Headquartered in Torrance, California, with additional facilities in Ohio and Singapore, Stewart Filmscreen is the preferred choice for major movie studios, discerning integrators and consultants, architects, and audio video enthusiasts, alike. With unparalleled ISO 9001:2015 manufacturing capabilities and unrivaled image fidelity, two-time Academy Award®-winning Stewart Filmscreen produces the most optically immaculate projection screens for the most demanding customers in the world. Utilizing proprietary material science, innovative manufacturing methods, along with a solutions-driven design team, Stewart can custom engineer a projection screen solution to meet nearly every need.
Simply put, if a screen can be imagined, Stewart Filmscreen can deliver it. Imagine it. Done.
Stewart Filmscreen Media Contact
For interviews, reviews, or media tours, please contact Katye (McGregor) Bennett of KMB Communications, Inc. by phoning (425) 328-8640 or emailing [email protected]
All products, product names, trademarks and registrations mentioned are the property of their respective owners, all rights reserved.