FOR IMMEDIATE RELEASE | DOWNLOAD IMAGES
RAYVA Appoints Abhay Bhandarkar as Chief Operating Officer
RAVYA continues to grow with an expanded sales force and now, the addition of seasoned technology and business expert Bhandarkar heading up operations
New York, NY – June 2017—RAYVA—the world's first exclusive provider of complete, consummate home theater packages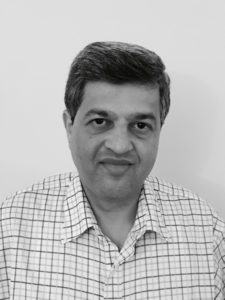 delivered to the luxury builder market on time, within budget, and to specification—announced today that it has appointed Abhay Bhandarkar, previously a consultant for RAVYA, as the company's new COO. 
"Abhay's decades of experience with both IBM and UST Global as an IT and Business system leader ensures RAYVA's commitment to exceeding our customers' expectations. Abhay excelled in his role as a consultant for RAVYA, and is very well connected not only in the technology sector but in the entertainment industry," says David Rodarte of RAVYA. "Not only do we think that he will help accelerate the growth of RAVYA and help ensure that our offerings remain both cutting-edge and top-notch, but we look forward to working with him to bring new theater designs and inspirations from overseas to the states."
In addition to his consulting role with RAVYA, Bhandarkar brings rich experience and connections from his role as Director – Engineering Business Development for UST Global, a multinational provider of IT services and solutions. He also served as Program Manager for IBM and holds an MBA in Strategy and Finance from Columbia Business School, as well as a BE in Electrical Engineering from the University of Mumbai.
"RAVYA is truly a one-of-a-kind operation and its differentiated business model is exactly what the market needs," says Bhandarkar. "I'm very happy to be a part of this exciting company poised for incredible growth."
Please contact Katye (McGregor) Bennett of KMB Communications, Inc. by phoning (425) 328-8640 or emailing [email protected].
About RAYVA
RAYVA, the world's first exclusive provider of curated, complete, and consummate home theater experiences for the CEDIA community, the luxury builders' market, and their customers, seeks to reignite consumers' passion for home theater by reimagining the category. With four all-inclusive, custom home theater solutions, RAYVA removes the barriers of complexity and the unknown to bring an exceptional technology experience into homes and bring families closer together through the magic of movies. Learn more at www.rayva.com and by following RAYVA on Twitter, Facebook, LinkedIn, and YouTube.
All products, product names, trademarks and registrations mentioned herein are the property of their respective owners, all rights reserved.
Media Contact
Katye (McGregor) Bennett, KMB Communications, Inc.,
(425) 328-8640 | [email protected] | www.kmbcomm.com
# # #