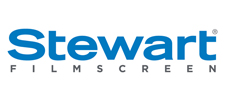 FOR IMMEDIATE RELEASE | DOWNLOAD IMAGES HERE
CEDIA Booth #5329
Stewart Filmscreen Celebrates 70 Years of Innovation with The Next Generation of People and Products at CEDIA 2017
From the innovative Phantom™ HALR™ to the Balόn™ Borderless floating screen, Stewart Filmscreen's continued legacy of excellence showcases projection screen solutions for every application
TORRANCE, CA (August 2017) Stewart Filmscreen®—the only two-time Academy Award®-winning manufacturer of projection screens and projection screen materials for the audiovisual industry, celebrates 70 years of innovation and excellence with The Next Generation during CEDIA 2017. Attendees are invited to visit Stewart Filmscreen in booth #5329 at the San Diego Convention Center, September 7- 9, 2017 to experience the latest innovations in image fidelity and visual excellence.
During CEDIA 2017, new products like Gemini™, Balόn™ Borderless, and Cascade™ make their residential debut, while others like Phantom™ HALR™ and Cima® serve to remind the integration community of what's possible. Demonstrating an unyielding commitment to meeting the ever-increasing demands of the marketplace with a contemporary approach to screen design, Stewart Filmscreen will once again showcase its legendary quality and performance.
"Over Stewart's 70-year history, innovation has driven our success. Stewart Filmscreen has brought many unique ideas to life, and as you walk the CEDIA show floor, our technology footprint is evident. Our new Gemini projection screen will give viewers the best of both worlds—unique screen solutions for immersive viewing applications. Folks who see Gemini will enjoy a truly cinematic viewing experience with films and motion pictures while having a light-rejecting material for use when the lights are on. In the age of "multi-use," Stewart is delivering a flexible, functional and superior solution to meet the practical needs of our customers," notes Shannon Townley, CEO and President of Stewart Filmscreen.
Gemini™ Dual-Roller ElectriScreen Gives the Best Image in Any Environment
The Gemini brings duality to a whole new level. With two rollers enabling users to choose the ultimate screen material for any environment, professional quality imagery comes to the home theater, family room, or elsewhere in the modern home. End users enjoy the best of both worlds: they can call every shot on game day with images so bright they'll feel like they're at the stadium, or appreciate incredible depth of detail, nestled in the dark during family movie night. Day or night, from sports to movies, Gemini provides an exceptional home viewing experience, outfitted with Stewart Filmscreen's best screen materials including Phantom HALR.
Stylish Balόn™ Borderless Screen Produces a "Floating Image" Effect
CEDIA17 marks the residential debut of Stewart's sophisticated new screen, Balόn™ Borderless, a new fixed frame projection screen system from Stewart Filmscreen that provides a contemporary, "floating image" appearance throughout the home or in dedicated theaters. Featuring a unique beveled frame structure that allows the material to wrap around and snap smoothly into place behind the screen, Balόn Borderless utilizes Stewart Filmscreen's EZ-Mount Bracket System to streamline installation and ensure a consistently level image. The borderless design focuses the audience's attention on the image providing a more immersive entertainment experience. Available with most Stewart Filmscreen materials, including proprietary acoustically transparent options, Balόn Borderless helps integrators and consultants tailor the projection screen experience to best suit the needs of the user, application, and environment.
Cascade™ ElectriScreen Combines Elegance and Image Fidelity
Stewart's new Cascade™ ElectriScreen takes over where the new and already popular, Torrent™ can't go. Illustrative of Stewart Filmscreen's contemporary new case styling and other product line refinements, this large ElectriScreen system is elegantly engineered to fit in tight spaces and areas where access or ceiling height is a challenge. Home technology professionals and residential integrators will enjoy Cascade's ease of installation, while customers will love the clean, contemporary look it provides in their home theater, media room, or family gathering space.
Phantom™ HALR™ Crushes Multi-Directional Ambient Light
Now shipping, Stewart Filmscreen's Phantom HALR (high ambient light rejection) screen represents the culmination of decades of engineering expertise. This highly differentiated 1.0 gain flexible front projection material leads the category with features not available with any other ALR screen option on the market. It can be rolled for motorized ElectriScreen configurations, perforated for acoustic transparency applications using Stewart Filmscreen's exclusive Cinemaperf or Microperf X2 THX Ultra options, is available in sizes up to 40 x 90 feet, and delivers higher resolution capabilities thanks to Stewart's proprietary chemical compositions. Proven to outperform in real world applications where light doesn't come from directly above, Phantom HALR combats multi-directional light with a scientifically proven approach that ensures the audience gets the best picture possible in the brightest of environments.
Cima® by Stewart Filmscreen – Value Engineered Solutions
Cima by Stewart Filmscreen features a lineup of right-sized and right-priced screen solutions for common applications. The Cima line is anything but typical, providing Stewart Filmscreen's legendary quality with faster shipping times and "no-wait production." When clients need the best and need it now, value-engineered Cima screens are made to fit the bill.
LuminEsse™—Sleek, Slim, and Sophisticated "Edgeless" Fixed Frame Wall Screen
Elegant and minimalistic, LuminEsse demonstrates sublime aesthetics and delivers an incredibly immersive viewing experience in virtually any environment. This award-winning fixed frame, high-performance projection screen system can be configured with most of Stewart's flexible front-projection materials, which are laminated to a super-thin, rigid substrate that ensures the screen remains flat.
Join Stewart Filmscreen's 70 Years of Innovation Celebration
Backed by an unrivaled 70-year legacy, a formidable team, and a powerful arsenal of new innovations debuting at CEDIA17, The Next Generation of Stewart Filmscreen is uniquely equipped to deliver what no other screen company can. Visit Stewart Filmscreen at CEDIA to see the latest market-worthy, field-tested, Academy Award-winning technologies and industry-leading products capable of accommodating image sizes up to 40 x 90 feet and resolutions up 16K+ and beyond.
To mark the occasion and celebrate, Stewart Filmscreen invites CEDIA17 attendees to join the team as the industry tips their glasses to toast 70 Years of Innovation and Excellence during a party in the Stewart booth #5329 on Thursday, September 7th from 3 – 5 pm. Beer and cocktails will be served.
 About Stewart Filmscreen®
Stewart Filmscreen Corporation is the premier manufacturer of professional projection screens since 1947. Headquartered in Torrance, California, with additional manufacturing facilities in Ohio and Singapore, Stewart Filmscreen is the preferred choice for major movie studios, discerning integrators and consultants, architects, and audio video enthusiasts, alike. With unparalleled ISO 9001:2015 manufacturing capabilities and unrivaled image fidelity, two-time Academy Award®-winning Stewart Filmscreen produces the most optically immaculate projection screens for the most demanding customers in the world. Utilizing proprietary material science, innovative manufacturing methods, along with a solutions-driven design team, Stewart can custom engineer a projection screen solution to meet nearly every need.
Simply put, if a screen can be imagined, Stewart Filmscreen can deliver it. Imagine it. Done.
All products, product names, trademarks and registrations mentioned are the property of their respective owners, all rights reserved.
Media Contact
For interviews, editorial appointments, or media tours, please contact Katye (McGregor) Bennett of KMB Communications, Inc. by phoning (425) 328-8640 or emailing [email protected].