Creative technology applications inspire youthful exploration at Buffalo's new Explore & More – The Ralph C. Wilson, Jr. Children's Museum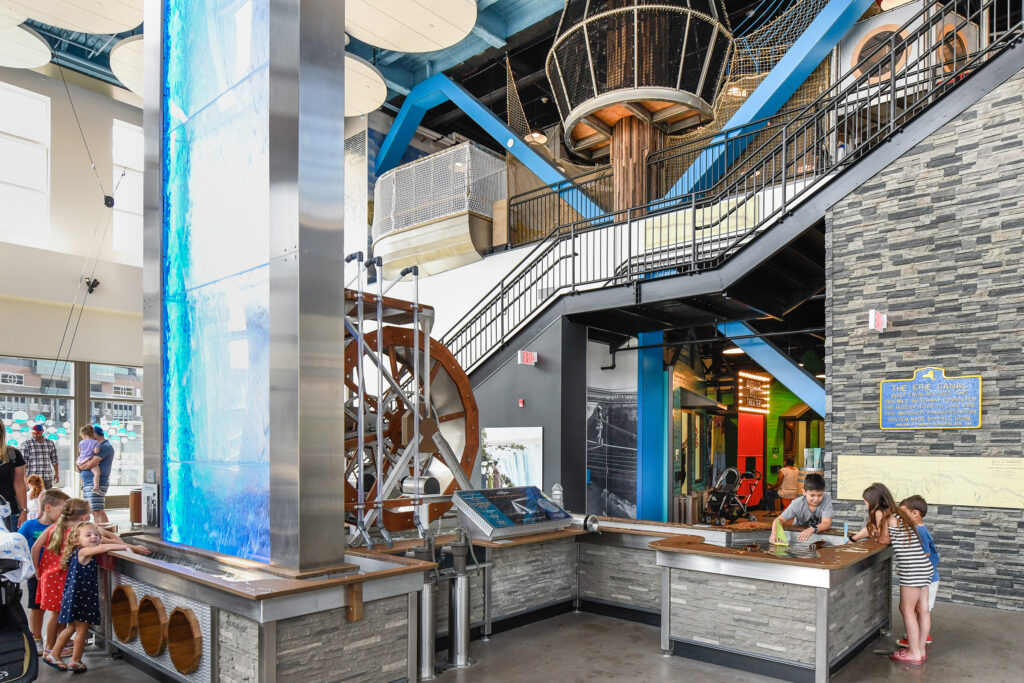 Explore & More – The Ralph C. Wilson, Jr. Children's Museum – Moving Water exhibit 
Explore & More – The Ralph C. Wilson, Jr. Children's Museum at Canalside represents the next stage in the City of Buffalo's continued revitalization. The 43,000-square-foot, four-story immersive adventure also presented an opportunity for Hamburg, New York-based integration firm, Southtown AV (SAV) to stretch its wings into what SAV president Heather Sidorowicz calls her "favorite segment of AV."

"Museums—or specifically, what we call immersive technologies—is a newer area for us. There's more creativity behind it," Sidorowicz said. "And for us to do this locally has been amazing. To say we did this children's museum that everybody in our region has heard of adds credence to our abilities. That has been great for us."

As with SAV's other multiroom six-figure-plus projects, Sidorowicz said Explore & More was intensive, requiring extensive project management and detailed design and engineering. "It could not have been completed without D-Tools," she said, adding, "we couldn't have created this project from beginning to end without a major cost loss. D-Tools made the difference between being able to do this project and not being able to do it."
As SAV has grown from a small, residential-focused company to a mid-size commercial AV integrator with eight employees and $1.4 million in annual revenue, D-Tools has played an instrumental role.

Growing into Commercial AV with Help from D-Tools

SAV's revenue is split between 85% large-scale commercial projects, including healthcare, retail, and entertainment projects like the Explore & More children's museum, and 15% of what Sidorowicz dubbed "relationship residential." These are existing residential customers, or new commercial customers, who want to incorporate technology in their house and know they can trust SAV to do it.

SAV started transitioning into commercial AV from primarily residential work in 2013, a process Sidorowicz chronicled in an earlier interview focused on her experience as a new D-Tools user.
Since then, SAV has increased its commercial focus by another 15%, taking on bigger and more complicated projects bolstered by D-Tools' robust and comprehensive estimation, design, and project management software solution – System Integrator (SI). 
But the leap into larger commercial projects wasn't one the integrator took lightly.

"You need to be able to function as a company before you can go after commercial work," she said. "Cash flow is going to play a big part in that story, but you also have to be able to present yourself as a professional firm. D-Tools has a simple contract built in, so if you start there, you have that behind you."

She noted that SAV's professionally produced, D-Tools-based proposal was one factor that secured the bid for Explore & More. "Our professionalism and the ability to send a quote via D-Tools SI helped prove our competency," she said.

Delivering the Client's Vision through D-Tools

In the Explore & More Museum, the client had a concept for each of the seven main exhibits but did not have an AV consultant to help them see what was possible and how it could be executed. D-Tools SI gave SAV the ability to make drawings of each space and present what each room would do,  clearly outlining the scope of each exhibit.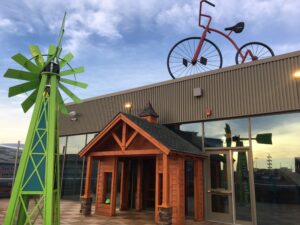 The museum explores the region's rich past, industry and commerce, architecture, and culture, with a focus on agriculture, the city's waterways, and local sports teams. Each exhibit features hands-on activities to engage and educate children, who don't realize they are learning as they play. 
Crestron control throughout the building makes it easy for the client to turn the audio, video, and lighting systems off and on. BrightSign digital signage systems connect to the Crestron CP3N 3-Series control system to deliver preprogrammed content where and as it is needed, often responding to motion sensors to trigger specific audio or video clips.

For instance, one exhibit simulates a boat traveling through the Erie Canal. When a child moves an oar to steer, a sensor detects the direction, and the BrightSign digital signage player delivers the appropriate content to the screen, so it feels like the boat is moving.

A cupboard inside the canal boat holds a loudspeaker that delivers a pre-recorded story—also hosted on the BrightSign server—when a child opens the door. "BrightSign provides the ability to have pre-scheduled video or audio content. We can also make changes to the programming as time goes on to keep it fresh for repeat visitors," Sidorowicz said.  
D-Tools Saves the Day Through the Design Phase and Multiple Revisions

The $180,000 project spanned two years, making it one of the longest-running—although not the largest—project SAV has accomplished to date.

Using the copy-and-paste function within D-Tools SI reduced time during the design phase since several exhibits used similar components for audio, video, or control. 
Having parts tied to labor in D-Tools is also a time-saver when it comes to complex designs. Being able to edit those parameters helped SAV keep billing straight even for client-provided components. This proved especially helpful when an outside sponsor provided the equipment for one exhibit. "We were able to go into D-Tools and mark when the equipment was furnished by the client, so we didn't have to change the pricing in our template," Sidorowicz said.

The ability to add products that aren't in the D-Tools catalog, including custom SAV-branded equipment, also came in handy. "If a product doesn't exist in their portfolio, we can create it, assign it to a phase, assign a labor code to it, and then it will be there when we create drawings to share with the client," she said.
As the budget and specs changed, as it is bound to on a project of this size, D-Tools made it possible to track all revisions. "We had seven revisions on the original project, and then three add-ons of new exhibits," Sidorowicz said. "D-Tools helped us keep all that organized."

For instance, one exhibit was cut in an early draft, and then new exhibits were added when SAV received the purchase order. D-Tools made it easy to keep billing in alignment with the changes.

On-the-Fly Changes

D-Tools' capabilities also helped in another marquee area of the museum: the Playing Together exhibit. The area features a replica scoreboard composed of four 65-inch Sony Bravia 4K HDR professional displays and a small "ice rink" designed for sock skating. Children take off their shoes and pretend to ice skate on the smooth surface, while the screens above them display content provided by the Buffalo Bills and Buffalo Sabres. 

Along with delivering content to the screens, the BrightSign player is also connected to cameras located throughout the museum, which capture images of children playing in other areas of the building and then broadcast them on the screen. "A kid might see themselves on the scoreboard, just like if you were at a game," Sidorowicz described. "It's great fun and gives the exhibit this "Buffalo feel" thanks to the emphasis on—and support from—our local pro football and hockey teams."

One challenge to this exhibit was finding spots to place the cameras where they would be unobtrusive while capturing the desired images. "This wasn't something we were able to plan out ahead of time," Sidorowicz said. "Things changed on the fly, but D-Tools SI enabled us to make those quick changes, keep the client happy, and stay within budget."

D-Tools Enables Continued Growth for SAV

The success of the Explore & More project solidified SAV's relationship with D-Tools, proving that these size and types of projects are not possible for SAV without the software. It also opened doors to additional opportunities for the integrator. Sidorowicz says the company has several proposals out for other museum and entertainment experiences.

"I think we're perfectly aligned for museums," she said. "You have to have the commercial acumen to put together a project like this, but we've been doing unique and creative installations on the residential side forever. D-Tools helps us bring it all together and track big, multi-room projects so we can keep things on time and within budget."

SAV currently D-Tools System Integrator SI 2019 V12 but the company keeps expanding the ways it uses the software and the number of employees who are trained on the platform. The integrator recently on-boarded a new project manager who had never used D-Tools, and Sidorowicz said she was pleased with how quickly her new employee picked it up. "In a matter of days, he was creating his own projects," she observed. 

But Sidorowicz knows she has only tapped into a fraction of D-Tools SI's capabilities. She plans to keep taking advantage of the training available, while also exploring the software on her own to learn about additional features to streamline workflow and enhance profitability. 
"We're still only using the tip of the iceberg," Sidorowicz said. "And it's made projects like the children's museum possible. We're ready and eager to learn, to embrace new capabilities, and continue to grow with D-Tools."