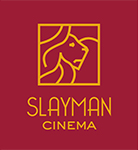 Slayman Cinema is a premiere home theater design firm that understands the importance of collaboration with AV integrators and acousticians to create aesthetically elegant and high-performing entertainment environments. Company founder Lisa Slayman and her team oversee home theater projects from inception to completion, ensuring that every technical and design detail is executed perfectly. With more than 25 years of experience and a member of the American Society of Interior Designers and International Interior Design Association, Lisa and her team have developed an exceptional understanding of the relationship between home theater technology and interior design.
Ready to create content that wins?
Let's start the process with a quick no-pressure conversation.