ByDesign receives prestigious industry awards for multiple years in a row, signifying its exceptional sales of boutique custom AV brands and proven customer service.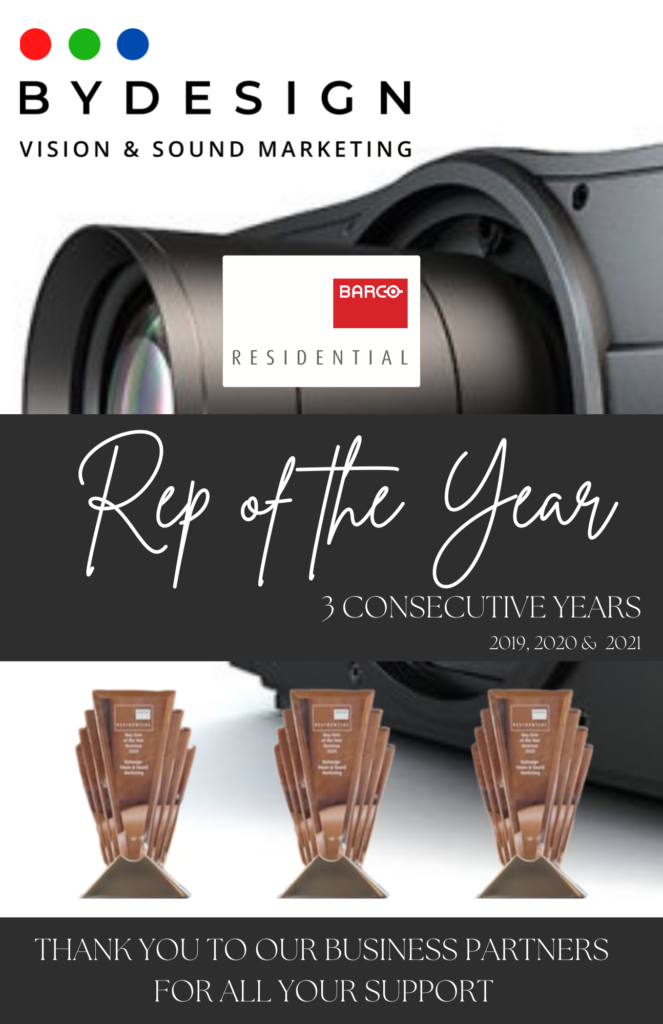 LONG BEACH, CALIFORNIA (February 17, 2022) – ByDesign Vision & Sound Marketing —leading manufacturers representative firm in the customer audio/video and lighting industry serving Arizona, Southern California, Southern Nevada, and Hawaii—announced today that it has won the Barco Residential Rep of the Year Award for 2021 for a third consecutive year, as well as the Pro Audio Technology Rockstar of the Year Award for 2021 for the second consecutive year. These awards are indicative of the consistently exemplary sales efforts and ongoing commitment to customer service ByDesign offers to its manufacturer partners and its sophisticated, design-minded customer base. 
In 2019, ByDesign received the very first award Barco Residential had ever bestowed on a rep firm, showing that ByDesign was a crucial part of Barco Residential's success as a leading provider of networked visualization solutions for the entertainment market. ByDesign went on to win the award in 2020, and again in 2021.
"The ByDesign team has consistently been Barco's top performing rep team and an important part of Barco's rapid growth in the residential market," says Daniel Nilsson, Director of Business Development at Barco Residential. "The team takes great pride in forging partnerships between vendors and integrators, which is an important part of our philosophy. These strong relationships, along with technical ability, have quickly elevated them to be the region's trusted advisors. We are excited to continue this journey with the ByDesign Vision and Sound Marketing team." 
Likewise, in 2021 for the second year in a row, Pro Audio Technology has awarded ByDesign with the Rockstar of the Year Award.
"The award is based on sales volume, and ByDesign had the best in the country by a significant margin compared to other reps," says Mark Goldman, VP of Sales with Pro Audio Technology. "The ByDesign team hustles; they are always driving forward. It's really a team of superstars that move the bar forward consistently. They are also the most involved in dealer's projects from start to finish of all the reps that we work with."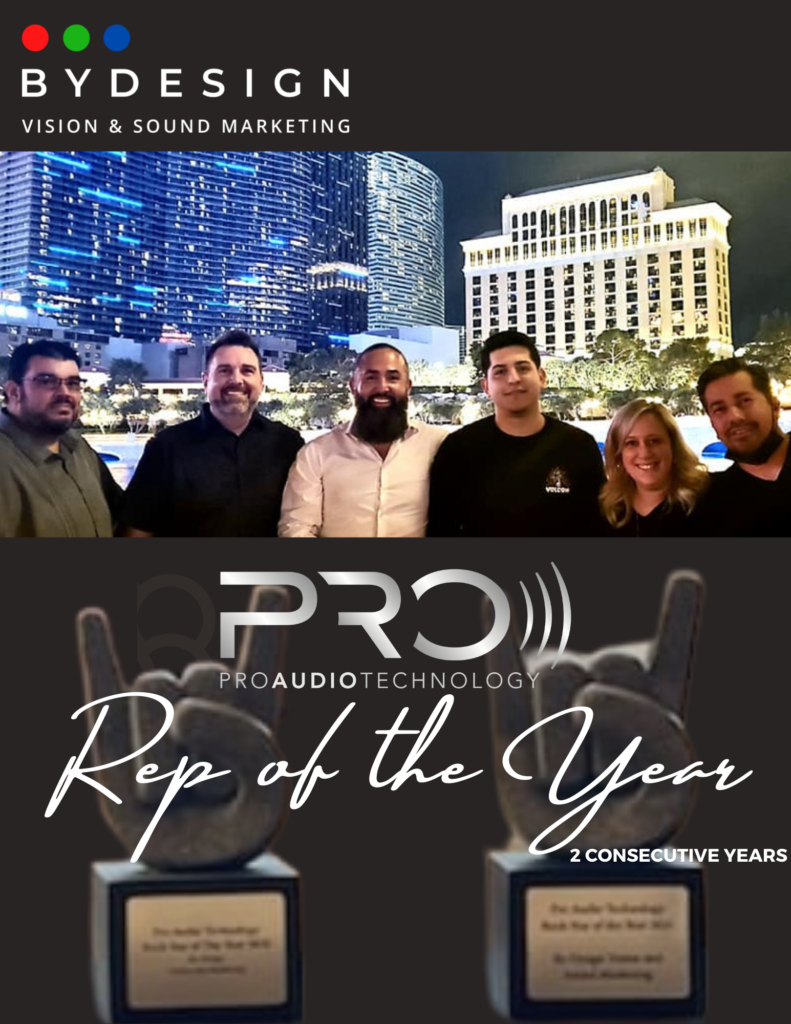 ByDesign attributes these wins and the growth it has experienced in the past two years in part to its line card of excellent boutique brands. These exclusive, specialty brands require expert salespeople to help guide the customer along the journey, from specifying and purchasing the product to installation and ongoing care.
"We are very proud of our accomplishments and that the industry is recognizing our specialized approach to sales and customer service. We remain thankful and excited about the journey that lies ahead and constantly strive to be better and to go above and beyond for both our manufacturers and integrators," says ByDesign Owner, Joaquin Rivera. 
About ByDesign Vision & Sound Marketing
Founded in 2014, ByDesign is a manufacturers representative firm located in Long Beach, California that serves Arizona, Southern California, Southern Nevada, and Hawaii. The firm is an ambassadors for a wide variety of boutique brands in the custom AV and lighting industry, including AV Pro Edge, Barco Residential, Bowers & Wilkins, Cinematech, Classé, Coastal Source, Colorbeam, DMF Lighting, ICE, J Geiger, Josh.ai, MadVR Labs, Pro Audio Technology, Stewart Filmscreen, and Theory Audio Design. Not only does ByDesign represent these firms, but it acts as a liaison between the manufacturer and integrator, delivering years of industry experience to its partners with a commitment to exceptional service and incomparable customer care. ByDesign continues to expand its offerings based on how the company can best serve the industry and its clientele. 
Media Contact
For interviews, reviews, or more information please contact Katye (McGregor) Bennett of KMB Communications by phoning (425) 328-8640 or emailing [email protected].
All products, product names, trademarks, and registrations mentioned are the property of their respective owners, all rights reserved.