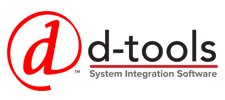 FOR IMMEDIATE RELEASE
D-Tools 2017 Design Awards Contest Open for Entries
 Worldwide users of the D-Tools System Integrator software platform are invited to promote their companies and enter projects for consideration; winners to be announced during CEDIA 2017
 CONCORD, Calif. (July 2017) — D-Tools Inc., the worldwide leader in data-driven system integration software, is seeking entries for its annual contest, the Design Awards. D-Tools is pursuing System Integrator (SI) software users' success stories and project designs that display how the software was used and how it has positively affected their business and ROI. Winning success stories will be selected from a diverse group of D-Tools users. The contest is open now to those using the D-Tools software platform for residential and commercial projects of any size. Winners will be announced in September, during CEDIA in San Diego, CA.
Contest categories include Best Residential, Best Commercial, Most Unique, and Best Overall Winners which will be selected by both the D-Tools product team and select D-Tools Certified Partners. The winning entries will be judged on a number of criteria, including originality, deep use of D-Tools' software, overall system design and which entries best communicate and demonstrate the system designer's knowledge of the software.
Winners will receive valuable prizes from the contest sponsors and D-Tools Manufacturer Vantage Point (MVP) partners, including KanexPro, IC Realtime, Leon Speakers, Atlona, and Terra Speakers. A reception celebrating the D-Tools Design Awards will take place during CEDIA in D-Tools booth #3035.
The deadline for submitting projects is August 11, 2017. D-Tools customers can submit their entries by visiting http://d-tools.com/design-awards-2017/ or by sending an email to Josh Carlson at [email protected].
 Those interested in learning more about D-Tools and the company's award-winning System Integrator software platform are also encouraged to sign up for a free demo by visiting http://d-tools.com/live-demo-webinar/ or for a free 30-day trial, which can be downloaded by following this link http://d-tools.com/30-day-free-trial/.
About D-Tools, Inc.
D-Tools, founded in 1998 and based in Concord, California, is a worldwide leader in accessible, highly accurate system design and documentation software platform. The company's flagship product, System Integrator™ (SI), is a robust solution that utilizes Autodesk® AutoCAD and Microsoft® Visio to facilitate comprehensive system design, documentation and project management. D-Tools enables residential and commercial integrators to streamline business processes and increase revenues while reducing the time and cost associated with the installation and integration of low-voltage electronic systems. More than 5,500 leading companies in 87 countries currently use the award-winning D-Tools platform to reduce time, costs and to streamline the system integration process. Product updates and related information can be obtained by following D-Tools on Twitter, Facebook, and LinkedIn.
 Media Contacts 
Tim Bigoness, D-Tools, Inc., (925) 270-4102, [email protected]
 Katye (McGregor) Bennett, KMB Communications, Inc., (425) 328-8640, [email protected]
MVP Program Contact
Josh Carlson, D-Tools, Inc., (925) 270-4105, [email protected]
 All products, product names, trademarks, and registrations mentioned are the property of their respective owners, all rights reserved.
# # #