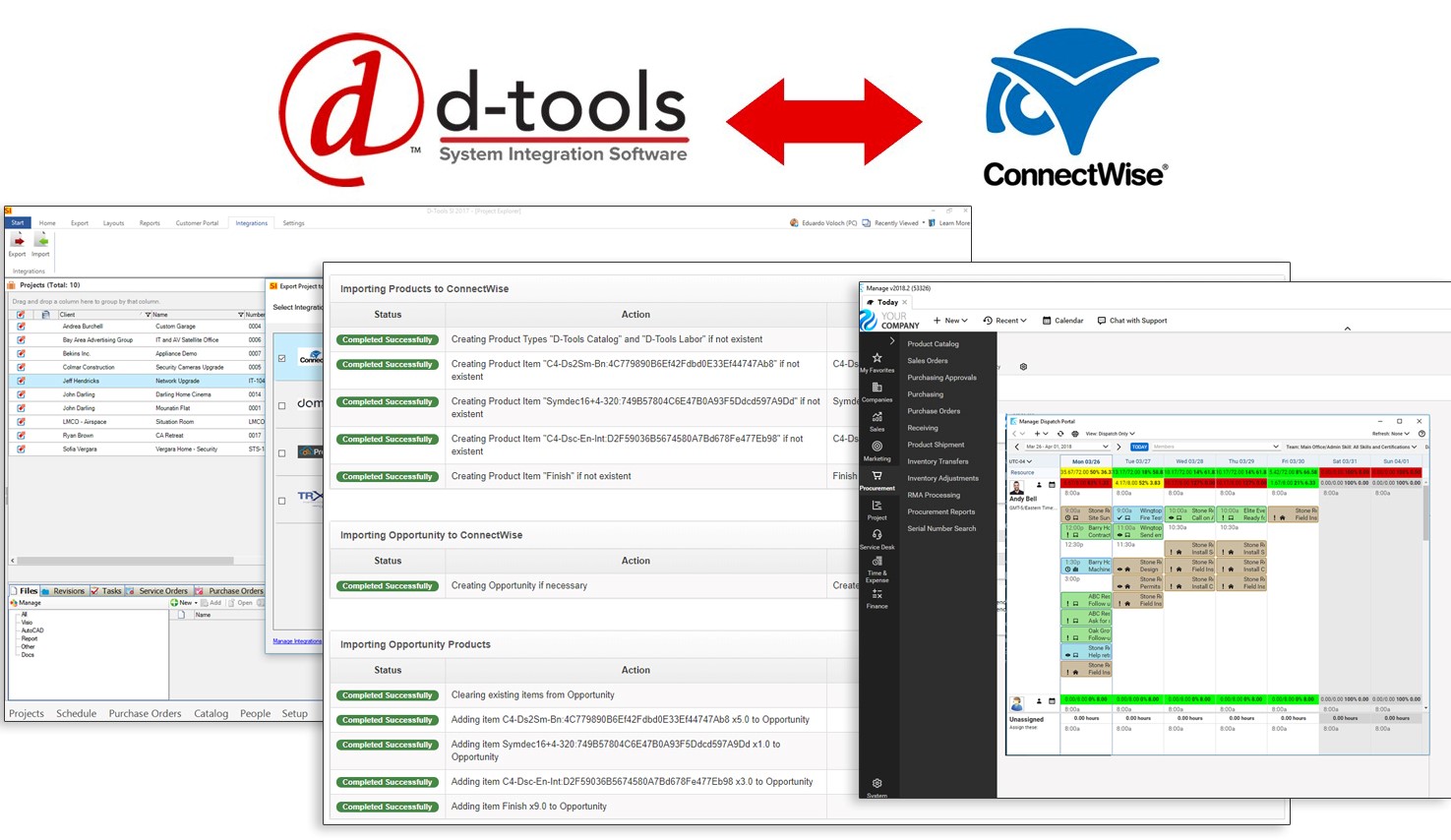 CONCORD, CA – D-Tools, Inc. the worldwide leader in data-driven system integration software, and ConnectWise, a software company that connects technology teams to the solutions, services and resources necessary for success, today announced the two platforms are now integrated and that beneficial enhancements are available for immediate use. Now, AV systems integrators, technology managers, and IT professionals will be able to use the combined features of ConnectWise™ Manage® and D-Tools System Integrator (SI) in a seamless workflow that ties-together the initial project proposal and design with procurement, inventory tracking, and project scheduling, as well as service, support, and ConnectWise Help Desk management.
AV and IT professionals face a multitude of challenges associated with accurate budgeting and estimation, sales, system design, purchasing, field operations and project reporting. Poor or ineffective communication, along with missing or incomplete information can often mean the difference between success and failure. To avoid such risks, D-Tools and ConnectWise have partnered to ensure that client, product, and project information is efficiently, seamlessly and accurately tracked from the initial proposal and system design through purchase, installation, and on-going service.
Now integrated, ConnectWise Manage and D-Tools System Integrator help users streamline operations, standardize processes and improve operating efficiencies, while enabling clear and consistent communication between team members. Not only does this provide effective visibility and accountability, it allows every department and associated tradespeople to work as a single, cohesive team, using powerfully integrated applications that simply gets the job done.
Those interested in learning how to simplify communications, streamline workflows, and ensure data integrity throughout the project lifecycle should visit http://d-tools.com/connectwise-api-integration/.
Additional information on the D-Tools System Integrator platform can be obtained by signing up for a free personal tour by visiting http://d-tools.com/live-demo-webinar/ or a free 30-day trial, which can be downloaded by visiting http://d-tools.com/hosted-free-trial-signup/.
About ConnectWise
ConnectWise is a software company that connects technology teams to the solutions, services and resources necessary for success. Our award-winning business management platform automates the full lifecycle of technology service delivery, from sales and service to project tracking and back-office functions, for more than 22,000 partners in more than 70 countries. We believe in an open ecosystem, the power of choice and providing a single pane of glass view. With more than 35 years of experience, ConnectWise software solutions deliver the support companies want at each step of their business journey. For more information, visit www.ConnectWise.com.
About D-Tools, Inc.
D-Tools, Inc., founded in 1998 and based in Concord, California, is a worldwide leader in accessible, highly accurate system design and documentation software platform. The company's flagship product, System Integrator™ (SI), is a robust solution that utilizes Autodesk® AutoCAD and Microsoft® Visio to facilitate comprehensive system design, documentation and project management. D-Tools enables residential and commercial integrators to streamline business processes and increase revenues while reducing the time and cost associated with the installation and integration of low-voltage electronic systems. More than 6,000 leading companies in 87 countries currently use the award-winning D-Tools platform to reduce time, costs and to streamline the system integration process. Product updates and related information can be obtained by following D-Tools on Twitter, Facebook, and LinkedIn.