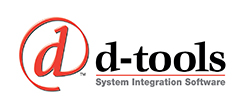 Integrated software solution from Microsoft Dynamics and D-Tools to be detailed for the first time
CONCORD, Calif., USA – D-Tools, Inc., the worldwide leader in data-driven system integration software, will host a webinar entitled "Improve Margins Through Closed Loop Procurement and Estimation with D-Tools," for Commercial Audio Visual and Security professionals, tech managers, systems integrators, and consultants.
The webinar will detail SBS Group's AV System Integrator Solution featuring the D-Tools platform and educate webinar participants on its comprehensive suite of features and functionality designed specifically to help optimize business processes. The 60-minute webinar will take place July 29 from 2-3:00 p.m. EDT, and will offer attendees industry insider insight to those features and functionalities that will simplify their workdays and maximize the efficacy of their workflow. Interested parties can register at the D-Tools website.
The "Improve Margins Through Closed Loop Procurement and Estimation with D-Tools" webinar comes on the heels of the strategic partnership announced last month between D-Tools and SBS Group and the subsequent development of an integrated software solution that combines the power of both the D-Tools System Integrator and Microsoft Dynamics SL ERP platforms. This integrated software platform will provide an enhanced end-to-end business process for tech managers, systems integrators, technology consultants, advisors, and others that manage, specify, or integrate AV and Security products. The partnership serves to deliver this integrated solution to the Commercial Audio Visual and Security markets.
"Powered by the latest version of Microsoft Dynamics SL 2015, the D-Tools and SBS Group integration is engineered to benefit and enhance all facets of an AV or Security integration business—from estimating and design to product procurement to project management through to completion," says Adam Stone, president and CEO of D-Tools. "By integrating D-Tools with the Microsoft Dynamics SL ERP platform, we are essentially boosting the capabilities of both software applications to best serve the needs of the growing Commercial Audio Visual and Security integration communities."
The D-Tools and Microsoft Dynamics integrated software solution combines the best of both platforms. It enables integrators to create a project, generate detailed proposals, system designs and other project documentation from within D-Tools System Integrator, and then pushes that project and product data into Microsoft Dynamics SL for order and contract management, invoicing, inventory management, and continued project management. The SBS AV Application makes sure that purchased materials get to the job when they are needed. Project Managers have full change control and are provided up-to-date project reports, and Mobile Apps available for virtually any device provides anywhere access to all key functional areas. With this powerful new platform, Commercial Audio Visual and Security integrators and technology professionals can more efficiently manage projects across their organization.
Register here to attend the webinar.
About SBS Group
​​​SBS Group is a national Microsoft master VAR (Value Added Reseller) and Gold Certified Partner. Over the past 25 years, we have been recognized as a Microsoft Partner of the Year (Microsoft Dynamics SL), Inner Circle Member and a 2014 Microsoft President's Club Member. The company is headquartered in Edison, New Jersey and operates offices across the United States. For more information, please visit SBS Group's website at http://www.sbsgroupusa.com. Follow us on LinkedIn at http://www.linkedin.com/company/sbs-group, on Twitter at http://twitter.com/sbsgroup and find us on Facebook at http://www.facebook.com/SBSGroupUSA.
About D-Tools, Inc.
D-Tools, founded in 1998 and based in Concord, California, is a worldwide leader in accessible, highly accurate system design and documentation software platform. The company's flagship product, System Integrator™ (SI), is a robust solution that utilizes Autodesk® AutoCAD and Microsoft® Visio to facilitate comprehensive system design, documentation and project management. D-Tools enables residential and commercial technology professionals to streamline business processes and increase revenues while reducing the time and cost associated with the installation and integration of low-voltage electronic systems. More than 4,500 leading companies currently use the award-winning D-Tools platform to streamline the system integration process. Product updates and related information can be obtained by following D-Tools on Twitter and on Facebook.
Media Contacts  
Tim Bigoness, D-Tools, Inc., (925) 270-4102, timb@d-tools.com, www.d-tools.com
Katye (McGregor) Bennett, KMB Communications, Inc., (425) 328-8640, katye@kmbcomm.com
MVP Contact
Josh Carlson, D-Tools, Inc., (925) 270-4105, joshc@d-tools.com