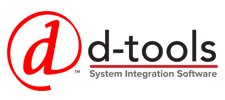 FOR IMMEDIATE RELEASE | Image Download
D-Tools Announces New Multi-Day Regional Training Sessions
As part of the company's 2017 enhanced training initiative, D-Tools system integrators and tech professionals across the US have more opportunities to attend regional training thanks to comprehensive three-day hands-on D-Tools training courses designed to help users get the most out of their software investment
CONCORD, CA—June 2017— D-Tools, Inc., the worldwide leader in data-driven system integration software, announces additional SI 2017 Regional Training Dates. These three-day, comprehensive, hands-on training courses will be held in Austin at the Screen Innovations Headquarters, July 19–21 and Irvine at the Savant Training Center, August 22–24.
Taught by Seth Enos and Kevin Frye, tenured members of the D-Tools Professional Services Group, the regional training events are designed to facilitate a broader use and deeper understanding of the full feature set of D-Tools System Integrator (SI) software and enable those using the platform to become proficient, efficient, and effective.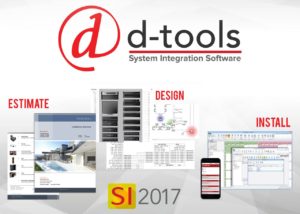 Three Days of Comprehensive, Hands-on Training for New and Advanced Users
Throughout the three-day, comprehensive, hands-on training sessions, Frye will walk attendees through the entire D-Tools feature set, including the proper implementation and management of product catalogs, leveraging packages and project templates to increase operational efficiency, and leveraging project data across the entire project lifecycle, from proposal and engineering through project and installation management. The course will also cover extensive tips, best practices, and market-proven techniques to help users maximize their investment in and use of the SI platform.
Day One will serve as an introduction to the D-Tools System Integrator platform. Users will learn how to custom-configure the software package to best suit the needs of their company; how to build and manage their product database; manage revisions and change orders; better understand how to exploit the D-Tools reporting engine; be introduced to tips and best practices; and gain hands-on experience creating winning proposals.
Day Two is a deep dive into product documentation. Trainees will get valuable hands-on experience creating comprehensive D-Tools documentation, including Microsoft Visio Introduction, Line Diagrams, Floor Plans, Elevations, Schematics, and Installation Reports, as well as revision management and change orders.
Day Three will take users through advanced skills and management processes, and an introduction to Mobile Install, which gives users the power to publish Install Tasks and Service Orders to a portal powered by the D-Tools Cloud that can be accessed anywhere and can be used to send and receive device-level notifications.
System Integrators and Technology Professionals Can Register Online Now
Dealers can register for any of these three-day trainings and book rooms online at http://d-tools.com/regional-training/.
D-Tools Training and Demos Always Available Online
Further emphasizing its commitment to customer education, service, and support, D-Tools will continue hosting instructional webinars and providing online support for users all over the world.
Integrators can always obtain a free demo of the latest System Integrator release by visiting http://d-tools.com/live-demo-webinar/ or download a free 30-day trial at http://d-tools.com/30-day-free-trial/.
About D-Tools, Inc.
D-Tools, Inc., founded in 1998 and based in Concord, California, is a worldwide leader in accessible, highly accurate system design and documentation software platform. The company's flagship product, System Integrator™ (SI), is a robust solution that utilizes Autodesk® AutoCAD and Microsoft® Visio to facilitate comprehensive system design, documentation and project management. D-Tools enables residential and commercial integrators to streamline business processes and increase revenues while reducing the time and cost associated with the installation and integration of low voltage electronic systems. More than 5,500 leading companies in 87 countries currently use the award-winning D-Tools platform to reduce time, costs and to streamline the system integration process. Product updates and related information can be obtained by following D-Tools on Twitter, Facebook, and LinkedIn.
All products, product names, trademarks and registrations mentioned herein are the property of their respective owners, all rights reserved.
Media Contacts
Tim Bigoness, D-Tools, Inc., (925) 270-4102, [email protected]
Katye (McGregor) Bennett | KMB Communications, Inc.
(425) 328-8640 | [email protected] | www.kmbcomm.com |
MVP Contact
Josh Carlson, D-Tools, Inc., (925) 270-4105, [email protected]
# # #