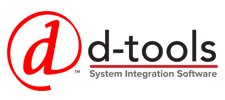 FOR IMMEDIATE RELEASE 
CEDIA Booth #3035

D-Tools Invites CEDIA Attendees to Preview the Company's Cloud-based Platform                                      
Sponsored by D-Tools MVP partner Totem Acoustic, the preview and celebration reception takes place Friday, September 8 at 3 pm in D-Tools Booth 3035
CONCORD, CA (August 18, 2017) — D-Tools Inc., the worldwide leader in data-driven system integration software, invites CEDIA 2017 attendees to an exclusive preview of D-Tools' Cloud-based platform, which will debut early next year.
D-Tools will host a reception in booth #3035 on Friday, September 8, 2017, at 3:00 p.m. to celebrate its recent successes and show attendees a sneak preview of what's coming in 2018 and beyond. New D-Tools Manufacturer Vantage Point (MVP) partner Totem Acoustic will sponsor the event and the D-Tools team will be available to show off new features and enhancements to the D-Tools platform. Attendees who RSVP are automatically entered into a drawing for a free iPad Pro. Admission is free to all CEDIA attendees. Beverages will be provided.
"The D-Tools Cloud-based platform will debut early next year, and we invite CEDIA attendees to view a sneak peek in advance of its 2018 launch," says Randy Stearns, CEO of D-Tools. "Over the years, D-Tools has evolved into the industry's most widely-adopted software solution and we're proud of our heritage. That said, our team is even more excited about the future and look forward to sharing what's next, as D-Tools continues to innovate."
Attendees can RSVP for a chance to win an iPad Pro by visiting http://go.d-tools.com/RVSP-D-Tools-CEDIA-2017-Booth-Event.html.
For more information about D-Tools and the company's award-winning System Integrator software platform, sign up for a personal online tour by visiting http://d-tools.com/live-demo-webinar/ or for a free 30-day trial, which can be downloaded by visiting http://d-tools.com/30-day-free-trial/.
About D-Tools, Inc.
D-Tools, founded in 1998 and based in Concord, California, is a worldwide leader in accessible, highly accurate system design and documentation software platform. The company's flagship product, System Integrator™ (SI), is a robust solution that utilizes Autodesk® AutoCAD and Microsoft® Visio to facilitate comprehensive system design, documentation and project management. D-Tools enables residential and commercial integrators to streamline business processes and increase revenues while reducing the time and cost associated with the installation and integration of low voltage electronic systems. More than 5,500 leading companies in 87 countries currently use the award-winning D-Tools platform to reduce time, costs and to streamline the system integration process. Product updates and related information can be obtained by following D-Tools on Twitter, Facebook, and LinkedIn.
D-Tools Media Contacts 
Tim Bigoness, D-Tools, (925) 270-4102, timb@d-tools.com
Katye (McGregor) Bennett, KMB Communications, (425) 328-8640, katye@kmbcomm.com
About Totem Acoustics
Created in 1987 and celebrating our 30th anniversary, Totem's mission is to develop loudspeakers capable of reproducing a truly involving performance. Our goal is to provide designs that are affordable, cosmetically timeless, and invoke an emotional response.  Music, movies, TV, and video games are accurately rendered with a powerful focus that is yet soul stirring.  Discover yours today.
Totem Media Contacts
Lucy Lentini, Vice President of Sales and Marketing,lucy@totemacoustic.com
Joe de Jesus, Director of Global Sales, joe@totemacoustic.com
All products, product names, trademarks, and registrations mentioned are the property of their respective owners, all rights reserved.