FOR IMMEDIATE RELEASE | DOWNLOAD IMAGES HERE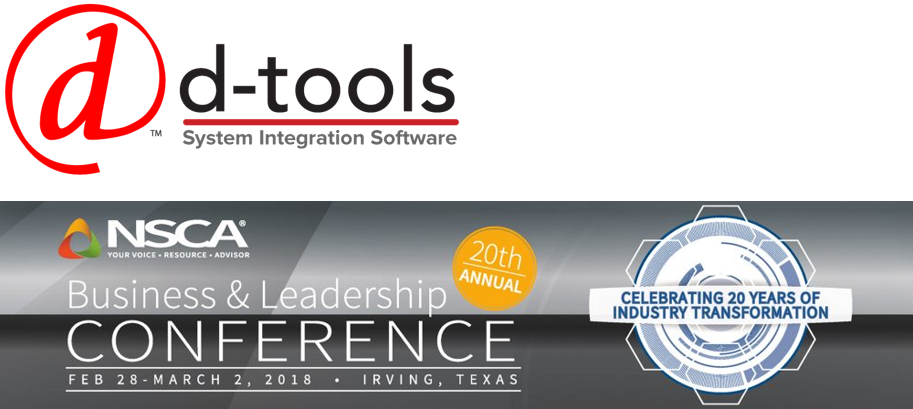 D-Tools Joins NSCA, Sponsors Upcoming NSCA Business & Leadership Conference
D-Tools and NSCA share vision of building a strong and profitable channel through business optimization, standardization, and modernization
CONCORD, CA — February 19, 2018 — Supporting the National Systems Contractor Association (NSCA) and the commercial industry at large, D-Tools Inc. announced today it has joined the NSCA and will also sponsor the 20th annual NSCA Business & Leadership Conference (BLC), being held in Irving, Texas, February 28 – March 2, 2018.
More than 300 representatives from leading commercial electronic systems firms in the audio-visual industry are expected to gather at the NSCA Business & Leadership Conference (BLC) to discuss breakthrough ideas and new business processes. A variety of speakers will explore some of the hottest topics in the industry today, including engaging and developing employees of multiple generations, keeping profitability high as the industry transitions, being that "go to" trusted advisor for clients, and embracing and maintaining the shift services.
"We're thrilled to bring D-Tools on board for the first time as a Business & Leadership Conference sponsor," says Chuck Wilson, NSCA executive director. "Offering a software solution that streamlines project estimation, system design, and project management, they're a perfect fit as our very first mobile app sponsor. With support from organizations like D-Tools, this 20th annual event is set to offer integrators valuable information so they can make an immediate positive impact on business."
As an NSCA member, D-Tools looks to help commercial low-voltage electronic system contractors implement standardization and best practices throughout their sales, engineering and operations departments, ultimately resulting in increased productivity and profitability.
Used by more than 5,500 companies around the world, D-Tools' System Integrator (SI) is the most widely used and comprehensive estimation, design, and project management software platform, specifically designed to fulfill the diverse needs of commercial AV and electronic system design and installation firms, consultants, and technology managers.
D-Tools SI ties project workflow together into a singular, data-driven, connected process that increases revenue and improves operational efficiency while reducing time and costs. Along with access to a comprehensive library of manufacturers' products, System Integrator positively impacts all areas of an integrator's business.
For more information about D-Tools and the company's award-winning System Integrator software platform or to sign up for an online-guided tour, visit http://d-tools.com/live-demo-webinar/. A free 30-day trial can also be downloaded by visiting http://d-tools.com/30-day-free-trial/.
About D-Tools, Inc.
D-Tools, founded in 1998 and based in Concord, California, is a worldwide leader in accessible, highly accurate system design and documentation software platform. The company's flagship product, System Integrator™ (SI), is a robust solution that utilizes Autodesk® AutoCAD and Microsoft® Visio to facilitate comprehensive system design, documentation and project management. D-Tools enables residential and commercial integrators to streamline business processes and increase revenues while reducing the time and cost associated with the installation and integration of low voltage electronic systems. More than 5,500 leading companies in 87 countries currently use the award-winning D-Tools platform to reduce time, costs and to streamline the system integration process. Product updates and related information can be obtained by following D-Tools on Twitter, Facebook, and LinkedIn.
Media Contacts
D-Tools: Tim Bigoness, D-Tools, Inc., (925) 270-4102, timb@d-tools.com
D-Tools: Katye (McGregor) Bennett, KMB Communications, Inc., (425) 328-8640, katye@kmbcomm.com
All products, product names, trademarks, and registrations mentioned are the property of their respective owners, all rights reserved.