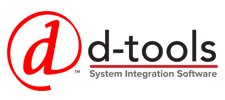 FOR IMMEDIATE RELEASE | Image Download
Booth # 3515
D-Tools Launches SI 2017, Available Now, with Business Intelligence, Visual Reporting Capabilities, Web Publishing Capabilities, and More at InfoComm17
SI 2017 adds a host of valuable new features, enabling integrators to gain greater insight into their business operations and more effectively communicate with their clients during the project estimation, system design, and project management process
CONCORD, CA & ORLANDO, FL (May 2017) D-Tools, Inc., the worldwide leader in data-driven system integration software, demonstrates the newest version of its award-winning System Integrator (SI) software platform, SI 2017, available now with business intelligence reporting capabilities, at InfoComm booth #3515 in the Orange County Convention Center, Orlando, Florida, June 14 – 16, 2017.
Built on the popular System Integrator platform, and expanding on D-Tools' Cloud infrastructure, SI 2017 adds powerful business intelligence and visual reporting, enabling business owners and management to understand and better perform key functions of an integrator's business – estimation, system design, and project management.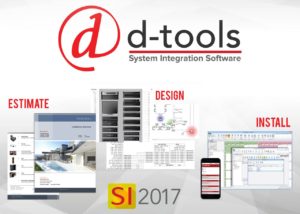 Vital Business Intelligence (BI) Information Stands Out with Visual Reporting
Through the new Business Intelligence (BI) engine, SI 2017 can report vital information across multiple projects with pre-configured visual reports and dashboard views of key performance indicators. These new reporting capabilities enable deeper analysis of business activities and trends such as profit analysis, product usage, vendor engagement, personnel performance, and even sales pipeline, activity, and results, adding tremendous value for business managers seeking to analyze trends across projects, vendors, products, and their own team. Integrators can also easily create custom reports to view the data they need to operate in a more informed and efficient manner.
SI 2017's pre-configured dashboard views can be filtered by date range and viewed as a graph (bar, line, pie) or table. Predefined dashboards include reports such as sales by salesperson, sales pipeline by project stage, top products sold, and profit margin by system type, product category, project size, and more.
Additionally, the new Dashboard Wizard allows users to create, edit, and clone dashboards to streamline the time required to create additional views. SI 2017 enables two types of dashboards: Summary (for grouped and summarized data) and Tabular (simple data table). The power and flexibility of the new BI engine is ideal for viewing the data needed to run the business in an informed and efficient manner.
"As a hard-core business analyst, this latest release delivers the cherry on top that I wish was available back in my integrator days. SI 2017 provides our customers with a powerful BI (Business Intelligence) engine, enabling cross-project, cross-vendor, cross-product, and even cross-team reporting and visualization, which serves to shine a spotlight on business highlights, trends, and anomalies so integrators can make better business decisions," says D-Tools CEO Randy Stearns. "Commercial integrators can rely on solid data in making equipment choices, helping to save time and money on everything from stand-alone conference rooms to large-scale, multi-room projects."
Streamline Client Communications with the New, Web-based D-Tools Customer Portal
The new Customer Portal, built on the D-Tools Cloud infrastructure and showing for the first time to the commercial integration community at InfoComm17, enables users to publish proposals, change orders, drawings, and other client-facing documents to the web for improved client engagement. Clients will be able to log-in to a secure web portal to review documentation, make comments, and accept or reject the documents presented.
SI users will be notified when a customer reviews, comments or accepts proposals, streamlining the process and improving communications throughout the project lifecycle.
"The ability to publish documents, like proposals, to the web for viewing, comment and e-signature, combined with our new business analytics capabilities through the powerful Business Intelligence engine, provides our customers with a powerful communication tool to more effectively interact with their clients and partners," adds Stearns.
More Than 20 Additional Enhancements Increase Productivity and Profitability across All Project Phases
Along with the ability to publish proposals to the web, D-Tools SI 2017 also includes significant upgrades to the SI product catalog, drawing functionality, CRM interface, QuickBooks integration, and more.
Product Catalog Improvements
Product Information Management

Search across projects to locate specific products for easy tracking and management of recalled or replaced equipment
Find and replace "discontinued products" quickly and easily

Labor Discount Management

Discount labor items at package creation
Change labor discounts prior to adding a package to a project
Change labor discounts after adding a package to a project

More Robust CSV Catalog Export

Export labor cost, labor price, and installed price as part of CSV export
Project Enhancements
Contact and Permission Enhancements

Organize client information more easily
Manage user group permissions so project teams can view and analyze project information more easily for streamlined collaboration
Set a primary contact for any project
Enable members of a user group to view projects where they have been assigned as a resource
Allow project managers to view resource costs

Manage Payments

Define multiple contract payment schedules in project settings
Make changes within a project, and save for future use

New Component ID Options

Add component IDs to existing products within a project
Location cloning offers options for quantity, prefixes, and starting number
Child locations will be cloned, too
Project Explorer now displays fields for cost, price, margin, markup, and tax in a new, built-in, price layout
Fields can also be added to custom layouts

Project Wizard Adds CRM Functionality

Create a new client from an existing contact
Choose the SI address as billing, site, or other address when importing clients and vendors

Drawing Enhancements and Changes to D-Tools Visio and AutoCAD interfaces

Auto-replace products on Visio line drawings
Smart title blocks in Visio drawings update automatically when any project information is changed

Scheduling Enhancements

Company and project calendars allow users to manage tasks and service orders for any user or resource
Set time of daily email notification in Mobile Install

Enhanced Reporting Capabilities

Quickly and easily create client, installation, and management reports based on data from an SI project
Updated look and feel for client report themes
Choice of 6 different color schemes for client reports
New line item detail report (install price) available to clients

QuickBooks and QB Online Integration Feature Enhancements

Receive items from an SI 2017 purchase order and send to QuickBooks or QB Online as an "item receipt," eliminating double data entry
For interviews, editorial appointments, or media tours during InfoComm17, please contact Katye (McGregor) Bennett of KMB Communications, Inc. by phoning (425) 328-8640 or emailing [email protected]
About D-Tools, Inc.
D-Tools, Inc., founded in 1998 and based in Concord, California, is a worldwide leader in accessible, highly accurate system design and documentation software platform. The company's flagship product, System Integrator™ (SI), is a robust solution that utilizes Autodesk® AutoCAD and Microsoft® Visio to facilitate comprehensive system design, documentation and project management. D-Tools enables residential and commercial integrators to streamline business processes and increase revenues while reducing the time and cost associated with the installation and integration of low-voltage electronic systems. More than 5,000 leading companies in 87 countries currently use the award-winning D-Tools platform to reduce time, costs and to streamline the system integration process. Product updates and related information can be obtained by following D-Tools on Twitter, Facebook, and LinkedIn.
 All products, product names, trademarks and registrations mentioned herein are the property of their respective owners, all rights reserved.
Media Contact
Katye (McGregor) Bennett | KMB Communications, Inc. | (425) 328-8640
# # #