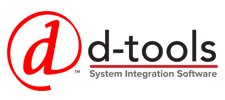 FOR IMMEDIATE RELEASE
ISE STAND 1-N75
D-Tools to Showcase SI 017 and Promote Successful Business Processes and Profitability at ISE 2017
D-Tools will demonstrate the latest version of its award-winning platform at ISE 2017, emphasizing greater productivity and workflow efficiency for the international audiovisual market
CONCORD, CA & AMSTERDAM, NL – January 30, 2017 – D-Tools, Inc., the worldwide leader in data-driven system integration software will showcase the latest version of its award-winning software platform, System Integrator 2017 (SI 2017) at ISE 2017. To support its continued international growth, D-Tools will demo the latest productivity enhancements available with SI 2017, new 3rd party integrations, and share valuable insights and success stories that attendees can immediately implement into their systems integration processes in order to enhance operational workflows and efficiencies, reduce time and costs, and drive profit. At ISE 2017, D-Tools executives will identify new opportunities, and educate attendees on ways a highly functional, data-driven solution such as the D-Tools' platform can create opportunity for Commercial AV professionals to improve their overall offerings through streamlined operations, automated business processes, and enhanced workflows.
SI 2017 New Features
D-Tools System Integrator (SI) software solution helps increase productivity and efficiency by bringing together estimation, system design, and project management into a single data-driven process. At ISE 2017, D-Tools will preview the upcoming release of its award-winning platform, System Integrator 2017 (SI 2017). New enhancements include Dashboards to track business operations, the ability to publish Proposals and Quotes to the Web, and more. Along with an enhanced feature set, along with a comprehensive library of manufacturer products, D-Tools SI 2017 delivers a powerful yet easy to use solution that provides a positive impact any business.
3rd Party Integrations
D-Tools has also announced upcoming integrations with several third party software providers in order to extend the reach and increase the value of its flagship software platform, These strategic partnerships move D-Tools closer to its goal of providing AV, IT, and security system integrators and consultants with a complete end-to-end solution that allows data to flow seamlessly throughout the project lifecycle – from initial client contact through the ongoing service relationship. D-Tools' API and integration strategy is an integral component of the company's core vision – to provide integrators of every type and size with a software platform that gives them the flexibility to select and adopt the various tools that best suit the needs of their business. Most recently, D-Tools has completed the company's API integration TRXio, a cloud-based inventory management and asset-tracking software solution for the AV industry that takes advantage of the latest QR- and bar-code scanning technology. The API integration with the D-Tools SI platform helps integrators streamline operations, standardize processes and maintain clear and consistent communication between the office/warehouse and the field, leading to new operating efficiencies, improved cash flow and ultimately a healthier bottom line.
D-Tools Improves Operational Efficiency and Increases Profitability for System Integrators
For nearly 20 years D-Tools has been the leading software solution to help streamline the business processes for system integration firms globally in markets including residential and commercial AV, security, higher education, corporate IT, and more. D-Tools customers have shared recent success stories on how the data-driven SI platform enabled them to improve their operational efficiency and increases profitability.
For example, D-Tools' streamlined workflow capabilities have boosted business for Atea Danmark A/S, a leading Nordic and Baltic supplier of IT infrastructure. The company utilized D-Tools for a massive connected University campus install, just as it has for a number of high-profile projects. "Speed, from the rough idea to the first drawings and purchase orders to the speed when making changes, is very important for us. Additionally, by automating reports, it reduces the time-consuming processes of making these things manually," says Atea system designer Peter Mejer. "Not only does D-Tools give us a fast, reliable and working first-time installation, it has accelerated project business processes by approximately 15%, while employee time on tasks has been reduced by 20%. In general it's pretty close to as perfect as you can get."
Inspired Dwellings also uses D-Tools to streamline their workflows, and recently won the bid on a Chelsea UK smart home project as a result. "The success of our Chelsea town house project and the large amount of planning that went into it, demonstrates the benefits of using D-Tools' software," says Stewart Maynard, Operations Director of Inspired Dwellings. "Without it, we would have had to import estimates, price lists and CAD drawings in from other software, using up time and resources which we did not necessarily have. The unit and actual cost is listed for every product and labor item added, and through the use of the data generated from the Mobile Install feature and time reporting within SI, we were able to see the margin we were making. This ensured the pricing made sense to us in terms of profit, and to the client in terms of what they would be charged."
To see how D-Tools and the company's award-winning System Integrator software platform drive proven results, register for a demonstration by visiting http://d-tools.com/live-demo-webinar/. A free 30-day trial can be downloaded by following this link: http://d-tools.com/30-day-free-trial/.

ABOUT D-TOOLS
D-Tools, founded in 1998 and based in Concord, California, is a worldwide leader in accessible, highly accurate system design and documentation software platform. The company's flagship product, System Integrator™ (SI), is a robust solution that utilizes Autodesk® AutoCAD and Microsoft® Visio to facilitate comprehensive system design, documentation and project management. D-Tools enables residential and commercial integrators to streamline business processes and increase revenues while reducing the time and cost associated with the installation and integration of low-voltage electronic systems. More than 5,000 leading companies in 87 countries currently use the award-winning D-Tools platform to reduce time, costs and to streamline the system integration process. Product updates and related information can be obtained at www.d-tools.com or by following D-Tools on Twitter, Facebook, and on LinkedIn.
 D-Tools Media Contacts 
Tim Bigoness, D-Tools, Inc., (925) 270-4102, [email protected]
Katye (McGregor) Bennett, KMB Communications, Inc., (425) 328-8640, [email protected]
MVP Program Contact
Josh Carlson, D-Tools, Inc., (925) 270-4105, [email protected]
All products, product names, trademarks and registrations mentioned are the property of their respective owners, all rights reserved.
# # #