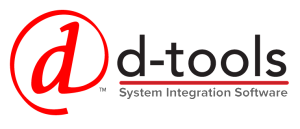 Download Images
D-Tools Showcase System Integrator 2016 at Essential Install Live! South 2016
Latest version of award-winning solution adds SupplyStream and QuickBooks Online integration as well as productivity improvements for Proposals, Purchasing and Change Orders
CONCORD, Calif. – June 28, 2016 (Essential Install Live! South, Booth #101)— D-Tools Inc., the worldwide leader in system integration software, today announced that it would be showcasing the major new release of its flagship software platform, System Integrator 2016 at Essential Install Live! South 2016. Available now, the new SI 2016 release adds valuable new productivity features and enhancements that enables residential and commercial integrators to streamline business processes and increase profitability. SI 2016 is available as an upgrade for existing customers and will be provided at no cost for customers participating in the D-Tools Software Assurance program.
Building upon the architecture of the System Integrator platform including a robust D-Tools Cloud infrastructure, SI 2016 makes it faster and easier than ever to perform key functions of an integrator's business—estimation, system design, and project management. Moreover, SI 2016 offers improvements in virtually every functional area including project and data management, integration with SupplyStream and QuickBooks Online, Purchase Order Management, as well as significant improvements to reporting, scheduling, drawing capabilities, and Mobile Install.
"We're looking forward to exhibiting at Essential Install as it gives us the opportunity to meet with our UK and European customers, learn more about their current processes and discuss how our solution can help them increase their productivity, efficiency, and ultimately improve profitability," stated Tim Bigoness, VP of Sales and Marketing, who will attend the event.
D-Tools will demo SI 2016 at Essential Install Live! South 2016 booth #101. New features and enhancements include:
⦁ SupplyStream Integration
⦁ Search SupplyStream Product Catalog
⦁ Pricing and Availability (requires SupplyStream account)
⦁ QuickBooks Online Integration:
⦁ Sync D-Tools product catalog
⦁ Send Estimates and Purchase Orders to QB Online
⦁ Sync Vendors when creating Items in QB Online
⦁ Purchase Orders:
⦁ Select vendors, generate and send POs
⦁ Change Orders:
⦁ Create, review, track, and approve project changes
⦁ Tasks and Scheduling:
⦁ Mobile Install Enhancements
⦁ Client Notes
⦁ Dynamic Price Calculator:
⦁ Allows for calculating price from items and labor in a project – i.e. Shipping costs
⦁ Use Tax
⦁ XML Export – streamlines integration with third party solutions
⦁ New NTSC and Electrical plan view shapes
Those interested in learning more about the award-winning System Integrator (SI) platform are encouraged to sign up for a free demo by visiting http://d-tools.com/live-demo-webinar/ or for a free 30-day trial, which can be downloaded by following this link http://d-tools.com/30-day-free-trial/.
About D-Tools, Inc.
D-Tools, founded in 1998 and based in Concord, California, is a worldwide leader in accessible, highly accurate system design and documentation software platform. The company's flagship product, System Integrator™ (SI), is a robust solution that utilizes Autodesk® AutoCAD and Microsoft® Visio to facilitate comprehensive system design, documentation and project management. D-Tools enables residential and commercial integrators to streamline business processes and increase revenues while reducing the time and cost associated with the installation and integration of low-voltage electronic systems. More than 5,000 leading companies in 87 countries currently use the award-winning D-Tools platform to reduce time, costs and to streamline the system integration process. Product updates and related information can be obtained at www.d-tools.com or by following D-Tools on Twitter, Facebook, and on LinkedIn.
Media Contacts
Tim Bigoness, D-Tools, Inc., (925) 270-4102, [email protected]
Katye (McGregor) Bennett, KMB Communications, Inc., (425) 328-8640, [email protected], www.kmbcomm.com
MVP Contact
Josh Carlson, D-Tools, Inc., (925) 270-4105, [email protected]
Accompanying Images
Download D-Tools Logos for use in publication here.
All products, product names, trademarks and registrations mentioned are the property of their respective owners, all rights reserved.
# # #