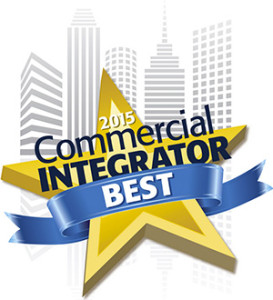 CONCORD, CA – (July 1, 2015) D-Tools, Inc., the worldwide leader in system integration software, today announced that the company's System Integrator™ 2015 software—SI 2015—has been named a winner in the second annual Sound & Video Contractor Best of Show Awards for InfoComm 2015. This is the third commercial technology award D-Tools SI 2015 has won since the beginning of the year.
The Sound & Video Contractor Best of Show Awards' judges—a panel of industry experts, AV designers, integrators, and end users—saw and tested each entry on the InfoComm show floor. The panel awarded points based on a series of criteria including innovation, performance against category standard, richness/relevance of feature set, ease of installation/ maintenance, and value/ROI.
The statement that the judges issued about the revolutionary D-Tools SI 2015 system integration software tool is as follows: "D-Tools continues to raise the bar in supporting small and medium sized integrators in maximizing productivity with further development of advanced mobile, drawing, and calendar functions within the SI 2015 platform."
The announcement from the lauded outlet Sound & Video Contractor comes on the heels of another major award for D-Tools for the 2015 Commercial Integrator BEST Awards in the Project Management & Design/Web Software category. This award program highlights the most outstanding new products, solutions, and services that could impact the commercial integration industry in 2015. A panel of industry experts, integrators, and the editors of Commercial Integrator chose the winners based on criteria for the winning products that included innovation, functionality, competitive advantages, and benefits to the installer.
Finally, the SI 2015 software recently garnered a Security Sales & Integration MVP (Most Valuable Player) Award in the Business Operations (Software Applications) category, illustrating how important the software is to the success of security integration companies.
"We are so gratified that our System Integrator 2015 software solution is making a real difference in the daily lives of those in the commercial audio, video, and security fields," says D-Tools president Adam Stone. "We hope that other commercial integrators and consultants will see these awards as testament to D-Tools' capabilities for streamlining design, specification, proposal, and now also, installation management processes and creating professional documents that save both time and money."
D-Tools System Integrator SI 2015 features several impressive new features. Mobile Install (MI) gives users the power to publish Install Tasks and Service Orders to a portal powered by the D-Tools Cloud that can be accessed by technicians and installers in the field from any smartphone or tablet. This feature enables users to send and receive device-level notifications, schedule installs and make updates to a centralized calendar, then broadcast those appointments and changes out to their team in real-time. These adjustments will automatically synchronize with the SI 2015 platform for accurate time and installation tracking, which equates to far more efficient bookkeeping. SI 2015 also features enhanced integration with QuickBooks that allows integrators to track inventory and order status, sync vendors, and more. Highly effective AutoCAD (including AutoCAD 2015) and Visio-based drawings provide clearer and more concise communications between team members and consultants for more effective project management.
Those interested in learning more about the award-winning SI 2015 are encouraged to sign up for a free demo by visiting http://d-tools.com/live-demo-webinar/ or for a free 30-day trial, which can be downloaded by following this link http://d-tools.com/30-day-free-trial/.
About D-Tools, Inc.
D-Tools, founded in 1998 and based in Concord, California, is a worldwide leader in accessible, highly accurate system design and documentation software platform. The company's flagship product, System Integrator™ (SI), is a robust solution that utilizes Autodesk® AutoCAD and Microsoft® Visio to facilitate comprehensive system design, documentation and project management. D-Tools enables residential and commercial integrators to streamline business processes and increase revenues while reducing the time and cost associated with the installation and integration of low-voltage electronic systems. More than 4,500 leading companies currently use the award-winning D-Tools platform to reduce time, costs and to streamline the system integration process. Product updates and related information can be obtained by following D-Tools on Twitter and on Facebook.
Media Contacts
Tim Bigoness, D-Tools, Inc., (925) 270-4102, [email protected], www.d-tools.com
Katye (McGregor) Bennett, KMB Communications, Inc., (425) 328-8640, [email protected]
MVP Contact
Josh Carlson, D-Tools, Inc., (925) 270-4105, [email protected]