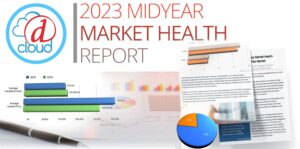 The first-ever D-Tools Market Health Report based on nearly 100,000 project proposals reveals an average 5.2% drop in revenues for integrators in first six months of 2023.
CONCORD, CA — September 20, 2023 — D-Tools, the leading provider of business management software for electronic systems contractors, today announced the publication of its first-ever industry health report titled the D-Tools 2023 Midyear Market Health Report. Going forward, Data by D-Tools' reports will deliver timely, accurate, and actionable business intelligence to stakeholders in the residential systems, commercial AV, and commercial security industries on a regular basis. 
The D-Tools 2023 Midyear Market Health Report examines several key metrics from the residential custom electronics industry for the first six months of 2023 versus the first half of last year. The data analyzed was extracted from nearly 100,000 project proposals created by integrators using D-Tools Cloud, the company's comprehensive Software as a Service (SaaS) business management software. The research reveals that the average residential custom integration firm had revenues fall by an average of 5.2% in the first half of the year, with month-by-month tracking showing that the market is following a similar pattern to the overall U.S. economy. 
"The D-Tools 2023 Midyear Market Health Report offers the industry a valuable snapshot of how the year is progressing to date in 2023 for both suppliers and integrators," says Jason Knott, Data Solutions Architect & Evangelist, Data by D-Tools. "There are several interesting and somewhat surprising data points in the report."  
Among the other important metrics tracked in the report include average number of proposals, closing rate, and project size. Other data examines the product-versus-labor mix, the amount of value engineering taking place, and the top equipment categories installed. 
"The industry's rapid adoption of D-Tools Cloud enables D-Tools to deliver valuable insights that stakeholders – integrators, manufacturers, distributors, buying groups, etc. – can use to track key industry health markers and critical trends within the custom installation market," says Randy Stearns, D-Tools CEO. "This 2023 D-Tools Midyear Market Health Report is the first installment of what will become a series of studies aimed at helping industry players adapt to changing market dynamics and plan for the future."
Every report from Data by D-Tools will not only report findings, but also offer recommended actions that custom integrators can take based on the research. The 2023 Midyear Market Health Report is available as a free download in the Resource Center here. 
About Data by D-Tools
Data by D-Tools extracts and analyzes aggregated anonymized data drawn from over 1,000 active integration companies using the award-winning D-Tools Cloud software. D-Tools Cloud tracks real project data in aggregate across multiple phases, including quoted, proposed, sold, ordered, and installed. Data by D-Tools aims to be the preeminent provider of objective, actionable industry information and insights for the electronic systems industry to foster critical decision-making that fuels market growth.
About D-Tools
D-Tools, Inc. is a leading provider of business management software for electronics systems contractors worldwide. For more than 25 years, D-Tools' award-winning solutions have empowered thousands of low-voltage systems integrators to streamline their business operations for greater efficiency and improved profitability. Boasting an integrated product library complete with up-to-date specifications and unique dealer-specific pricing, the D-Tools Cloud and System Integrator™ (SI) platforms enable end-to-end management of the systems integration project lifecycle. From sales and system design through installation and ongoing service, D-Tools' purpose-built software products ensure accurate detail that directly benefits the bottom line. For more information, visit www.d-tools.com. 
Find product updates and related information by following D-Tools on Twitter, Facebook, and LinkedIn.
Media Contacts
Company contact: Tim Bigoness, D-Tools, (925) 270-4102, [email protected] 
Agency contact: Katye McGregor Bennett, KMB Communications, (425) 328-8640, [email protected]