Enabling remarkable installation ease and flexibility, DP's HIGHlite Satellite Modular Laser System (MLS) projection system a bona-fide game-changer in the commercial AV marketplace.  
(Kennesaw, Georgia) May 24, 2023 – Digital Projection streamlines the deployment of high-quality projection systems for integrators with the InfoComm 2023 debut of its award-winning HIGHlite 4K UHD Reference Satellite Modular Laser System (MLS) projection system. InfoComm 2023 attendees can witness the incredible installation flexibility afforded by the HIGHlite Satellite MLS affords at Booth #3029.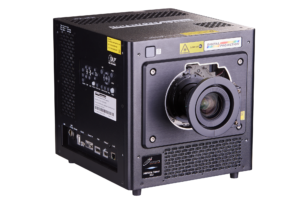 Key to enabling quicker, easier installation, particularly in tight, cramped spaces, is the separation of the projector head from the pure RGB light laser source. The modular configuration results in a projector chassis that's significantly smaller and lighter than other premium 3-chip DLP projectors. It weighs just 42 pounds, compared to the 120 pounds of most other projectors, and its overall footprint is 83% smaller than its original integrated design. Connected to the projector head via robust, flexible fiber optic cables, the modular light source can be located as far as 330 feet away where its noise and heat won't interfere with the viewing experience. Keeping the projector chassis and light engine separate also enables greater customization and simplifies upgrades and maintenance.
"One of the overarching tenets at DP is to develop the types of imaging products that help dealers expand into new markets and build business. The introduction of our HIGHlite Satellite Modular Laser System is a reflection of this commitment," says DP Vice President of Sales Chuck Collins. "It can fit into places that traditional large, heavy premium projectors can't so dealers can commission projects they might have otherwise turned down due to the significant amount of time and labor it would have taken to complete. With the HIGHlite Satellite Modular Laser System they can get in and out of even the most challenging jobs faster and with less manpower and move on to the next project." 
The compact and lightweight design of DP's HIGHlite Reference Satellite MLS compromises none of its performance features, as the system produces REC2020 colorimetry and powerfully bright illumination up to 10,000 lumens (the WUXGA version reaches 20,000 lumens and supports two modular light sources). This family of modular projection systems offers integrators and system designers more flexibility and options to deploy advanced visual solutions in unique commercial projects while making high-end RGB laser illumination accessible at a cost-effective price point.  
Where to See DP's New HIGHlite Satellite MLS Projection System
InfoComm 2023 attendees can see DP's revolutionary HIGHlite Satellite MLS projection system, as well as new laser projectors and LED displays at Booth #3029. To learn more about these and other DP imaging solutions, please visit https://www.digitalprojection.com/en-us/projectors/satellite-modular-laser-system/.
 About Digital Projection International
Founded in 1989, Digital Projection International has been instrumental in the development and application of Digital Light Processing™ (DLP) technology by Texas Instruments for projection systems. Digital Projection introduced the world's first 3-chip DLP® projector in 1997 and has since delivered expert system engineering and world-class customer services, thus maintaining its position as a digital imaging pioneer. Digital Projection's ground-breaking projection research and development has garnered the admiration of industry professionals around the world. This has earned the company many awards, including two Emmy® Awards for Outstanding Achievement in Engineering Development by the Academy of Television Arts and Sciences. Digital Projection remains the first and only projector manufacturer to win the coveted award.
Media Contact
For interviews, reviews, or more information please contact Katye (McGregor) Bennett of KMB Communications by phoning (425) 328-8640 or emailing [email protected].
All products, product names, trademarks, and registrations mentioned are the property of their respective owners, all rights reserved.
Originally posted at: https://www.svconline.com/the-wire/digital-projection-introduces-modular-two-piece-reference-dlp-projector