FOR IMMEDIATE RELEASE
FORTRESS Seating Debuts Smart Chair Technology, Emphasizes Customization at ISE 2017
Dakota, Sierra, and Newland Sectional are customizable to specification, while FORTRESS new Smart Chair technology gives innovative new options for total smart home integration
La Verne, CA & Amsterdam, NL (JANUARY 2017) — FORTRESS Seating, leader in home cinema, media room, and contract seating—will emphasize quality, customization, and next generation Smart Chair technology during Integrated Systems Europe (ISE) 2017, being held at the Amsterdam RAI, February 7–10, 2017, in the Home Cinema Europe stand, #1-N75.
Showcasing its differentiated and unique lineup, FORTRESS will demonstrate new models and technologies during ISE 2017. There, the Newland Sectional, Dakota, and Sierra models, as well as the revolutionary new Smart Chair Technology will make their International debut. Delivering upon FORTRESS's unyielding commitment to expertly crafting completely customized seating solutions, these newer models yield impressive features and end-user benefits Dealers, distributors, reps, and other partners will benefit from as will the customers they serve.
FORTRESS Seating Smart Chair Technology
Representing the seating category's most significant advancement to date, new FORTRESS Smart Chair technology makes its International debut at ISE 2017. Innovative and intuitive, FORTRESS Smart Chair technology is IP-addressable, which allows it to seamlessly integrate and interact with control and automation systems. Easily integrated into any model in the line, FORTRESS Smart Chair technology employs state-of-the-art human occupancy sensors that detect when someone enters or exits the chair, automatically performing functions like adjusting to preset seating positions, overhead and pathway lighting, activating or pausing a Blu-ray players, adjusting shades, or any other function that can typically be programmed. FORTRESS Smart Chair technology will also detect human contact in mechanism pinch points, stopping the motor to reduce risk of injury while also preventing damage to the chair. With FORTRESS Smart Chair technology, end-user options and integrator opportunities are virtually limitless.
FORTRESS Dakota/Sierra Seating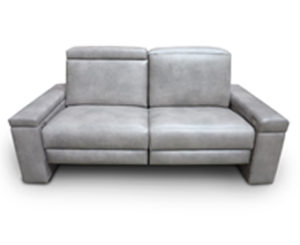 With an open base and low, streamlined back, Dakota and Sierra models both disguise the fact that they fully recline, with footrests that curl beneath the units when in the upright position, while the headrests flip up independently to give full head and neck support while viewing a movie or relaxing.
While the Dakota and Sierra are very similar, they have slight differences in the style of the headrest and arms. The Dakota (shown left) features a bold box style while the Sierra (right) has a knife-edge seam. Every model is made to specification and like all models, can be fully customized to suit any requirement—including FORTRESS Smart Chair technology.
"Because Dakota and Sierra have headrests that go up and down, they are great for theaters and other rooms that have sight line(two words) challenges," says Gabi Wolper, Vice President of FORTRESS Seating. "So many people have rooms doing dual purpose these days, this feature helps meet that need," adds Wolper.
FORTRESS Newland Sectional
FORTRESS has long been regarded as the industry's go-to supplier when unique seating is required. Offering solutions for nearly any room, environment, or application, FORTRESS Seating works side-by-side with its partners to solve integration and design challenges.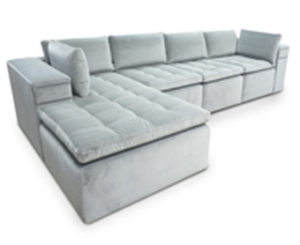 Such was the case with the concept for the Newland sectional, which came about when custom integrator New Land Solutions of the United Kingdom needed to convert a customer's living room into a theater, and then back again. In this situation, there was a need to produce a sofa that would ride on a motorized track. Not only did the large sofa dimensions need to be exact but the weight also had to be controlled so the entire sofa could be moved. The result is a lightweight, elegant, and completely customizable design that works equally well for theater and everyday use.
 The Newland, Dakota, and Sierra models—like all products in the FORTRESS lineup—leverage decades of experience handcrafting residential and commercial solutions, which enables the company to construct the strongest, most luxurious options available. Because seating is a highly personal decision, FORTRESS creates each one to order, focusing on quality, comfort, and design. Each seat is designed to enhance the entertainment experience by providing long-lasting comfort and support, and all models can be customized to specification, including size, color, fabric, FORTRESS Smart Chair technology, accessories, and more.
For interviews, editorial appointments, or media tours during events, please contact Katye (McGregor) Bennett of KMB Communications, Inc. by phoning (425) 328-8640 or emailing [email protected].
About FORTRESS, Inc.
Founded in the 1930's and based near Los Angeles, California, FORTRESS, Inc. is an award-winning manufacturer of handcrafted upholstered furniture and home theater seating. Delivering exceptional seating solutions for home and business that address and resolve the most demanding requirements, FORTRESS sets the standard for innovative design, complete customization, and exceptional fit and finish. When off-the-shelf seating is not the answer, FORTRESS has the solution.
Those interested in learning more about FORTRESS, Inc. are encouraged to view the www.fortresseating.com website, e-mail [email protected], call (909) 593-8600, and follow @FortressSeating  on Twitter and "Like" FORTRESS on Facebook.
 All products, product names, trademarks and registrations mentioned herein are the property of their respective owners, all rights reserved.
Media Contact
Katye (McGregor) Bennett | KMB Communications, Inc.
(425) 328-8640 | [email protected] | www.kmbcomm.com |
KMB Facebook | KMB Google+ | KMB LinkedIn | KMB Twitter
# # #