FOR IMMEDIATE RELEASE
FORTRESS Seating Showcasing Stately, Comfortable Lexington Seating at ISE 2017

With its slender profile and the perfect amount of lumbar support, the Lexington makes a statement and allows for extended viewing in the ultimate comfort
La Verne, CA & Amsterdam, NL (JANUARY 2017) — FORTRESS Seating, leader in home cinema, media room, and contract seating—announced today that it will be demonstrating its popular Lexington seating model during Integrated Systems Europe (ISE) 2017, being held at the Amsterdam RAI, February 7–10, 2017, in the Home Cinema Europe stand, #1-N75.
Showcasing craftsmanship, durability, comfort, and unrivaled customization options, FORTRESS will show a dual Lexington seating arrangement upholstered in premium Fargo Whiskey leather. Its two-cushion framed back features a slender profile and is constructed with just the right amount of lumbar support for long-term comfort.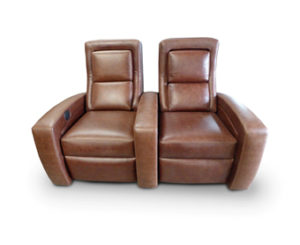 "The Lexington is a great option for home cinema and media rooms alike because it offers distinctive support mechanisms that make it very comfortable to sit in for extended periods of time," says Gabi Wolper, Vice President of FORTRESS Seating. "Its slender profile and well-proportioned medium back height make specifying perfect site lines to the screen from every seat in the room easy."
FORTRESS Lexington seating measures 56 cm (22 in) wide, features a medium back height, and includes a 15 cm (6 inch) outside arm. In addition to its award-winning craftsmanship, build quality, customization, and customer service, FORTRESS Seating is known for its wide range of accessories, with more than 35 options available that allow the integrator or homeowner to create the ideal seating solution to fit the environment and application. The Lexington model shown at ISE includes a motorized incline mechanism for the ultimate in lounging comfort, along with a motorized articulating headrest mechanism that allows the viewer to adjust the headrest for long-term viewing comfort.
The Lexington—like every product in the FORTRESS lineup—leverages decades of experience handcrafting residential and commercial solutions, which enables the company to construct the strongest, most luxurious options available. Because seating is a highly personal decision, FORTRESS creates each one to order, focusing on quality, comfort, and design. Each seat is designed to enhance the entertainment experience by providing long-lasting comfort and support, and all models can be customized to specification, including size, color, fabric, technology, accessory options, and more.
For interviews, editorial appointments, or media tours during events, please contact Katye (McGregor) Bennett of KMB Communications, Inc. by phoning (425) 328-8640 or emailing [email protected].
About FORTRESS, Inc.
Founded in the 1930's and based near Los Angeles, California, FORTRESS, Inc. is an award-winning manufacturer of handcrafted upholstered furniture and home theater seating. Delivering exceptional seating solutions for home and business that address and resolve the most demanding requirements, FORTRESS sets the standard for innovative design, complete customization, and exceptional fit and finish. When off-the-shelf seating is not the answer, FORTRESS has the solution.
Those interested in learning more about FORTRESS, Inc. are encouraged to view the www.FORTRESSeating.com website, e-mail [email protected], call (909) 593-8600, and follow @FORTRESSSeating  on Twitter and "Like" FORTRESS on Facebook.
All products, product names, trademarks and registrations mentioned herein are the property of their respective owners, all rights reserved.
Media Contact
Katye (McGregor) Bennett | KMB Communications, Inc.
(425) 328-8640 | [email protected] | www.kmbcomm.com |
KMB Facebook | KMB Google+ | KMB LinkedIn | KMB Twitter
# # #