Will you join us in our efforts to reduce, re-use, and recycle?
It's Earth Day! The audio visual industry is not, by any means, what some people would consider "green." The products manufactured and the systems built all require electricity and some contribution to the world's carbon footprint.
By the same token, technologies designed and installed by those in the industry — videoconferencing, telepresence, and remote network monitoring and management, to name just a few – can help organizations substantially reduce their carbon footprint on an enterprise level.
To put it another way: Working, as we do, in the technology field, gives us many opportunities to reduce our own carbon footprint and look for ways to reduce, re-use, and recycle.
International Collaboration, Low Carbon Footprint
For the last four years, KMB Communications has run a virtual office from the founders' home in Red Lodge, Montana. As the company expands, this virtual office format has enabled us to work with partners across the country and across the globe. With team members in Southern California, Denver, and New York, as well as our partnership with UK-based PR firm Wildwood Communications, KMB is truly a global company, yet with a minimal carbon footprint that includes energy efficient computer systems and our eyes on additional ways to conserve energy.
We did the math, and discovered that the KMB team saves an estimated, collective 80 gallons of gasoline per week by working from home instead of commuting daily to the nearest cities. It's kind of mind-boggling.
A More Sustainable Lifestyle
"Our location in the mountains gives us the opportunity to practice a more sustainable lifestyle," notes KMB Chief Strategist Katye (McGregor) Bennett.
For instance, the Bennetts are able to forego daily home mail delivery and, instead, pick their mail up a few days a week from the local post office. They frequently enjoy farm-to-table dining at a number of local establishments.
And, on Earth Day, the entire KMB team, from Red Lodge to New York, has considered ways they can help the environment by reducing, re-using, and recycling.
Taking Action on Earth Day
The KMB Communications team is: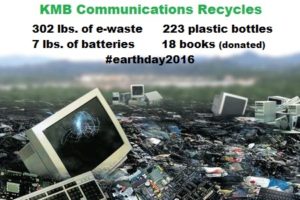 – Taking 305lbs. of e-waste to the local recycling facility
– Safely disposing of 7 lbs. of batteries
– Returning 223 plastic and glass bottles for recycling
– Donating five bags of clothing to local charity groups
– Donating 18 books to the local library
How Our Clients Help Save the Earth
Many of our clients are green, too. For instance, implementing Ihiji solutions helps integrators and technology professionals reduce truck rolls and carbon emissions with remote networking monitoring and management of client systems. D-Tools helps integrators streamline office processes with a paperless system. And telepresence and video conferencing systems that reduce travel for corporations often use screens by Stewart Filmscreen. Paired with an energy-efficient laser or hybrid projector, such systems not only show a tangible monetary return-on-investment over time, but they also reduce an organization's carbon footprint by reducing travel and enabling daily telecommuting for employees.
How are YOU "living green" this Earth Day? Let's continue the digital dialogue on Facebook, Twitter, and LinkedIn.