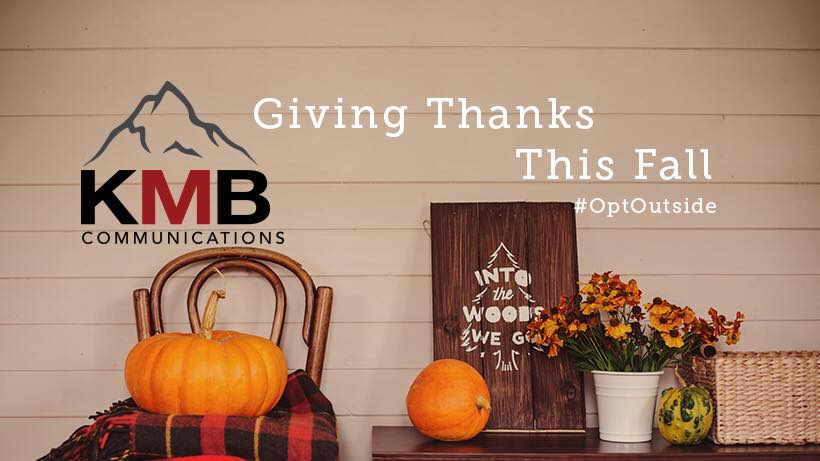 If you're like us, your inbox and RSS feeds are filled with posts about gratitude. As we approach the official start of the holiday season, it is definitely time to give thanks for what we have.
No, the world (still) isn't perfect. But if we look within to identify our blessings, we can certainly find good in our own little corner of the planet. We believe this is true no matter what your personal challenges may be.
For those of us who are also blessed with a strong support network, good friends, and thriving businesses, it is even more important to recognize and give thanks to those who have helped us on our journey.
And… let's be honest. Sometimes it's nice to be on the receiving end of a heartfelt "thank you," as well.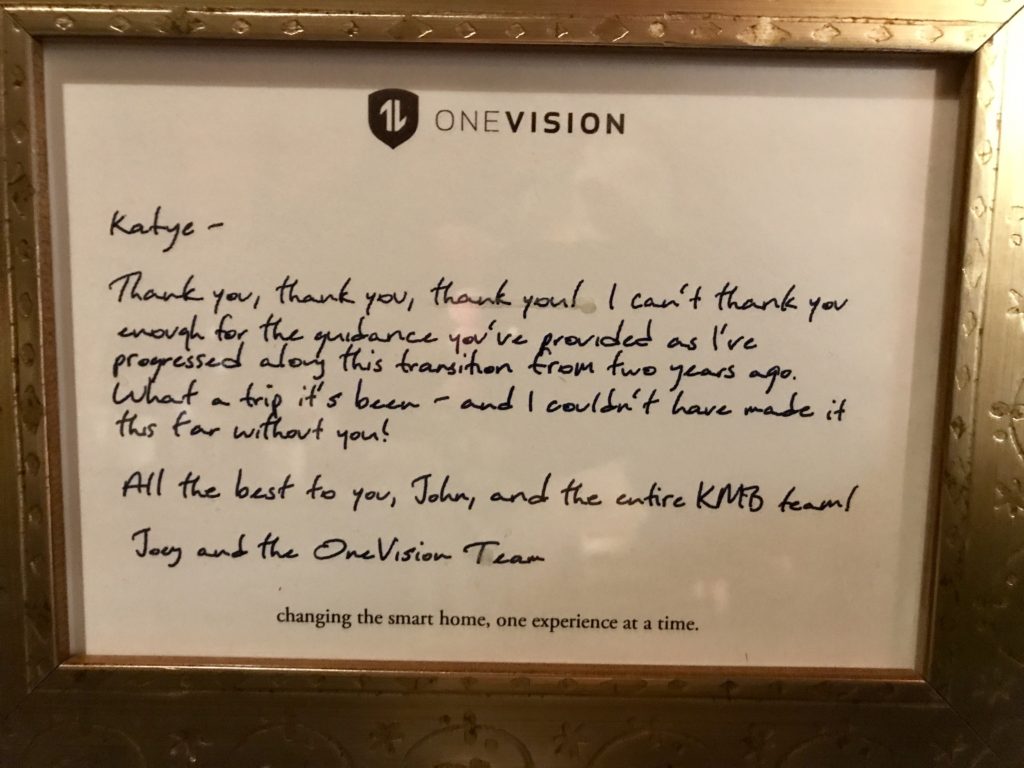 No Thanks Needed… But Always Appreciated!
KMB client Joey Kolchinsky of OneVision Resources recently sent KMB's Chief Strategist Katye (McGregor) Bennett a handwritten thank you note, thanking her for the guidance she's provided over the last two years. This included helping to navigate a business model pivot, develop a content strategy, and write an interview for the Boston Voyager, a local lifestyle publication that shares stories of successful Bostonians.
During Azione Unlimited's Fall Conference, panelists discussed the significant benefits they've seen from writing thank you cards to clients, partners, and employees. Panelists mentioned more motivated employees, more loyal clients, and better overall relationships as some of the advantages gained.
In this age of digital communications, taking time to write a handwritten thank you card shows you genuinely care. It's more than just saying the words; it's articulating and delivering a heartfelt message.
The little things matter. And that's what we specialize in here at KMB. Our clients share this philosophy, as exemplified in Joey's note.
In Praise of Cards and Cookies
Admittedly, at KMB Communications we are kind of crazy about cards. Katye typically sends a handwritten thank you inside a whimsical or timely greeting card each month. I look forward to these uplifting notes for a smile (and often a laugh) after closing out yet another intense month with the KMB team.
This month, I got home-baked cookies, too. And let me say: Cookies are also a pretty great way to say thank you. (My six-year-old son thought so, too.)
As we enter into one of the most stressful, intense times of the year, when work commitments, holiday shopping, gatherings, and parties all coincide, many of us will be rushing to write our annual holiday greeting cards. Just another must-do on our holiday to-do list.
But how many other times during the year do you reach out and let the people in your network know how much you really appreciate them?  Whether through a phone call, a handwritten card, or a small token of appreciation, it's smart to share your gratitude in a more personal way.
It feels good. It makes others feel good. And now more than ever, people need just a little more happiness.
#OptOutside And Show Gratitude With Us
In past years, we've asked our social network, friends, clients and colleagues to consider skipping the Black Friday crowds, which take time away from family, friends, and loved ones during the holiday weekend. Instead, #OptOutside. An initiative launched several years ago by outdoor retailer REI, #OptOutside has gained momentum as new family traditions are formed. Members of the KMB  team will be outdoors hiking, picnicking, and even possibly snowboarding—but definitely relaxing this Black Friday. We hope you'll join us. (If you do, please tag @KMB_Comm and share your photos using #OptOutside.)
Just one more thing (as Steve Jobs would say). We hope you will take the effort to share your appreciation for someone who means a lot to you. Perhaps it's a mentor who helped you in your business. A friend who is always there with the perfect adult beverage and a shoulder to cry on. An employee who consistently gets it right.
Or maybe it's your favorite AV manufacturer, making it easier for you to enjoy the Macy's Thanksgiving Day Parade, football, or your favorite holiday films with superior sound and image fidelity.
Who will you thank this week? Catch us on Twitter let us know using #KMBGratitude.