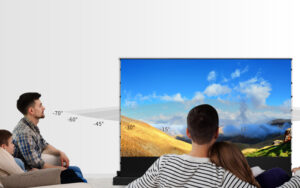 Designed to pair with short- and ultra-short-throw projectors, SI's new Short Throw Lift is a functional solution for rooms lacking space for traditional projection systems.
AUSTIN, TX (October 25, 2023) — Fresh off the heels of numerous product introductions at CEDIA Expo 2023, Screen Innovations adds yet another motorized screen solution to its wide range of innovative assemblies and materials. The new Short Throw Lift addresses the growing need for large but discreet displays in smaller media rooms and corporate boardrooms. 
Unlike traditional projection systems that require ample distance from the projector to the screen or work best in dark rooms, the pop-up laser TV sits just inches from a short-throw projector. SI has paired the Short Throw Lift with its award-winning 120-inch ambient light-rejecting screen (a 110-inch ALR screen is also available) for a complete turnkey laser TV system that combats glare from artificial and natural lighting to deliver a bright, crisp, well-defined image. Viewers can sit wherever they like—a 12-foot seating distance is recommended—without casting shadows on the screen. This makes the Short Throw Lift particularly useful for gaming, business presentations, and videoconferencing.
The Short Throw Lift also blends in with the room design. The laser TV rolls quietly and smoothly into the base of the unit and is concealed by a trap door when it's not in use. The base can stand alone, be integrated into cabinetry, mounted to the wall, or tucked beneath the floor. Control options include a 12-volt trigger, infrared or SI's new wireless Sub-Gig 485 RF transceiver, Pegasus. 
"The big-screen experience has evolved dramatically over the past few years, transforming from a dark room where only movies are enjoyed to a multimedia experience that invites us to gather as a family and with friends to play video games, connect with others via Zoom, or simply watch TV together. People still want a big screen experience but may not have the room design for a long-throw projector," says SI screen evangelist Blake Vackar. "Our Short Throw Lift gives integrators a great alternative to this common installation challenge. The lift is easy to integrate into any viewing environment, features our best ALR screen, and delivers stunning images up to 8K resolution." 
Integrators can pair the Short Throw Lift with an SI ALR screen their favorite short-throw or ultra-short-throw laser projector. Hidden handles enable the unit to be easily positioned according to the projector, viewing, and space requirements. 
To learn more about SI's Short Throw Lift and laser TV system, please visit https://www.screeninnovations.com/screen/short-throw-lift/ 
About Screen Innovations
Innovative shades & projection screens, making life beautiful, convenient & fun
Dedicated to developing the most innovative and design-forward projection screens, window coverings, and outdoor shading and screen solutions for home and corporate environments, Screen Innovations engineers and hand-builds every product it sells in its 75,000-square-foot factory in Austin, Texas. Always putting the customer first, SI listens, learns, and delivers a wide variety of design-forward products, services, and online tools. Committed to doing its part to limit the company's impact on the environment, SI follows LEAN manufacturing principles and monitors production processes closely to minimize waste wherever possible. For more information about SI please visit screeninnovations.com and follow the company on social media platforms Facebook @screen innovations, Twitter @SIScreens, Instagram @siscreens, and LinkedIn screen-innovations.
Media Contact
For interviews, reviews, or more information please contact Katye (McGregor) Bennett of KMB Communications by phoning (425) 328-8640 or emailing [email protected].