In its first appearance at IWCE (International Window Coverings Expo), Screen Innovations enables smarter, more stylish installations of motorized window treatments with two new trend-setting solutions.  
AUSTIN, TX (March 31, 2022) — Screen Innovations (SI) makes its IWCE debut with two of the most technologically advanced and aesthetically stylish indoor window covering and outdoor shading solutions available to window treatment professionals today. Drawing from years of experience developing some of the smart home industry's most popular motorized window treatment systems, SI extends this expertise to the world of window fashion at the International Window Coverings Expo (IWCE), April 5–7 in Fort Lauderdale.
At Booth #819, SI will showcase its meticulously engineered motorized outdoor and indoor shading solutions, Nano 2 and Zen 2, which take up a fraction of the space of similar motorized window covering options yet are packed with state-of-the-art technologies that make them infinitely smarter and easier to install and use than comparable products. "It's what this product looks like— virtually invisible— that makes it stand out from the competition and attract customers," confirms David Huse of Theater Advice of Dallas, Texas.
Other stand-out features include the option to power the Nano 2 and Zen 2 cassettes either via low-voltage cabling or rechargeable lithium battery for a simpler, wireless installation. Some of SI's solutions feature the latest wireless communication protocol Zigbee 3.0 for unmatched reliability and seamless integration with other smart home systems.
"As homeowners explore ways to elevate the appearance, comfort, privacy, and functionality of their living environments, so has the demand for motorized window treatments and outdoor shading. But rather than follow tradition by developing basic, uninspired solutions that clash rather than complement a home, we've incorporated some truly revolutionary features into our residential window covering products," says SI CEO Ryan Gustafson. "Our Nano 2 and Zen 2 solutions redefine the motorized window treatment category by embodying some of the most technologically advanced and design-forward attributes in the window covering market today. Our participation in IWCE and our introduction of these two remarkable products marks our commitment to providing window treatment professionals with solutions that make a real difference in their customers' lives."  
Nano 2 – A Killer Combination of Beauty and Brains
SI's popular Nano line is a window treatment professional's dream. The motorized cassette comes in more than twelve decorator colors, including custom finishes, accommodates a wide assortment of fabrics, mounts quickly and easily to most bracket styles, and supports standard and reverse-roll configurations. 
Particularly helpful to window treatment professionals is Nano 2's removable front cover. It detaches easily while the cassette is mounted for instant access to internal motors, technology, and fabric. This simplifies any necessary leveling adjustments of the window treatment or a complete fabric swap during a remodel, for example. Other refinements enable smoother, quieter lifting and lowering of the window covering, faster programming of presets, and reliable two-way communication with other smart systems and devices, such as architectural lighting systems, audio/video equipment, and home automation systems.
The distinctive simplicity, elegance, and capabilities of the system have given window treatment professionals like Matt Fletcher of Eclipse Luxury Shades a leg up on his competition. "We finished our first installation of SI's Nano and were blown away. We couldn't believe how smooth it went; every measurement was perfect, and the packaging was amazing. SI is now our go-to brand for shades."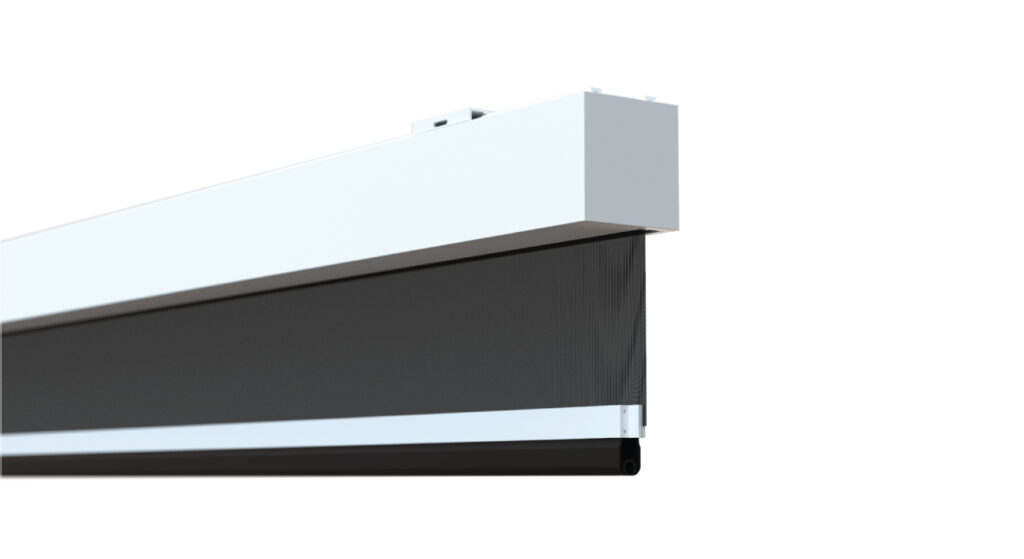 Zen 2 Brings Elegant, Controllable Shading, Privacy and Protection to Outdoor Spaces
The first décor-minded outdoor shading solution, SI's trend-setting Zen 2 boasts a customizable, architecturally friendly design that effortlessly transforms decks, gazebos, patios, and beyond into comfortable, stylish living spaces ideal for entertaining, relaxing, and connecting with nature. It's a movement that bodes well for building new business. 
According to the National Association of Home Builders, 61.4% of homes started in 2020 came with patios, marking the fifth consecutive year that new homes with patios hit a record high. Capitalizing on this trend, Zen 2 gives architects and window fashion designers a motorized shading option that seamlessly blends into modern home designs, thanks to a custom paintable, primed option for a perfect color match. 
Accommodating shades up to twenty-five feet wide and sixteen feet tall, Zen 2 includes everything for a complete installation, including mounting hardware, motorized shade cassette, and a wide selection of popular outdoor shading fabrics, including bug screens. Much like SI's indoor Nano 2 window covering solution, Zen 2 employs tech and design features to streamline installation and synchronization with lighting, AV equipment, and more. 
Building Business Opportunities with SI's Window Treatments and Outdoor Shades
Wireless motorized window treatments and outdoor shades are certainly easier to deploy than their hardwired counterparts but can sometimes be more difficult to control if proper steps are not taken. Today's homes are jam-packed with Wi-Fi signals due to the proliferation of Wi-Fi-enabled computers, smartphones, TVs, appliances, and other devices. Add wireless motorized window coverings to the mix, and Wi-Fi congestion escalates. This can impede control signals from reaching window covering motors quickly and reliably, resulting in an unsatisfying experience. 
SI has a solution to this control conundrum: During a lively and informative IWCE seminar Broaden your Business: How Two-Way Wireless Shades Expands Today's Home, SI reveals the benefits of two-way wireless communication over traditional one-way technology in window covering projects. Held at 12:30, 2:00, and 3:00 p.m. on April 7 and 8, SI's Sasha Osadchy outlines the smoothest transition to two-way wireless using products window treatment professionals already use (and their clients love) and looks at some of the latest motorization technologies shaping the market. Armed with this knowledge, seminar attendees can better serve the demands of their clients for greater reliability, elegance, and ease of control.  
IWCE attendees are invited to learn more about SI's wireless motorized indoor and outdoor shading options, including Nano 2 and Zen 2, by visiting Booth #819 and attending regional training sessions and online webinars, which can be scheduled by going to www.screeninnovations.com/become-a-dealer.  
For more information about SI and its entire line of motorized window coverings, shades and projection screens, please visit screeninnovations.com, on Facebook @screen innovations, and on Twitter @SIScreens.
About Screen Innovations
Innovative shades & projection screens, making life beautiful, convenient & fun. Dedicated to developing the most innovative and design-forward projection screens, window covering, and outdoor shading and screen solutions for home and corporate environments, Screen Innovations engineers and hand-builds every product it sells in its 75,000-square-foot factory in Austin, Texas. Always putting the customer first, SI listens, learns, and delivers a wide variety of design-forward products, services, and online tools. Committed to doing its part to limit the company's impact on the environment, SI follows LEAN manufacturing principles and monitors production processes closely to minimize waste wherever possible. For more information about SI please visit screeninnovations.com and follow the company on social media platforms Facebook @screen innovations, Twitter @SIScreens, Instagram @siscreens, and LinkedIn screen-innovations.
Media Contact
For interviews, reviews, or more information please contact Katye (McGregor) Bennett of KMB Communications by phoning (425) 328-8640 or emailing [email protected].
All products, product names, trademarks, and registrations mentioned are the property of their respective owners, all rights reserved.