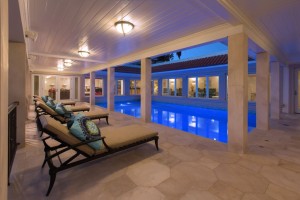 Texas audiovisual systems integrator celebrates 15-year anniversary with expansion and name change
Audiovisual and home automation integration firm, STARLIGHT, headquartered in Allen, Texas, celebrates its 15th anniversary this year, and announces a name change to STELLAR Home Theater and Beyond.
The new name more accurately reflects the company's reputation and expanded service offerings. Just as a star goes supernova, creating a "stellar" event and scattering its energy and light across the universe, over the past 15 years Starlight, now STELLAR, has expanded across Texas with multiple design centers in Dallas, Allen, Plano, Westlake, and most recently, Austin. Plans call for a new location to be added in Houston later in the year.
"Starlight, now STELLAR, has provided highly differentiated luxury and high-performance audiovisual and automation services to our clientele for 15 years," STELLAR President and CEO Shane Bala says. "Our expansive service offerings, including home cinema and dedicated home theaters, home automation, lighting, shade systems, structured wiring and security systems, plus interior design and design/build services, uniquely enable STELLAR to provide our new and existing customers more of what they need from a single source or point-of-contact. Our new name reflects our continued commitment to offering 'stellar' service backed by our 'stellar' staff's years of experience."
STELLAR Home Theater and Beyond's expansion stems from both a burgeoning home automation and home cinema marketplace and a differentiated business model that couples a show home or an experience center with a synergistic business. Combining the best of all worlds, STELLAR staffs each of its design centers with highly trained and certified RID, ASID, and CEDIA, LUTRON, SAVANT and CONTROL4 AV system programmers that work directly with manufacturers, builders, designers, and end-users to design and deliver the projects of their dreams, in a straightforward, turnkey manner. STELLAR is a member of the Austin and Dallas Builders Association and the American Society of Interior Designers, and is a regular participant in local chapter events.
Anniversary Plans Include Further Expansion
As leaders in the field of home entertainment, home automation, audiovisual systems and more, STELLAR specializes in delivering both a customized experience that goes far beyond the offerings of big box electronics stores and an unyielding commitment to excellence.
In addition to the name change, STELLAR Home Theater and Beyond has launched a new website, www.livestellarnow.com, which details the company's expanded service offerings and locations.
STELLAR Home Theater and Beyond will be celebrating its 15th anniversary now through the remainder of the year, with further expansion into the Houston market, as well as industry and events for manufacturers, builders, designers, and end-users that will serve not only to celebrate but to showcase the products, technologies, and services STELLAR provides throughout Texas.
Go to www.livestellarnow.com or visit one of the STELLAR Home Theater and Beyond design center showrooms to learn more.
###
About STELLAR Home Theater and Beyond
STELLAR Home Theater and Beyond is a full-service home theater, audiovisual systems and home automation firm headquartered in Allen, Texas, with design centers in Dallas, Austin, Allen, Plano, Park Cities, and Westlake.
Celebrating its 15th anniversary this year, the company continues to offer a unique business model to the Dallas-Fort Worth area and beyond, setting a show home inside a synergistic business. The company's highly trained design team and service staff provides custom designed and installed home theaters, audiovisual systems, home automation, security and more to a diverse yet discerning clientele.
With a complete team of specialists on staff, including architects, designers, cabinet makers, electricians, painters, and floor and window covering experts, STELLAR delivers everything from turnkey home solutions to custom-designed spaces that emphasize a STELLAR technology experience.
To learn more, visit one of STELLAR's Texas design center show rooms or visit:
LiveStellarNow.com
Facebook
Twitter
Instagram: Stellarhometheater