Scalable enterprise-grade networking offering is easy with Access Networks' new Core2 and Core3 systems
Los Angeles, CA (August 2018) – Access Networks, the premier enterprise-grade networking solutions provider for the modern smart home, is pleased to announce that its Core2 and Core3 Enterprise-Grade Residential Custom Network Systems have been named Finalists in the 2018 CEDIA Best New Hardware Product Awards.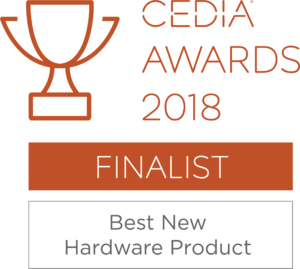 Access Networks Core2 and Core3 systems are comprised of a router, an Access Networks C120 wireless controller, a core Ruckus ICX switch, and a Helix monitoring device with proactive service, creating a complete premium enterprise-grade networking solution when combined with selected access points and additional switches.
Core2 and Core3 systems offer more networking horsepower at a lower cost while retaining better margins for integrators than prior solutions. Core systems are simpler and more scalable enterprise-grade custom solutions ideal for any project that needs a reliable network.
To make system design and integration even easier, Core systems can be specified online via Access Networks' new portal, my.accessca.com. Once a Core system request is submitted online, a design review is automatically initiated to confirm proper specification, and advanced design services are still available if needed leading to guaranteed success. These systems come with a category-leading four years of Access Networks support and an available upgrade option at the end of the four years.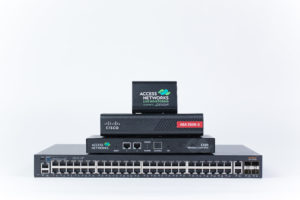 Additionally, the Core Systems are now offered as pre-configured solutions optimized for Crestron NVX deployments as part of a new integration between the two companies. Through this integration, Access Networks' Core2 and Core3 custom-programmed networking solutions are now certified to work seamlessly with Crestron's DM-NVX Series of AV-over-IP encoders/decoders to provide the high bandwidth and low latency today's video distribution systems need.
Adding even more value to the assortment, Access Networks Core2 and Core3 pre-programmed systems provide customization capabilities to meet the needs of any home integration project, large or small. Core2 is a flat (or, layer-2) network core with a single IP scheme for the entire scope of the project. Core3 is a multiple-VLAN (or, layer-3) network with up to six pre-configured VLANs for network segmentation. Core systems include one year of their proactive Live Monitoring service, giving integrators the opportunity to generate recurring monthly revenue and exceed their clients' expectations with a superior level of proactive customer service.
Winners of the 2018 Best New Product Winners will be announced Thursday, September 6th, 3:00 PM at the CEDIA booth.
See Access Networks Enterprise-Grade Networking at CEDIA
To see Core2 and Core3 in action and learn what it takes to deliver networks of scale and how to ensure an exceptional end-user experience, visit Access Networks in booth 5321 during CEDIA Expo 2018 and follow @AccessNetworks on Twitter and Facebook for updates.
About Access Networks
Access Networks is the premier enterprise-grade networking solutions provider for the modern smart home. We design and maintain sophisticated network solutions based on a simple premise: keeping our customers connected. Access Networks assists custom integrators by working to specify, select, source, and configure the networking gear before it is shipped to the project site. From design and deployment to service after the sale, we are here to ensure our network solutions meet the bandwidth demands of today's AV and control components and enhance the overall technology experience. Visit www.accessca.com and follow @AccessNetworks on Twitter and Facebook to learn more.