CES 2023 was alive and well: It was clear from the moment I deplaned and made my way to the CES 2023 badge pickup at the Harry Reid International Airport. After being absent from this particular trade show for the past eight years or so, the upbeat vibe was a nice surprise. The line to pick up my media badge, although long, was ridiculously fast. The CES organizers were ready! It was the same quick and easy experience, despite a fairly packed crowd of eager attendees, getting onto the show floor. Even more impressive, especially coming off a rough couple of years, people were polite, friendly, and patient—even in the unbelievably frustrating taxi queue. The vibe was positive, the energy invigorating, the trade show traffic intense but rarely congested, and the organization, and management stellar. 
Given that I had only one day to explore CES 2023, I choose to focus on the exhibits at the Venetian, where smart home technologies dominated. I'm glad I did! It was a treasure trove of technologies that simply make sense. Sure, there was plenty of CES's standard fare of conceptual, pie-in-the-sky products that likely won't go mainstream. The level of design and engineering that go into them were enough to warrant a "drive-by," as we journalists like to call it. You stop long enough at the booth to get the basic gist and quickly move on to the meat, which for me are technologies that provide real tangible benefits, are within the financial reach of most people (with a few exceptions), and the real clincher—are available NOW or very soon. These were the technologies that gave me pause as I envisioned how they could make my own life simpler and safer. Here are a few of my favorites:
Rachio Smart Hose Timer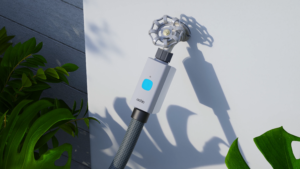 I was lucky. When I bought my old farmhouse four years ago, the landscape around it was fed water from a drip irrigation system. Unfortunately, this modern convenience didn't last long. In my haste to rip out overgrown bushes, I destroyed the line and was back to old-fashioned hand-watering with a hose and messing with finicky sprinkler attachments. Rachio's Smart Hose Timer takes the tedium out of lawn and landscape maintenance for folks like me who don't want to invest in a traditional irrigation system. The Rachio Smart Hose is super easy to install, super affordable at $99, and does a far better job of keeping the vegetation green than other options. Even better, it curbs water usage, sending a drink only when plants need it, saving money. The Smart Hose Timer attaches to an outdoor faucet where it receives instructions via Wi-Fi from the free Rachio mobile app. The app carries out customized watering schedules; when it rains, the Smart Hose Time skips the watering cycle. Learn more here: rachio.com.
Masonite M-Pwr Smart Door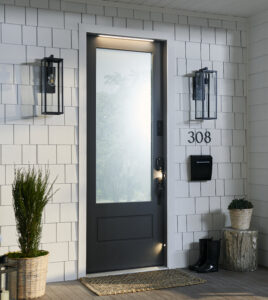 I love it when "everything is included." Masonite tapped into my mindset by developing a smart door equipped with all the appropriate technology—a Ring Video Doorbell, Yale Door Lock, and LED welcome lights. A turnkey solution, the first-of-its-kind M-Pwr Smart Door installs like any other door except that you'll need an electrician to wire it in. At first, this extra step might be a turn-off to some people, but it's actually a great benefit. The doorbell, lock, and lights are all powered via electricity, so there are no batteries to worry about. Even if the power goes out, the M-Pwr Smart Door remains operational; an emergency backup battery can sustain system power for up to 24 hours. A companion app lets you program and control the motion-activated LED lights and confirm whether the door is open or closed. Masonite made sure to combine beauty with the M-Pwr's brains. It's a premium beautifully built and designed door that comes in a variety of styles, colors, and finishes. If you're building or in the market for a new exterior door, be sure to check out the M-Pwr Smart Door at The Home Depot. Learn more here: residential.masonite.com/product/exterior-doors/smart. 
Kohler Sprig Shower Infusion System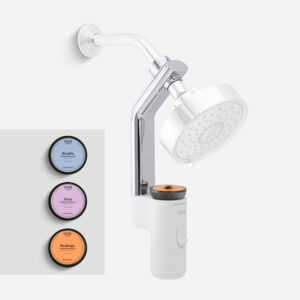 I love to treat myself to a spa day, but rarely do I have the time to indulge. The Sprig from Kohler lets anyone in need of a little pampering, to bring some of the spa experience into their homes with ease, without busting the budget or eating into a busy schedule. In the time it takes to shower, the Sprig, which retrofits onto an existing showerhead, infuses the water stream with a scent of your choice. A variety of infusion pods are available; you simply place a pod in the integrated basket, turn on the water, and breathe in. At $139, the Sprig is a small price to pay to enjoy a spa-like atmosphere every time you step into the shower. Learn more here: http://stepintosprig.com/. 
Capitalizing on New Concepts
Rachio wasn't the only manufacturer focused on trouble-free, efficient lawn maintenance at CES 2023; nor was Masonite the only company debuting technology gears toward exterior doors. Kohler, too, wasn't the only health-and-wellness game in town with its spa-like technologies. The market trends in 2023 seemed to be leaning toward security, conservation, and plumbing. For systems integrators looking to expand and broaden their offerings, these three categories would be great places to start. For brands in the CI space, CES should be on your radar as, in my opinion, it's more relevant now, than ever.
Looking Forward: The Home Tech Expo in SoCal, October 2023
As I returned home I learned that Mark Cichowski—who created and grew the popular Technology & Business Summits that CEDIA acquired in 2018—is announcing a new event designed for consumers, The Home Tech Expo, happening Friday, October 20, and Saturday, October 21, 2023, at the  ​Orange County Fairgrounds & Event Center in Southern California. While not on the same level as CES, by any means, The Home Tech Expo "will showcase real-world home technology in an in-person format that allows consumers to see, touch, and experience technology like traditional, custom integration AV as well as lighting, smart appliances, electric vehicles, wellness, outdoor entertainment, fitness tech, and more firsthand." The consumer-facing approach of this new event will certainly help bridge the gap between mainstream technology and the specialty work done in the custom installation channel. I can't wait to check it out! Learn more here: thehometechexpo.com. 
KMB Communications helps connect brands, buyers, and the media. Give us a call or drop us a line to see how we might help you get where you want to be! Email [email protected] or call (406)446-1283 to get the conversation started. 
A 25+ veteran of the residential tech & AV integration industries, Katye McGregor Bennett is the CEO of KMB Communications, a boutique communications firm that anchors the intersection of technology + design by connecting brands, buyers, and prospective audiences through creating compelling content and conversation that elevates and amplifies. In addition to co-hosting Design Uncut with Veronika Miller, Katye hosts two popular podcasts, Connecting Tech+ Design and AV Trade Talk. She is part of the DesignHounds influencer group and also serves on the NAHB Custom Technology Work Group, is a strategic advisor in the CEDIA, HTA, and AVIXA communities, a frequent contributor to Residential Systems, Connected Design and founder of the AV Yoga group.