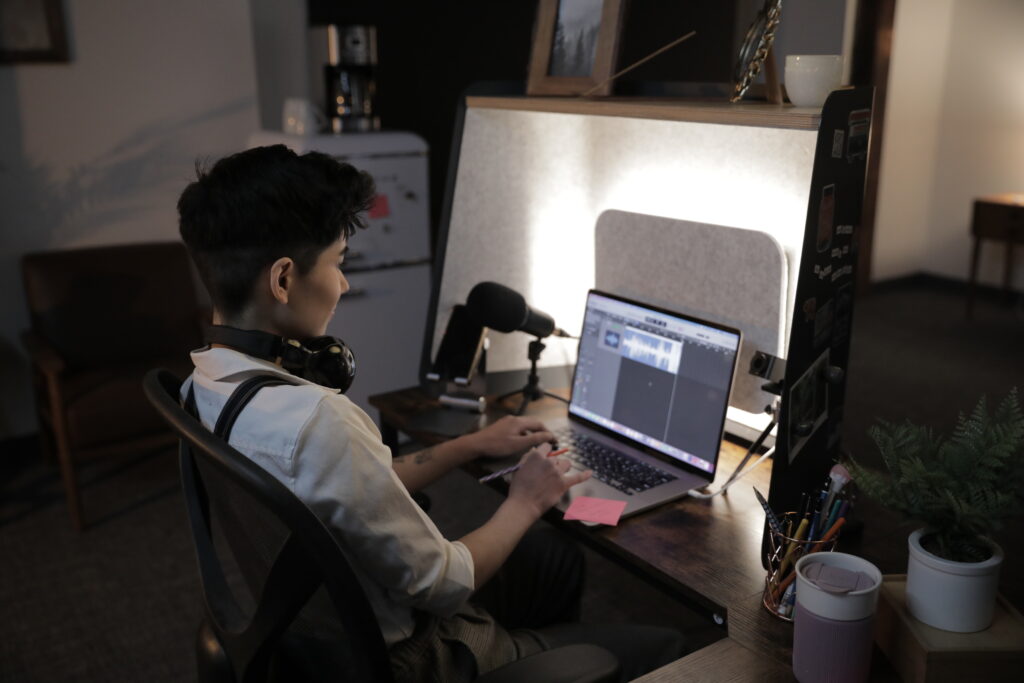 Designed to meet the demands of the modern worker, Cove by Leon helps you look, sound and feel your best at work, home or anywhere in between. With its dimmable lighting, sound-dampening technology and sleek design, Cove represents a new way to work in 2022.
[
Ann Arbor, MI
] –
May 26, 2022
– Leon Speakers announced today the launch of Cove, a revolutionary new desktop accessory that enhances the overall work experience.
For 25 years, Leon has built a reputation for developing elegant and innovative ways of integrating audio and technology through attentive design—attracting renowned clients from the iconic Muscle Shoals Sound Studio, to global Fortune 500 companies like Slack Technologies, to design-conscious clients like actor Adrian Grenier and rock enthusiast Allison Hagendorf.
"Blending design with technology is what we do here at Leon," said Leon founder and president Noah Kaplan. "So when we started seeing post-pandemic work environment changes, we felt like we could use our industry expertise and experiences as creators ourselves to take a new approach to the term 'audiovisual.' Cove's design makes marked improvements in our daily workflow, communication and the way we feel on-screen and at the end of the workday."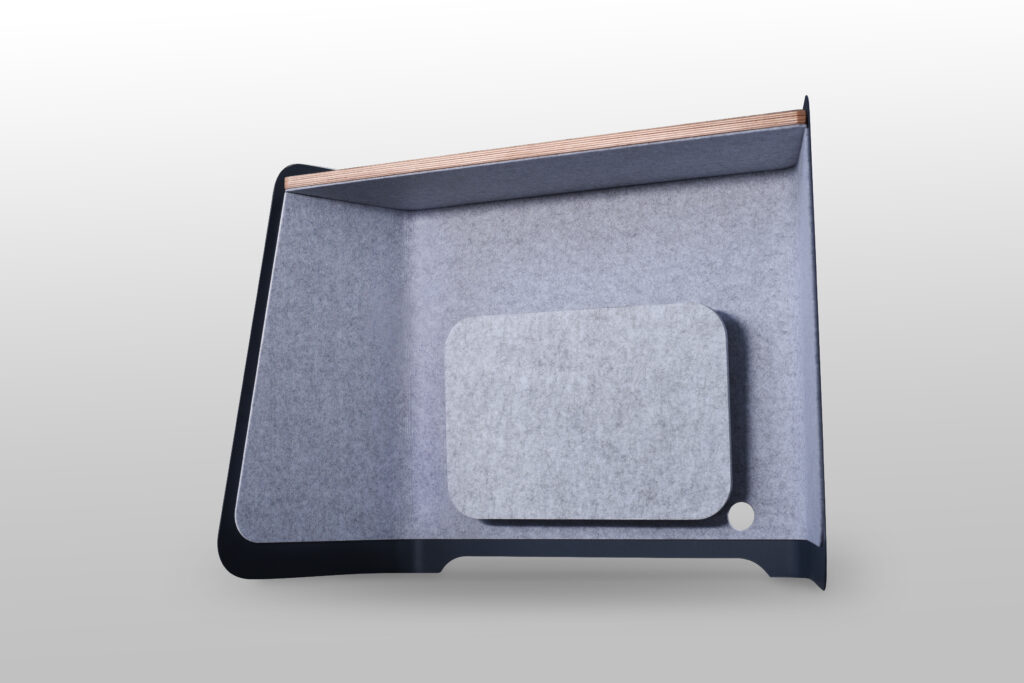 Experts estimate that by the end of 2022, 25% of all North American professional jobs will be remote—with that number continuing to increase into 2023. Though the work landscape is changing rapidly, current workplace technology desktop design has yet to catch up to many of the new demands associated with remote, hybrid and even on-site work. Cove represents a brand new solution to today's increased conferencing and screen time demands.
Cove's adjustable diffused lighting, sound-dampening felt interior and personalizable magnetic surface are meticulously designed to improve focus and privacy while reducing ambient noise and eye strain—all under the ultra-flattering glow of webcam-friendly lighting. It is built to house any tablet, laptop, or monitor up to 27 inches, including the new Apple Studio Display.
Natural LED bias backlighting by American Lighting comes with remote-adjustable color temperature and brightness, while Cove's antimicrobial recycled TURF felt interior reduces ambient noise and elevates privacy, even in a crowded room. Cove's precision-engineered steel is manufactured in the USA, and its sustainably sourced engineered Baltic Birch shelf is finished in Leon's own workshop.
Leon is partnering with longtime industry collaborators Logitech and Shure to launch Cove on the crowdfunding site, Indiegogo—offering a variety of professional conference-ready bundles, at a great value to early backers.
The Indiegogo campaign is also Leon's first foray into crowdfunding as a way to expand outside the audiovisual industry and build organic widespread interest. The Cove pre-launch campaign is expected to debut on June 6, with live ordering opening up on June 30.
Leon is guaranteeing fulfillment of all campaign packages, including a variety of steeply discounted bundles:
Content Creator Package – $695. Includes: custom-color Cove, Logitech Streamcam and Shure MV7 microphone with tripod. (Valued at $1,150)
Home Base Package – $495. Includes custom-color Cove and Logitech Brio. (Valued at $895)
Workspace Studio Package – limited early access discount of $395. Includes custom-color Cove. (Valued at $695)
Each package comes with an added bonus: a branded Leon notebook and t-shirt, valued at $45. Backers can choose their Cove's finish from one of three elegant colors: Almond, Black or Slate Gray.
For more information and to sign up for Cove updates, visit the Cove Indiegogo campaign site, titled Cove by Leon, beginning June 6.
About Leon Speakers
Leon brings a creative approach to the AV industry by designing and manufacturing customizable speakers and technology concealment solutions that enhance the sound and style of any space. For over 25 years, they have been a leader in the conversation on merging design with technology, creating innovative products that serve both the Residential and Commercial markets. Learn more on their website.
Media Contacts
Press Contact: Katye (McGregor) Bennett of KMB Communications, (425) 328-8640 or [email protected]
Company Contact: Carolyn Ceccoli, Sales & Marketing Director at Leon Speakers, (734) 926-4092 or [email protected]
###