Designed to meet the unique demands of today's hybrid workforce, Cove by Leon establishes a flattering, efficient, and productive work environment. Offering dimmable lighting, sound dampening and a modern sleek design, Cove helps you look, sound and feel your best wherever you are.
Ann Arbor, MI – January 27, 2023 – For 25 years, Leon Speakers has built a reputation for developing elegant and innovative ways of integrating audio and technology through attentive design—attracting renowned clients from the iconic Muscle Shoals Sound Studio and actor Adrian Grenier, to global Fortune 500 companies like Slack Technologies.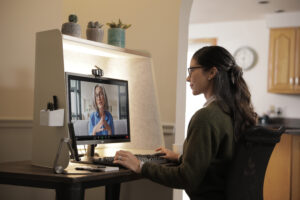 This year at ISE 2023, Leon brings a fresh perspective to its extensive line, showcasing Cove by Leon: a revolutionary new desktop accessory that increases privacy, improves focus, and creates a more professional web conferencing space for any work environment.
Cove's adjustable diffused lighting and sound-dampening felt interior are meticulously designed to improve productivity and privacy while reducing ambient noise and eye strain—all under the ultra-flattering glow of webcam-friendly lighting. Its personalizable magnetic steel surface also allows easy access to notes, calendars, and other personal items without decreasing desk space. Cove is built to house any tablet, laptop, or monitor up to 27 inches, including the new Apple Studio Display.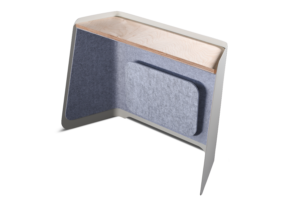 Cove can be used in myriad work environments—at home, in the office and elsewhere, giving employers and their employees a way to maintain a professional look and feel in any space. In keeping with Leon's strong roots in the arts and design, Cove looks as good as it performs, making it an ideal solution for corporations to provide to their workforce. 
The launch of Cove comes at an ideal time. New research has shown that 63% of high-growth companies have implemented hybrid work models. Whether employees are working from home, sharing office space, or utilizing a coworking environment, Cove helps businesses benefit from this trend with a professional and functional workspace solution. 
"Blending design with technology has been our passion at Leon for 25 years," says Leon founder and president Noah Kaplan. "So, when we started seeing post-pandemic work environment changes, we felt like we could use our industry expertise and experiences as creators ourselves to take a new approach to the term 'audiovisual.' Cove's design makes marked improvements in our daily workflow, communication and the way we feel on-screen and at the end of the workday."
Natural LED bias backlighting by American Lighting comes with remote-adjustable color temperature and brightness, while Cove's antimicrobial recycled TURF felt interior reduces ambient noise and elevates privacy, even in a crowded room. Cove can be purchased as a standalone desk accessory, starting at $695 MSRP, in a choice of three modern colors: Almond, Black and Slate Gray. Users can customize this base unit with their choice of technology. Or, they can equip Cove with one of Leon's technology packages: Content Creator, which includes a Logitech Streamcam Webcam and a Shure MV7 microphone and tripod, or Homebase, which comes with a Logitech Brio Ultra HD Webcam. Cove's precision-engineered steel is manufactured in the USA, and its sustainably sourced engineered Baltic Birch shelf is finished in Leon's own Michigan-based workshop.
Where to See Leon Speakers at ISE 2023
ISE 2023 attendees can see Cove as well as several other design-forward residential and commercial AV solutions from Leon at the Technology Integration Partners Stand #2K500. Additionally, systems integrators can learn more about Leon's complete portfolio of innovative AV solutions at leonspeakers.com. 
About Leon Speakers
Leon brings a creative approach to the AV industry by designing and manufacturing customizable speakers and technology concealment solutions that enhance the sound and style of any space. For 25 years, it has been a leader in the conversation on merging design with technology, creating innovative products that serve both the residential and commercial markets. Learn more at leonspeakers.com or by following @leonspeakers on social media. 
 Media Contacts
Press Contact: Katye (McGregor) Bennett
KMB Communications
(425) 328-8640
[email protected]
Company Contact: Carolyn Ceccoli
Sales & Marketing Director at Leon Speakers
(734) 926-4092
[email protected]