Two-day virtual summit, available to HTA Certified members and HTA applicants, delivers education from top industry sellers, designed to help home technology professionals crush sales. 
Santa Monica, CA (August 12, 2020) – The Home Technology Association (HTA), the first and only third-party certification for home technology installation companies, will be conducting its 'Sales Dominance Summit 2020' two-day virtual event on August 26 & 27. Some of the most successful sales leaders in the industry will deliver intensive sales panel sessions.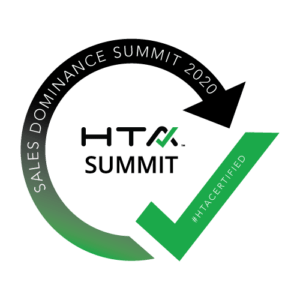 The Summit is open to all HTA Certified members and those firms who have completed their HTA Certification application as of August 24, 2020.
"We could focus on any number of things to help our HTA Certified members better their businesses, but right now, selling is the most crucial factor for most home technology firms," says Josh Christian, CEO of HTA. "Moderated by Eric Thies from DSI, these sessions will be both fun and extremely useful, empowering home tech pros with new sales techniques and strategies." 
HTA's Sales Dominance Summit 2020 Sessions include: 
August 26, 11:00-12:00 PST
CI Sales Master Class I: "Coffee Is for Closers – The Sales Beasts of the HTA"
Learn from these HTA sales masters how to sell performance and not sell from your wallet. How do these pros sell millions and millions a year? We will find out in this fast-paced one-hour session (open for Q&A after). Panelists include:
Jay Bakaler, President/Founder of Metro Eighteen Inc.—Jay is a lifelong music aficionado who is responsible for all sales, client relationship management, and the evolution of Metro Eighteen's service offerings to its customers.
Ken Johnson, Founder and CEO of Premiere Systems—Ken loves finding creative solutions for tricky problems. His company looks to build sustainable relationships with staff and customers based on a solid foundation of excellence and commitment. 
Dan Stern, President & CEO of Aurum Home Technology—Dan has been in the industry since 1995, is very design-centric, and believes technology can enhance the overall design of the home and never detract from its appearance. He deals with all customer interactions and sales associated with growing the business. 
August 27, 11:00-12:00 PM PST
CI Sales Master Class II: "East Coast Killers – The Sales Beasts of the HTA"
There is an enormous amount of sales talent in the HTA fold. We've selected three of the East's sales monsters to share how they consistently sell at the highest level. You want to sell 10M+ a year? These amazingly talented pros will show you the way. A one-hour discussion with Q&A after. Panelists include:
Al Reinhard, AHT Global Principal—Al focuses on high-end luxury sales/engineering and the operations of AHT's domestic offices.
Kim Michels, President at Electronic Environments, LTD—Kim led his company to more than $10 million in annual revenues by nurturing his team's passion for technology, maintaining high internal standards, constant education, and dependable customer service.
Tom Clancy, Executive Vice President, Audio Command Systems—Tom is a dedicated husband, father, and coach. He provides ACS with day-to-day leadership while ensuring the long-term business development and future growth of ACS' 44-year legacy. 
For more information on the 'Sales Dominance Summit 2020', email [email protected],  visit HTACertified.org, and follow the Home Technology Association (HTA) on LinkedIn, Twitter, Instagram, and Facebook.
About the Home Technology Association
The Home Technology Association (HTA) was formed to create a preeminent standard of excellence for the Custom Installation (CI) industry. HTA Certification is a rigorous-to-achieve standard that homeowners, builders, architects, and interior designers can rely on to find the very best residential technology integrators for their projects. Technology integrators who have passed the demanding 60+ point vetting process that focuses on exemplary customer service and aftercare support and a positive business reputation will be HTA Certified and recognized as part of an elite group of dedicated, highly skilled firms. The stringent criteria were developed by industry veterans, which were refined by the HTA Board of Advisors, which includes top executives from Sony, Lutron, Crestron, Control4, Savant, and more.
The mission of the Home Technology Association is to raise the bar in the CI industry by giving exceptional integrators a prestigious third-party endorsement they can use to differentiate their offering and ultimately, win more projects. Not only does this drive more business to the integration community, but it also ensures consumers have consistently great technology experiences. The result will be a dramatic transformation of the reputation and overall presence of the integration community and those who serve it. Learn more by visiting HTACertified.org and by following the Home Technology Association (HTA) on LinkedIn, Instagram, Twitter, and Facebook.
All products, product names, trademarks and registrations mentioned are the property of their respective owners, all rights reserved.
Media Contact
For interviews or media inquiries, please contact Katye (McGregor) Bennett of KMB Communications by phoning (425) 328-8640 or emailing [email protected].