The new series provides integrators with plug-and-play products that
turn audio into art—all powered by the new SONOS AMP®
[Ann Arbor, MI] – May 22, 2019 – Working in collaboration with Sonos to develop a line of lifestyle products focused around their Amp, Leon Speakers has launched a new series of products that bring the sound and style that they are known for to the Sonos platform. The Ente Series is comprised of three products: the Ente Sound Sculpture, the Ente SoundTile, and the Ente Soundbar—all featuring power by the SONOS AMP and audio by Leon.
"Our Tonecase line has been hugely popular with our dealers and the Ente Series is the next evolution of our solutions for Sonos," said Noah Kaplan, Leon's Founder and President. "Ente makes technology concealment easy for integrators, providing a design-friendly, plug-and-play solution that easily integrates into any Sonos system."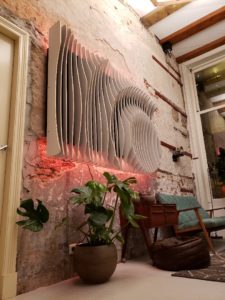 Ente Sound Sculpture
The Ente Sound Sculpture is a wall-hanging sculptural piece that brings sound, light, and form together to create a dynamic entertainment experience. Wave-like, black and white Baltic Birch panels are interspersed between audio channels, creating a one-of-a-kind statement piece that adds both performance and style to the Sonos home or office.  
Ente SoundTile
Art and audio in one, Leon's Ente SoundTile may look like a piece of art, but behind the grill is two channels of reference-grade audio and a SONOS AMP. Chosen artwork is screen-printed onto a perforated metal grill, completely concealing the technology behind it. The Ente SoundTile can be customized to suit any décor and is a great piece for the home or in commercial spaces like lobbies and reception areas.
Ente Soundbar
While it's often the goal for speakers to blend in, products like the Ente Soundbar are designed to keep the audio on display. Perfect for mounting below a TV, this Sonos-powered soundbar has a unique aesthetic that features a handcrafted Baltic Birch cabinet with exposed, raw edges and a stylized center grill.
The Ente Series is now available to order for Leon's network of dealers worldwide. Learn more about the Ente Series on Leon's website.
About Leon Speakers
Leon brings a creative approach to the AV industry by designing and manufacturing customizable speakers and technology concealment solutions that enhance the sound and style of any space. For over 20 years, they have been a leader in the conversation on merging design with technology, creating innovative products that serve both the Residential and Commercial markets. Lean more on their website.
All products, product names, trademarks and registrations mentioned are the property of their respective owners, all rights reserved.
Media Contacts
Press Contact: Katye (McGregor) Bennett of KMB Communications, (425) 328-8640 or [email protected]
Company Contact: Carolyn Ceccoli, Sales & Marketing Director at Leon Speakers, (734) 926-4092 or [email protected]