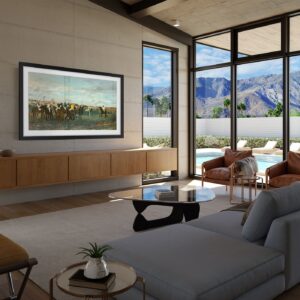 The Leon Studio Frame's contemporary profile, Sony-developed TV app, and integrated motion-and-light-sensor transform BRAVIA XR's Ultra-HD display into a work of art.
[Ann Arbor, MI] – October 10, 2023 – Leon Speakers announced today the official release of the highly anticipated new Leon Studio Frame™ for BRAVIA XR. Pre-orders for this innovative new framing solution are now open to Leon dealers, with shipping expected to begin November 2023.
In an era where design-conscious individuals seek creative ways to elevate their living spaces, the demand for integrating TVs seamlessly into home aesthetics continues to rise. The Leon Studio Frame and exclusive Sony Art Frame Gallery app come together to transform the Sony BRAVIA XR TV's breathtaking 4K HDR display into a beautifully framed work of art.
This newly unveiled Studio Frame is designed exclusively to work with the BRAVIA XR X93L Mini LED 4K Google TV in 65" and 75" class sizes, and attaches easily to the TV, presenting it as a modern piece of art. Each Studio Frame includes exclusive access to the Sony Art Frame Gallery app. Developed by Sony, the app includes a selection of 70 works of art from Sony's Alpha photography collection and The National Gallery Collection of Paintings—along with an exclusive piece by Detroit-based artist Mike Han. Users are also able to upload additional images to the app for a more personalized touch.
The BRAVIA XR's exceptional Ultra-HD resolution breathes life into each artwork, displaying them with impressive color, precision, and dimensionality, akin to a museum-quality experience. Its creative design not only discreetly conceals mounting and wiring behind the display but also incorporates passive ventilation. 
The new Studio Frame is available to order in four premium designer finishes and can be effortlessly added to new Sony BRAVIA XR X93L 65" and 75" class TV installations or retrofitted onto existing ones of the same class without the need to remove the display from the wall.
"Our team has been designing and crafting simple, stylish ways to integrate technology into the design of a room for over 25 years," says Leon founder and president Noah Kaplan. "The Studio Frame represents a new way for us to fulfill our mission of merging art with audio, and the Sony BRAVIA XR series provides the ultimate picture-perfect display to match our high-end craftsmanship and premium finish options."
Programmable through the Sony Art Frame Gallery app, the TV will automatically display the user's choice of art when powered off. In addition, Studio Frame's built-in motion-and-light sensor can power the TV down when a room is vacated and back on again upon reentry—saving energy and creating a responsive, welcoming environment.
Together, the Leon Studio Frame and Sony BRAVIA XR series offer the perfect solution for users who value art, aesthetics, top-tier display quality, and a high-end fit and finish. The Leon Studio Frame pre-order is currently available exclusively to Leon dealers. To complement the Studio Frame's artistic aesthetic, Leon will offer a soundbar with matching finish options as a part of its FrameBar series.
About Leon Speakers
Leon brings a creative approach to the AV industry by designing and manufacturing customizable speakers and technology concealment solutions that enhance the sound and style of any space. For over 25 years, they have been a leader in the conversation on merging design with technology, creating innovative products that serve both the Residential and Commercial markets. Learn more on their website. 
All products, product names, trademarks and registrations mentioned are the property of their respective owners. All rights reserved.
Media Contacts
Agency Contact:
Katye McGregor Bennett
KMB Communications
(406) 446-1283
[email protected]
Company Contact:
Carolyn Ceccoli
Sales & Marketing Director at Leon Speakers
(734) 926-4092
[email protected]