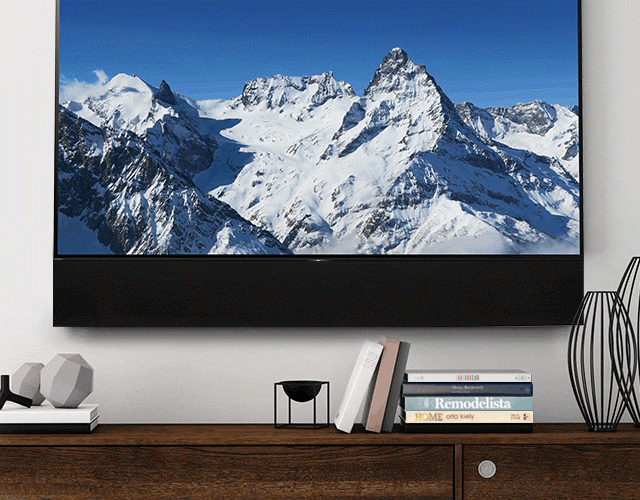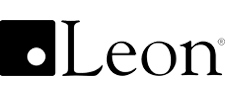 Leon's HIFIT Soundbar Conceals Small Components Like Voice Assistants, Web Cams, Smart Speakers, and More
Innovative soundbar with discreet built-in storage space offers integrators and consumers a new way to experience technology without seeing it
Ann Arbor, MI – (March 2018) – Leon Speakers, American manufacturer of handcrafted, bespoke audio and audiovisual solutions, has received significant accolades and awards for their innovative new Horizon Interactive FIT soundbar. Developed for use in both residential and commercial spaces, the patent-pending Horizon Interactive FIT is the first and only soundbar on the market that combines high-fidelity audio with internal AV storage space—all neatly concealed behind a custom grill built to match the width of the TV or screen it is connected to.
The HIFIT features two (2) 4″ woofers and two (2) 28mm tweeters which flank an internal storage area designed to house small-format AV components such as Apple TV, Amazon Echo Dot, Roku, Leon's new OTO MCA 200 amplifier, Control4 controllers, small webcams, and more. Fully customizable, HIFIT is only 2.75" deep and available in two models: HIFIT44UX to accommodate TVs up to 65" diagonal and HIFIT44UX-OS for screens up to 90" diagonal.
Leon's HIFIT makes it possible for integrators to conceal technology and create a contemporary solution especially appealing for those who want to experience technology rather than see it.
"The first time we saw the Horizon Interactive FIT, we knew we needed to get one for our showroom so we could introduce it to our dealer network. Not only is the sound quality exceptional—like all of Leon's products—but the ability to manage power cords, communication wiring, and amplification while also storing small IoT devices like Amazon Echo Dot, Ethernet switches, or your favorite integration system like RTI is so helpful to the installer. Interior designers will love it too because the grill is custom built to match the exact width of the TV, giving the install an elegant look." –Fermin Serrano, Technical Manager at Integral Home Systems (IHS) in Spain
The Horizon Interactive FIT took home a "Best of Show" award during ISE 2018, the third industry award for the HIFIT, which also won the CE Pro Best Award and the CEDIA Best of Show Award from Residential Systems at the 2017 CEDIA Expo in San Diego, California.
This award-winning solution is now shipping to Leon's network of dealers worldwide. For more information, visit www.leonspeakers.com/horizon-interactive or call 1.888.213.5015.
About Leon Speakers
Leon Speakers is an American manufacturer of custom audio and audiovisual solutions that combine art with audio and design with technology. For over 20 years, Leon's team of artists, designers, engineers, and craftsmen have been meticulously handcrafting a full palette of custom speakers and media treatments to deliver Picture Perfect Sound® to both residential and commercial spaces. Leon products are available exclusively at high-end audio/video dealers. Visit www.leonspeakers.com or call (888) 213-5015 to find dealer locations worldwide.
All products, product names, trademarks and registrations mentioned are the property of their respective owners, all rights reserved.
Media Contact
Katye (McGregor) Bennett of KMB Communications, Inc.
(425) 328-8640 or [email protected]
Company Contact
Carolyn Ceccoli, Marketing Director
(734) 926-4092 or [email protected]