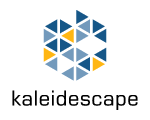 FOR IMMEDIATE RELEASE | Image Download
RAYVA Partners with Kaleidescape to Offer Dynamic, 4K Content as a Standard in Turnkey Home Cinema Packages
Kaleidescape joins RAYVA's prestigious list of manufacturing partners, bringing tens of thousands of cinematic movies, concerts, and documentaries, into homes with a RAYVA theater

New York, NY (June 2017) RAYVA, the world's first exclusive provider of complete, consummate home theaters delivered to the luxury builders' market and their customers' on time, within budget, and to specification, has added Kaleidescape, designer and manufacturer of movie players and servers that deliver an unparalleled cinematic experience to the home, to its extensive and growing list of manufacturing partners. Under the terms of the agreement, Kaleidescape movie players and servers will now be offered as a standard in all RAYVA's turnkey, pre-engineered home theater packages.
RAYVA's Extensive, Customizable Design Library Offers Options For Any Space
RAYVA's home theaters are based on a number of customizable templates and design themes created by world renowned home theater designer Theo Kalomirakis, the recipient of CEDIA's prestigious Lifetime Achievement Award and winner of 10 CEDIA Best Home Theater awards. RAYVA's templates allow consumers to choose from a library of available design themes, which can be applied to a variety of room sizes. Theo Kalomirakis is currently working with a number of talented designers and other artists in the U.S. and abroad to create additional themes for RAYVA's design library.
Content Remains Key to the Home Theater Experience
RAYVA theaters are pre-engineered with best-in-class components from world-class brands, and are designed to entertain and enrich the lives of RAYVA customers. From the beginning, RAYVA's founders understood that content would be key to ensuring the success of the home theaters, enabling customers to use the purpose-built private cinemas as the primary screen in their home, and visiting the room again and again to enjoy sports, documentaries, concerts, and of course, classic and new movies, including recent theatrical releases.
Kaleidescape's broad range of products. combined with the highest fidelity movie store, enables the RAYVA team to complete its mission and vision, bringing friends and families together for the ultimate entertainment experience. "We knew that the perfect partner, the company that would make RAYVA theaters complete, was Kaleidescape. When it comes to bringing movies, concerts, and documentaries to the home, Kaleidescape stands alone," says RAYVA President George Walter. "The quality of the product, the ease of use, and the patented user interface all fit perfectly within the RAYVA concept."
Content Delivery Choices to Fit Every RAYVA Theater Package and Price Point
Like RAYVA theater packages, Kaleidescape products come with a variety of features, at different price points and performance levels. RAYVA will offer multiple Kaleidescape solutions in its customizable, pre-engineered home theater packages, including the award-winning Kaleidescape Strato movie player to complement the premiere 4K Ultra HD display solutions available in top-level and upgraded packages.
Thousands of Movie and TV Selections, Many in 4K Ultra HD
Through the Kaleidescape Movie Store, customers can easily purchase and download classic movies, television shows, and early releases, many in a choice of true HD or true 4K Ultra HD, all with the best picture quality and audio fidelity available for the home, in many cases rivaling commercial movie theaters. The Kaleidescape Strato plays movies in true 4K Ultra HD at up to 60 frames per second. Strato supports lossless audio formats: Dolby TrueHD (including losslessly encoded object-based Dolby Atmos), DTS-HD Master Audio, DTS:X, and PCM. The Strato onscreen user interface is displayed in 4K Ultra HD, at 60 frames per second, resulting in fluid animation and a stunning visual impact in RAYVA home theaters.
Access Favorite Content with a Click for a Seamless Experience
Kaleidescape also offers easy playback of customer's existing DVD or Blu-ray Disc movies through an M-Class movie player or a Disc Vault.  The exclusive Kaleidescape Movie Guide provides cover art, synopses, and details like actors, directors, genres, ratings, and instant access to favorite scenes. Concert songs are indexed for easy access.
Theater designer and RAYVA partner Theo Kalomirakis has embraced the concept of digital delivery and is delighted to now be able to offer this option to RAYVA customers. "I used to have walls and walls of DVDs lining my apartment, stretching from floor to ceiling. Accessing favorite old movies was a chore I did only infrequently. Through the Kaleidescape server, I can now re-visit favorite worlds with a few clicks and be transported to magical movie landscapes in seconds. Kaleidescape helps makes the home theater movie experience even more seamless, intuitive, and convenient."
Recognizable Brands Support RAYVA's Reputation of Excellence
Kaleidescape is equally excited to join the list of prestigious manufacturers offered in RAYVA theater packages."Kaleidescape's vision is to deliver the most cinematic experience in the comfort of your home," said Cheena Srinivasan, Kaleidescape founder and CEO. "RAYVA theaters are assembled with the world's finest products to produce a cinematic experience, just as the directors had intended the audience to experience."
Just as important to RAYVA dealers, the presence of Kaleidescape' products and services in RAYVA theaters will encourage increased word-of-mouth referrals and sales opportunities. "When our customers experience watching their favorite movies from the Kaleidescape system in a RAYVA theater, they will want to share the experience with all their friends," adds Walter. "You will find a lot of exciting things in a RAYVA theater, but rarely an empty seat."
For interviews, editorial appointments, or media tours, please contact Katye (McGregor) Bennett of KMB Communications, Inc. by phoning (425) 328-8640 or emailing [email protected]
About RAYVA
RAYVA, the world's first exclusive provider of curated, complete, and consummate home theater experiences for the CEDIA community, the luxury builders' market, and their customers, seeks to reignite consumers' passion for home theater by reimagining the category. With Theo Kalomirakis-curated designs and all-inclusive, custom home theater solutions, RAYVA removes the barriers of complexity and the unknown to bring an exceptional technology experience into homes and bring families closer together through the magic of movies. Learn more at www.rayva.com.
All products, product names, trademarks and registrations mentioned herein are the property of their respective owners, all rights reserved.
Media Contact
Katye (McGregor) Bennett | KMB Communications, Inc.
(425) 328-8640 | [email protected] | www.kmbcomm.com
# # #