High-performance, high-design turnkey Rayva theater provides benefits to integrators, homeowners, designers, and architects.
LAS VEGAS, NV and NEW YORK, NY (January 9, 2018) — Rayva announced today that it has received the coveted 2019 TechHome Mark of Excellence Award, Video Product of the Year, for its Origami turnkey home theater. A flagship design in Rayva's lineup, the Rayva Origami turnkey home theater features sleek triangular acoustics backlit with customizable LED lighting and is fully personalizable so as to appeal to each client's tastes.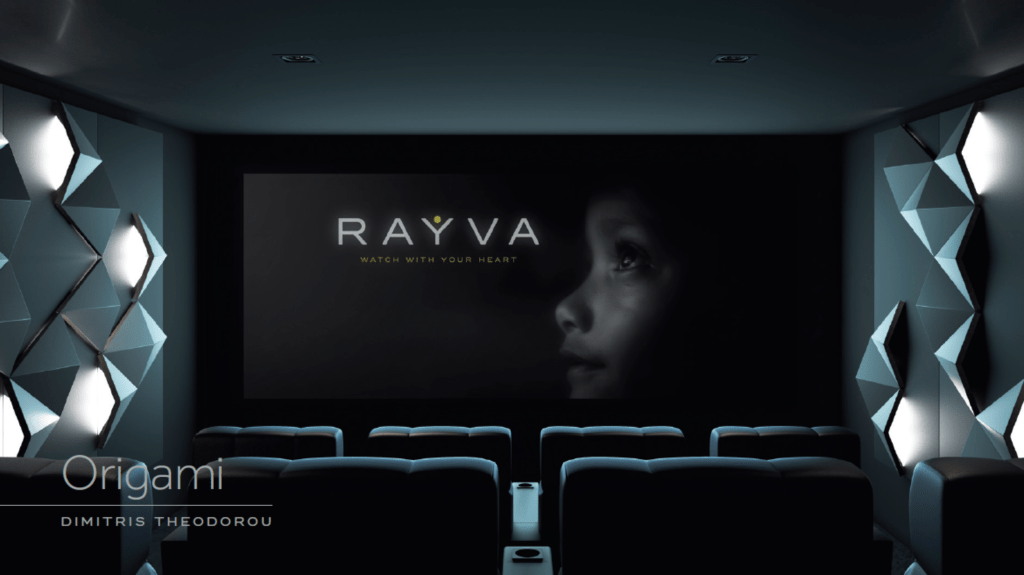 Rayva is the world's first, all-inclusive, home theater product. Rayva enables dealers to sell a Rayva Home Theater as a finished product and goes much beyond the all too typical project-based home theater that's always created from scratch. Rayva home theaters are sold through dealers and have huge profit opportunities for interior designers and architects. Homeowners experience the highest performance levels and great value from Rayva Home Theaters, with assured service.
By simplifying the sales process through the Rayva Configurator™ and designs like Origami, Rayva is changing the way integrators think of home theaters, approaching private cinema as a manufacturer would approach a product. Thereby making it easy to sell and install rather than a project fraught with complications and delays. Due to Rayva's innovation in the way they design, install, and sell home theaters, homeowners benefit from exquisite designs and the simplicity of the installation process. Integrators not only differentiate themselves through their offering but are able to maximize profits while reducing complications and time on site. Meanwhile, architects and interior designers are able to offer their clients — through an authorized Rayva dealer — turnkey Rayva rooms that are high design, high performance, and headache-free.
"Rayva set out to change the way the home theater experience is sold and installed, to make it easier end-to-end to incorporate technology and design into a cohesive, compelling, and immersive space to enjoy movies, music, gaming, and more," says Rayva President George Walter. "We are honored to win the 2019 TechHome Mark of Excellence Award, Video Product of the Year and congratulate all who were recognized with a TecHome Mark of Excellence Award this year."
Rayva accepted the TechHome Mark of Excellence Award at CES 2019's TechHome Mark of Excellence Awards reception. As a winner of Video Product of the Year, Rayva Origami turnkey home theater will be featured in the March 2019 edition of CE Pro magazine and cepro.com, as well as the official CTA website, CTA.tech.
About Rayva
Rayva is the world's first provider of complete, turnkey, engineered, home theaters of exceptional quality and performance.  Limited edition designs by world-renowned artists curated by Theo Kalomirakis are unique to Rayva.  These designs, engineering, and acoustics make Rayva home theaters easy for integrators and home technology professionals to sell and install. Rayva's fully personalized solutions remove the barriers of complexity and the unknown to create an exceptional experience that brings families closer together through the magic of movies, sports, concerts, and video games.  Learn more at www.rayva.com and follow @RayvaTheaters or @RayvaHomeTheaters on Instagram, Twitter, Facebook, and LinkedIn to stay up to date on the Company and its offering.