Integrators appreciate the ability to specify equipment they know and trust to deliver turnkey Rayva theaters while Interior Designers applaud Rayva's unique approach to home entertainment rooms
NEW YORK, NY (November 1, 2018) —By way of compelling demonstrations and one-on-one time with the Rayva team, AV integrators and interior designers are seeing firsthand how Rayva—a supplier of engineered and fully personalizable turnkey home entertainment solutions—makes home theater simple with its new offering and simplified approach to the category.
Rayva Turnkey Theaters — An entirely new approach to home entertainment
One of the more notable aspects of Rayva's new offering is that the company now allows dealers to specify the gear used in a Rayva theater to be from brands they know and trust. These products are then paired with Rayva's custom curated interior designs, acoustical packages, and engineering documentation to complete the package. Dealers determine the installation price and execute the project. Rayva's team is available throughout the process to help dealers sell and support Rayva solutions.
'BYOG' makes it easy for integrators to offer, install, and support Rayva Theaters
Dealers now have the freedom to select the products they know and trust to integrate into a Rayva system, so long as they are within the performance requirements of the selected Rayva package. Rayva affectionately calls this their 'Bring Your Own Gear' (BYOG) approach, which gives dealers the flexibility they need to deliver expected performance, maintain valuable relationships with suppliers while making it simple to deliver a premium experience to their customers.
"Rayva's concept is so simple," says Steve Stary of Brilliant AV. The model they've created and the addition of BYOG makes it easy for integrators like Brilliant AV to get back into the home theater category but in such a way as to present a product to our customers and not a convoluted, time-consuming, and expensive project. It's a straightforward approach that just simply works. To be honest, our firm just wasn't selling home theaters until Rayva came along."
Combining technology, art, and design
Rayva combines state-of-the-art technology with Executive Director Theo Kalomirakis' curated line of proprietary interiors, acoustic specifications, and engineering and design accessories. With 12 designs now available and more being developed, dealers can easily provide clients with performance packages that meet their needs and interiors that meet their style.
An enlightening addition to the Rayva offering, the new Light Edge interior features modular acoustical panels with inlaid LED lighting that can be changed to suit the mood or decor and which eliminates light scatter l around the room. Rayva dealers have the unique ability to capitalize on this, especially given lighting has become a leading trend in both the AV and design industries. Light Edge joins the complete lineup of Rayva theaters like Shapes, Movement, Origami, Pulse, Soundscapes, and more, all available as out-of-the-box solutions that are ready to rock in any residence.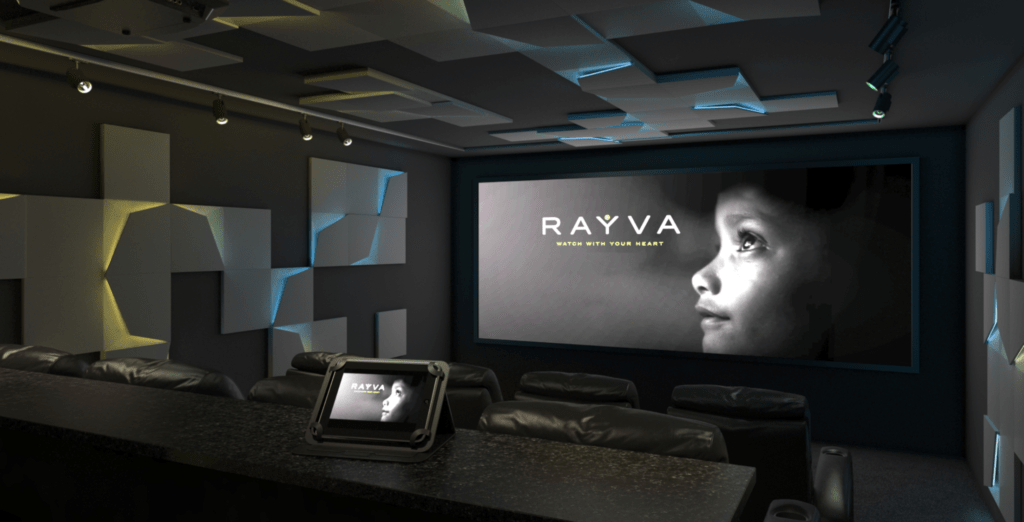 "Family movie night is big in our world," says Toni Sabatino of New York-based interior design firm, Toni Sabatino Style. "As Rayva demonstrates, now, a home theater can be hidden in plain sight, integrated into your family room, or anywhere you want to show off all your cool AV gear."
Equally impressive are Rayva's acoustical treatments, which are both modular and truly plug-and-play. Integrators simply order their Rayva theater using the company's new online Configurator tool, which makes it easy to select and specify any of the available designs that easily meet a range of needs and budget. An intuitive step-by-step process that takes all of 3 minutes to navigate, the Rayva Configurator utilizes CEDIA industry standards for acoustics and optimal viewing criteria to optimize seating and establish the appropriate screen size for the chosen space. Once approved by the client, dealers simply order their Rayva theater and prepare the space, sourcing gear they want to order directly from their vendors. The different aspects of the theater Rayva supplies for each project are delivered in kits to the job site where installed with out-of-the-box ease, offering a fast, easy solution that is both repeatable and profitable.
Reinforcing the value of relationships and partnerships Rayva is working closely with Origin Acoustics, Barco Residential, Stewart Filmscreen, Josh.ai, Kaleidescape, Fortress Seating, Audio Control, and other fine brands to deliver a truly memorable entertainment experience.
"Together, Rayva and its AV partners make home theater far more simple and fun for dealers to sell and support," concludes Stary.
About Rayva
Rayva is the world's first provider of complete, turnkey, engineered, home theaters of exceptional quality and performance. Limited edition designs by world-renowned artists curated by Theo Kalomirakis are unique to Rayva home theaters. These designs, engineering, and acoustics make Rayva home theaters easy for integrators and home technology professionals to sell and install. Rayva's customizable home theater solutions remove the barriers of complexity and the unknown to create an exceptional experience that brings families closer together through the magic of movies, sports, concerts, and video games. Learn more at www.rayva.com and follow @RayvaTheaters, @RayvaHomeTheater or @RayvaHomeTheaters on Twitter, Facebook, Instagram, and LinkedIn to stay up to date on the Company and its offering.