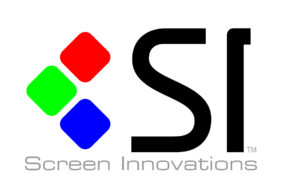 Adding DT's masking screens to Screen Innovations' projection screen portfolio streamlines the installation and deployment of multiway masking screen systems for systems integrators.
AUSTIN, TX (August 24, 2023) — Devoted to driving more unique business to its dealers, Screen Innovations (SI) has signed an agreement with Display Technologies (DT) to add DT's revolutionary motorized masking solutions to SI's broad range of projection screens. Through this agreement, SI offers its dealers a faster, easier way to deploy large-scale multiway motorized masking screens into home and business environments. 
This combined offering is a new approach for SI, which prides itself on providing innovative, functional, stylish, and fun products. Adding innovative motorized masking solutions from DT instantly adds the ideal screens for high-end cinemas to that mix.
DT's proprietary Mask Position Logic (MPL) system is a crucial differentiator to all other masking solutions. MPL simplifies the setup of masking tremendously by employing an internal network of peripherals that accurately measure the physical position of each mask. The controller, which is factory set with the screen size and mask layout, then uses this position data to drive the masks to the correct location for the requested aspect ratio. 
The precisely required aspect ratio is requested via RS232 or IP commands without the overly complex and time-consuming programming typically required by dealers to configure masking presets and then align them with the projector or video processor.
In addition to DT's revolutionary MPL system, dealers can specify Dynamic screens with the company's ATRef and ATPro knitted image surfaces. SI dealers can now order this new range of products via SI's design team. Just as it does with other products in the SI line, the SI design team guides integrators through the selection and ordering process to ensure the right optics and masking per the parameters of the project.  
"SI has been at the forefront of the projection screen category for decades. We do that by challenging conventional thinking and looking for ways to bring better solutions to market like we are doing now with the combined SI + DT offering," says SI founder Ryan Gustafson. "The ease of installation for dealers and the performance of the product are unrivaled, and we're confident our dealers will enjoy and appreciate this new lineup." 
"We are thrilled that SI identified the unique characteristics of our Dynamic masking screens as an ideal complement to their existing range of solutions," says Simon Ridley, Technical Director at Display Technologies. "We believe that two innovative companies working together can positively impact all of our partners."
SI Brand Ambassador Blake Vackar adds, "This marks an exciting chapter for SI and DT as we combine our expertise to provide cutting-edge motorized masking screen solutions to our valued customers. Integrators will love the seamless process of specifying, ordering, and installing DT products via SI."
See Screen Innovations' New Masking Solutions from Display Technologies at CEDIA Expo 2023
CEDIA Expo attendees can see SI's projection screen solutions and motorized window shades in booth #1832. To learn more about SI's growing range of shade and screen solutions and power and control technologies, please visit www.screeninnovations.com.
About Screen Innovations
Innovative shades & projection screens, making life beautiful, convenient & fun
Dedicated to developing the most innovative and design-forward projection screens, window coverings, and outdoor shading and screen solutions for home and corporate environments, Screen Innovations engineers and hand-builds every product it sells in its 75,000-square-foot factory in Austin, Texas. Always putting the customer first, SI listens, learns, and delivers a wide variety of design-forward products, services, and online tools. Committed to doing its part to limit the company's impact on the environment, SI follows LEAN manufacturing principles and monitors production processes closely to minimize waste wherever possible. For more information about SI please visit screeninnovations.com and follow the company on social media platforms Facebook @screen innovations, Twitter @SIScreens, Instagram @siscreens, and LinkedIn screen-innovations.
Media Contact
For interviews, reviews, or more information please contact Katye (McGregor) Bennett of KMB Communications by phoning (425) 328-8640 or emailing [email protected].