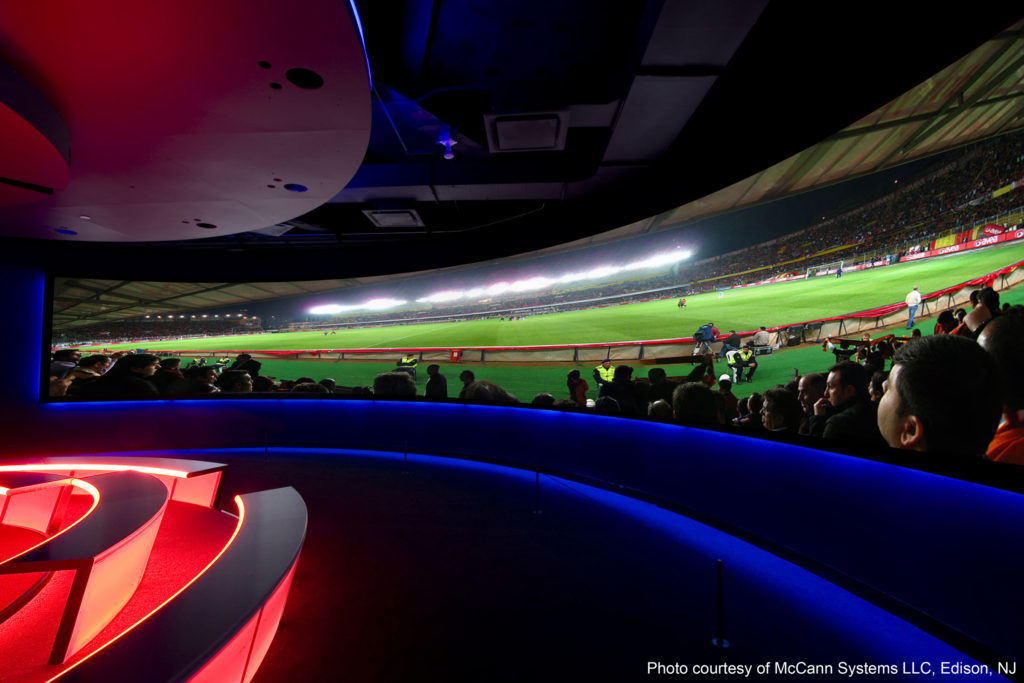 From the highly differentiated Phantom HALR to the value-oriented Cima, Stewart Filmscreen leads the market with completely custom, giant seamless screens for every application at InfoComm 2018
Torrance, CA (May 2018) — Manufacturing completely custom, seamless, high-performance screens for over 70 years, Stewart Filmscreen delivers more than any other supplier. Seamless sizes up to 40-feet high and 90-feet wide are easy to accomplish, as are screens with up to 16K+ resolution, in nearly every configuration imaginable. A demonstration of what's possible with projection, InfoComm 2018 attendees will get to see Stewart's lineup and explore opportunities to exceed their client's vision in booth C2528 within the Las Vegas Convention Center from June 6 – 8, 2018.
The only two-time Academy Award® winning manufacturer of projection screens and projection screen materials for the AV industry, Stewart Filmscreen can facilitate nearly any project, no matter how large or complex. From the award-winning Phantom HALR to the revolutionary FIDELEDY Vision, Stewart's products help elevate the audiovisual experience in virtually any commercial venue, from theaters and performance halls to conference rooms, educational facilities, houses of worship, retail outlets, and more.
InfoComm 2018 demonstrations and displays will include the following:
Phantom HALR Crushes Light, Produces Incredible Imagery in Challenging Spaces
Stewart Filmscreen Phantom HALR high ambient light rejecting screen is the only flexible, rollable, and acoustically transparent-capable black screen available in giant seamless sizes up to 40-feet high and 90-feet wide. This HDR- and UHD-ready screen delivers an image that meets ANSI standard industry contrast ratio specifications even in rooms with more than 50-foot candles shining directly on the screen. Proven to outperform in real-world applications where light comes at the screen from all angles, Phantom HALR combats multi-directional light with a scientifically proven approach that ensures the audience gets the best image uniformity and integrity in the brightest of environments. Phantom HALR also features the widest viewing cone and best off-axis viewing of any screen in the category.  

Large-Venue Torrent Handles Images Up to 17-Feet Diagonal!
Torrent delivers the "wow" in applications where an extra large screen is crucial for visibility and to enhance the overall AV experience. This large-venue ceiling-mounted ElectriScreen accommodates screens up to 17-feet diagonal. It uses a reinforced roller system to handle traditional aspect ratios as well as custom sizes, with a generous amount of black drop material above the image to center it perfectly, even in venues with high ceilings. With a self-finishing ceiling-flange, it's incredibly easy to install. Installers can remove the dust plate to access the roller system and control connections during installation, then clip it back into place for a clean, slotted appearance. Torrent's innovative design requires just 9-1/4" clearance above the ceiling, permitting it to fit more applications than previous models. Available with virtually all Stewart's flexible front- and rear-projection materials, Torrent creates new possibilities for screen placement in a variety of venues.

Cascade ElectriScreen Fits Where Other Ceiling Mounted Screens Can't
Stewart's Cascade ElectriScreen is a recessed, ceiling-mounted electric roller screen capable of an image of 14-feet wide that's ideal for ceiling-challenged spaces such as corporate high-rise buildings, educational facilities, and houses of worship. Its case requires only 8-inches of clearance above the ceiling, allowing it to fit more applications and take up less space than competing large venue screen systems. The design features a self-finishing ceiling flange for clean lines, and the dust plate cover removes easily for total access to the roller system and control connections during installation, clipping easily back into place for a clean, slotted appearance. Like Torrent, Cascade uses a reinforced roller system with extra black drop above the image area, is HDR- / UHD-ready, and comes in virtually any of Stewart screen materials.

FIDELEDY Vision Improves Contrast and Eliminates Moiré in Video Walls
Stewart Filmscreen's FIDELEDY Vision is designed to improve image fidelity in LED video wall applications. This award-winning diffusion material brings picture-perfect imagery to indoor, high-ambient light applications, including digital signage, indoor attractions, retail outlets, and broadcast applications. FIDELEDY Vision reduces transmission levels, improves contrast ratios, and eliminates moiré for powerfully uniform image fidelity. Delivering an extremely flat spectral response curve on and off axis, FIDELEDY Vision maintains color accuracy for the most accurate image. Its low-gloss surface characteristics reject glare from adjacent surfaces for greater visibility.

Cima Line Brings Delivers Legendary Quality and Performance for Any Budget
Ideal for boardrooms, classrooms, houses of worship and other applications where multiple screens are necessary but budgets may be limited, Cima delivers the durability, image quality, and aesthetics characteristic of all Stewart Filmscreen products. Designed and manufactured in the U.S. by Stewart, Cima ElectriScreens feature quiet electric motors and finely machined roller tubes to provide years of dependable operation, reducing total cost of ownership. The high-grade, extruded aluminum case elegantly supports the screen system and its inner components, protecting it from dust, dirt, and other environmental factors that can shorten the life of a projection screen system. Above- and below-ceiling models are available in standard sizes from 100 to 164 inches diagonal.

For interviews or media tours please contact Katye (McGregor) Bennett of KMB Communications, Inc. by phoning (425) 328-8640 or emailing [email protected].
About Stewart Filmscreen®
Stewart Filmscreen Corporation is the premier manufacturer of professional projection screens since 1947. Headquartered in Torrance, California, with additional manufacturing facilities in Ohio and Singapore, Stewart Filmscreen is the preferred choice for major movie studios, discerning integrators and consultants, architects, and audio-video enthusiasts, alike. With unparalleled ISO 9001:2015 manufacturing capabilities and unrivaled image fidelity, two-time Academy Award® winning Stewart Filmscreen produces the most optically immaculate projection screens for the most demanding customers in the world. Utilizing proprietary material science, innovative manufacturing methods, along with a solutions-driven design team, Stewart can custom engineer a projection screen solution to meet nearly every need.
Simply put, if a screen can be imagined, Stewart Filmscreen can deliver it.