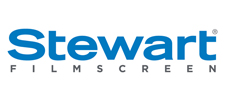 InfoComm Booth #3121
FOR IMMEDIATE RELEASE | Image Download
Stewart Filmscreen and Pufferfish Showcase Interactive Multi-Touch Spherical Displays During InfoComm 2017
Exciting Next-Generation, high-resolution display technology demonstrations exemplify the specialized capabilities of Stewart Filmscreen and Pufferfish
TORRANCE, CA, and ORLANDO, FL—June 9, 2017 – Stewart Filmscreen®, the only two-time Academy Award®-winning manufacturer of projection screens, projection screen materials, and specialty optical coatings will showcase Pufferfish® PufferSphere® interactive multi-touch spherical displays during InfoComm 2017 in booth #3121 at the Orange County Convention Center in Orlando, June 14-16, 2017. Pufferfish specializes in spherical projection systems using proprietary optical coatings developed by Stewart Filmscreen.
Stewart Filmscreen and Pufferfish Challenge Flat Technology
The result of extensive research and development between Stewart Filmscreen and Pufferfish, PufferSpheres challenge flat panel display technology by opening up a world of possibilities for better communication, engagement, and interaction. This fascinating next generation technology combines extraordinary form, magnetic appeal, and unique interactivity, expanding the potential for engagement across a range of applications including use in museums and attractions, education & research, events, marketing or science communications, data visualization and other tactile applications.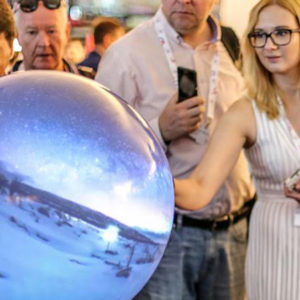 Pufferfish's spherical and dome displays combine sophisticated software with proprietary rear projection technology to create a dynamic, eye-catching and intuitive multi-touch solution that offers an exciting and interactive way to find and display information. Hardball acrylic PufferSpheres are available in 24-72 inch in diameter while the inflatable PufferSphere Pro large format display is available up to an impressive 140 inches in diameter.
During InfoComm, a 24-inch PufferSphere powered by a high-resolution Norxe P1 solid-state LED projector will demonstrate the vast capabilities and tremendous flexibility of Stewart Filmscreen optical coating materials. A second wall-mounted PufferDome® will provide InfoComm attendees with the chance to explore a sample of Stewart Filmscreen's most creative projects using on-sphere touch on the intuitive, 24-inch dome display.
A History of Innovation and Excellence
It takes a commitment to excellence and outstanding innovation to think beyond flat and curved screen materials to create spherical, interactive display solutions. The right formulation of optical coating is required to maintain image uniformity across the screen, regardless of projector placement, viewing angles, or ambient light.
"We partnered with Stewart Filmscreen because they are the only manufacturer that can provide the high-quality specialty optical coatings our PufferSphere products require. With the highest resolution capabilities available and superior image fidelity, Stewart Filmscreen helps bring our spherical, interactive, multi-touch displays to life," says Angus MacFadyen from Pufferfish. "Stewart Filmscreen's attention-to-detail is second-to-none, and the fact that their products are made in the U.S.A. to the highest quality standards means we don't have to compromise on our commitment to deliver extraordinary solutions, from concept development, through realization, installation, and beyond."
"For 70 years, Stewart Filmscreen has been changing what's possible in the world of display technology. Specialty capabilities like PufferSphere multi-touch interactive spherical displays are just one example of how our unique manufacturing processes and proprietary formulations enable custom solutions for virtually any application," says Stewart Filmscreen CEO Shannon Townley. "The proof is here in our booth and our longstanding partnership with Pufferfish. We invite InfoComm attendees to imagine the possibilities for their next display project. Or, as we like to say at Stewart, Imagine It. Done."
To see and learn more about Stewart Filmscreen's line-up of Next Generation, 16K+ commercial projection screen solutions, visit booth #3121 during InfoComm 2017. Attendees are also invited to celebrate Stewart Filmscreen's 70 years of Innovation during a hosted cocktail party being held in booth #3121 Thursday, from 3–5 PM.
For reviews, interviews, or media tours, please contact Katye (McGregor) Bennett of KMB Communications, Inc. by phoning (425) 328-8640 or emailing [email protected].
About Stewart Filmscreen®
Stewart Filmscreen Corporation is the premier manufacturer of professional projection screens since 1947. Headquartered in Torrance, California, with additional manufacturing facilities in Ohio and Singapore, Stewart Filmscreen is the preferred choice for major movie studios, discerning integrators and consultants, architects, and audio video enthusiasts, alike. With unparalleled ISO 9001:2008 manufacturing capabilities, and unrivaled image fidelity, two-time Academy Award®-winning Stewart Filmscreen produces the most optically immaculate projection screens for the most demanding customers in the world. Utilizing proprietary material science, innovative manufacturing methods, along with a solutions-driven design team, Stewart can custom engineer a projection screen solution to meet nearly every need. Simply put, if a screen can be imagined, Stewart Filmscreen can deliver it. Learn more at www.stewartfilmscreen.com or by following Stewart Filmscreen on Twitter and Facebook.
About Pufferfish®
At Pufferfish, we challenge flat technology by opening up a world of possibilities for better communication, engagement, and interaction with the captivating PufferSphere®. Our turnkey services allow you to offer your clients extraordinary solutions. Using our technology alongside the knowledge, skill and creative talent of our team, our approach is designed to ensure your solution always delivers, from concept development, through to realization, installation and beyond. Learn more by visiting pufferfishdisplays.com/.
All products, product names, trademarks and registrations mentioned herein are the property of their respective owners, all rights reserved.
Media Contact
Katye (McGregor) Bennett | KMB Communications, Inc.
(425) 328-8640 | [email protected] | www.kmbcomm.com
# # #