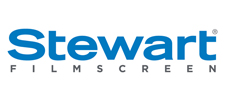 Stewart Filmscreen's New Gemini Dual Projection Screen System Chosen For Acoustic Evolution Showroom
The difference is night and day when two projection screens are combined in one system
TORRANCE, CA (December 7, 2017) Stewart Filmscreen®— the only two-time Academy Award®-winning manufacturer of professional projection screens and reference standard, projection screen materials for the audiovisual industry, not only debuted an impressive new dual-roller projection screen system called Gemini™ during CEDIA 2017, but also celebrated the first installation of its award-winning product at the Acoustic Evolution showroom in San Diego. Featuring Stewart's reference standard StudioTek or SnoMatte screen materials and Phantom HALR™ high ambient light rejection screen material on two separate rollers, the Gemini screen system features a contemporary new case designed to accommodate dual aspect ratios for both HDTV (16:9) and CinemaScope (2:35:1) viewing experiences. Delivering a true big screen experience, Gemini can accommodate Phantom HALR screens up to 156-inches diagonal and StudioTek or SnoMatte screens up to 196-inches diagonal.
Gemini Plays a Starring Role in Dealer Showroom
Home technology professionals recognize the opportunity Gemini represents and say it's the solution they've been looking for because it provides a simplified and superior approach to delivering a best-in-class entertainment experience, day or night. As such, Gemini was specified and installed in the San Diego showroom of Stewart Filmscreen dealer Acoustic Evolution, where it is the showroom centerpiece. Paired with a Barco Balder Cinemascope projector, the Gemini system uses a 16:9 aspect ratio Phantom HALR screen for daytime viewing, and StudioTek 100 screen in 2.35 widescreen format for nighttime movie watching.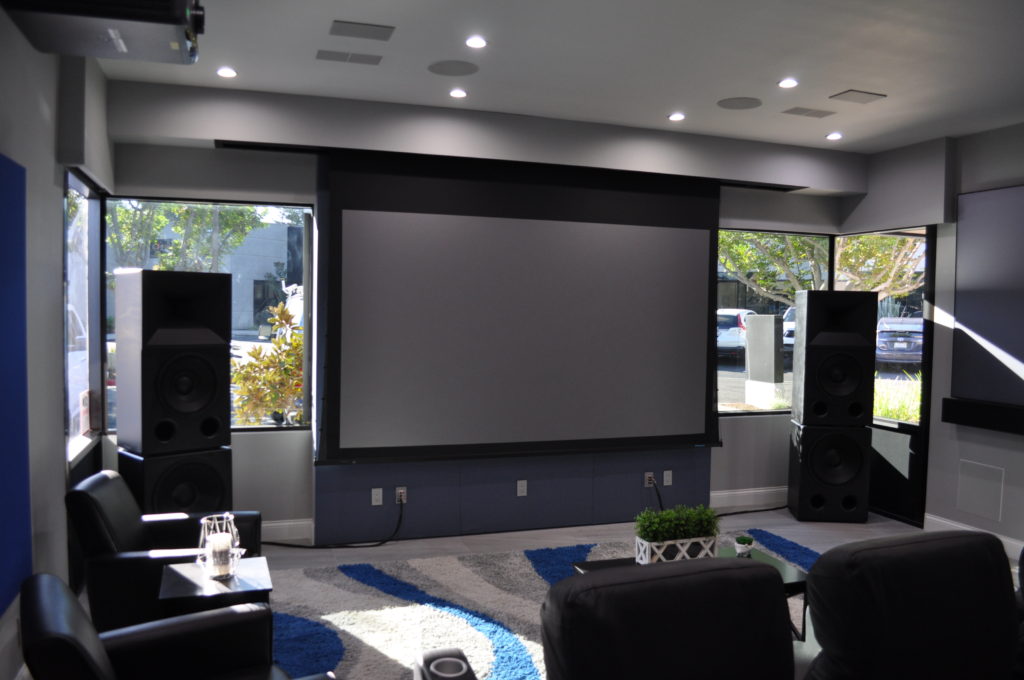 "Media rooms and open space plans are all the rage today, and Gemini gives me the capability to show large-format video, along with the ability to watch movies in these areas," says Allen Tremble of Acoustic Evolution. "Being motorized makes the system especially appealing. It's there when you need it and rolls up, out of the way, when not in use. Now you see it, now you don't," Tremble adds. "It's also an easy install, thanks to Gemini's well-designed enclosure that simply drops into a framed hole."
Recognizing it as a unique, problem-solving solution, AVS Forums awarded Gemini a Best of CEDIA Award.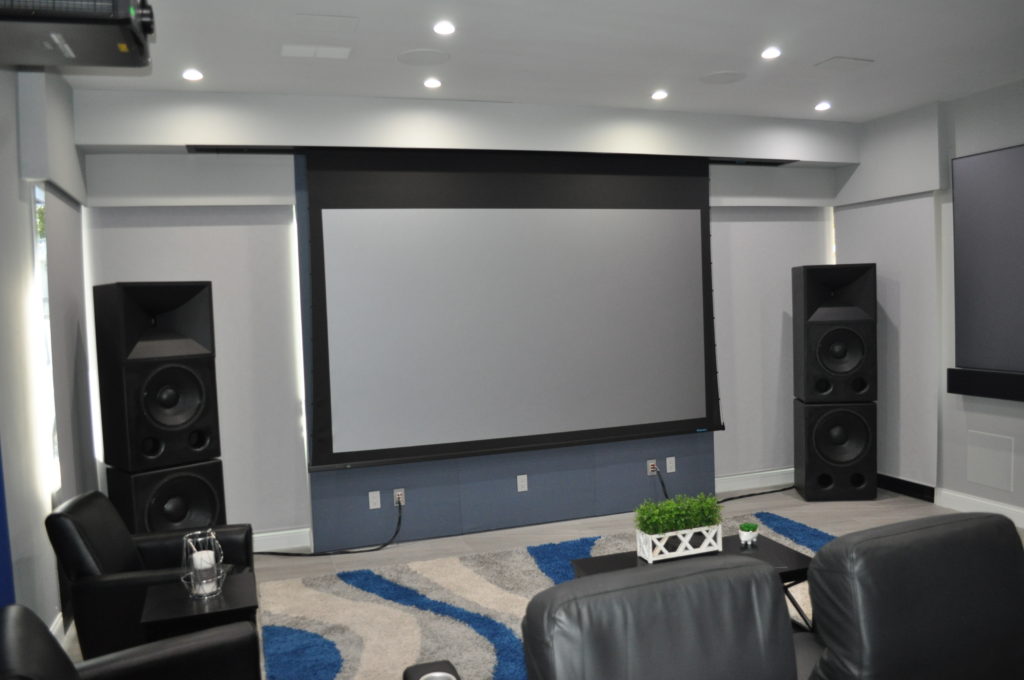 Best of Both Worlds Viewing Capabilities Simplify Sales
For integrators, the introduction of Gemini presents a new opportunity to easily and effectively sell two-piece projection systems. The necessity to explain aspect ratios, content formats, and the effects of ambient light on the overall viewing experience, coupled with the necessary question "which screen material should we use?" often presents recurring challenges that complicate the sales process. Gemini solves this problem.
Because Gemini offers a screen system that provides "best of both worlds" viewing, it doesn't matter if the customer wants to watch news or sports during the day, and movies at night. With dual screen materials and aspect ratios, Gemini means consumers no longer have to choose a single screen type to fit their viewing preference. Now, they can have it all in one projection screen system.
Stewart Filmscreen Balόn™ Borderless Also Earned Accolades at CEDIA 2017
The Gemini system shared the CEDIA spotlight with another Stewart Filmscreen innovation making its residential debut. Balόn™ Borderless, a new fixed frame projection screen, provides a contemporary, "floating image" appearance throughout the home or in dedicated theaters took home a 2017 CE Pro BEST Award in the Projection Screen category. Judges selected products based on various criteria including innovation, functionality, competitive advantages, as well as benefits to the end user and the integrator. Balόn™ Borderless also earned a Residential Systems Best of Show award, which honors outstanding products and solutions exhibited at CEDIA 2017.
Multiple award wins and enthusiastic dealer response for Stewart Filmscreen's latest solutions stand as a testament to the company's incredible innovation and engineering expertise. As Stewart celebrates its 70th year and the Next Generation of people, products, and technological advancements in screen design, the company encourages integrators and consumers to consider what's possible with two-piece projection and Stewart's timeless offerings.
About Stewart Filmscreen®
Stewart Filmscreen Corporation is the premier manufacturer of professional projection screens since 1947. Headquartered in Torrance, California, with additional manufacturing facilities in Ohio and Singapore, Stewart Filmscreen is the preferred choice for major movie studios, discerning integrators and consultants, architects, and audio-video enthusiasts alike. With unparalleled ISO 9001:2015 manufacturing capabilities, and unrivaled image fidelity, two-time Academy Award-winning Stewart Filmscreen produces the most optically immaculate projection screens for the most demanding customers in the world. Utilizing proprietary material science, innovative manufacturing methods, along with a solutions-driven design team, Stewart can custom engineer a projection screen solution to meet nearly every need.
Simply put, if a screen can be imagined, Stewart Filmscreen can deliver it.
All products, product names, trademarks and registrations mentioned are the property of their respective owners, all rights reserved.
Media Contact
For interviews or media tours, please contact Katye (McGregor) Bennett of KMB Communications, Inc. by phoning (425) 328-8640 or emailing [email protected].