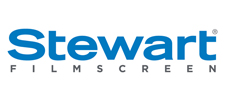 FOR IMMEDIATE RELEASE
ISE Stand #1-F41
Stewart Filmscreen Showcases Next Generation Line-up of Large Venue Projection Screens at ISE 2017
Delivering the largest seamless projection screens available, Stewart Filmscreen offers the most versatile and highest quality solutions for any application
Torrance, CA, and Amsterdam, Netherlands – January 23, 2017– Stewart Filmscreen®, the AV industry's only two-time Academy Award® winning manufacturer of high performance projection screens, will showcase several new products including the new Phantom™ HALR™ High Ambient Light Rejecting 16K+ screen material, at Integrated Systems Europe 2017 stand #1-F41, in the Amsterdam RAI, Netherlands.
Showing a broad range of custom solutions, which includes the large-venue Torrent™ ElectriScreen in an industry-leading 16 foot 10 inches image width (5.131 meters), Stewart Filmscreen will demonstrate how selecting the right screen material and framing system for each project enables creativity and empowers integrators to deliver the best image possible for any application imaginable.
Torrent™ ElectriScreen Boasts Bigger-Than-Ever Screen Size
The new large-venue Torrent is perfect for commercial and residential applications where a big screen is crucial for visibility and to enhance the "wow" factor in any space. Easy to install, with a self-finishing ceiling flange and the screen control system located inside the case for clean lines, the Torrent ElectriScreen can be outfitted with any of Stewart's flexible front- and rear-projection screen materials (except Silver 3D), including the new Phantom HALR.
Stealth® XM: Incredible Image, Invisible When Not In Use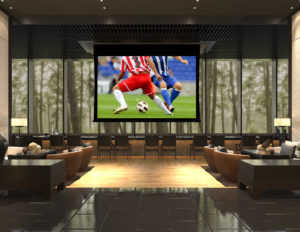 The new Stealth XM screen was designed for large-scale applications where the screen must be completely concealed when not in use. Thanks to a new roller tube design, the Stealth XM is now available in image widths up to 13 foot 4 inches (4.064 meters), significantly wider than previous trapdoor ElectriScreen designs.
The Next Generation Is 16K+, Future-Proof and Ready to Raise Standards
The Stewart Filmscreen team, which includes new CEO and President, Shannon Townley, enters ISE 2017 with a strong message of the company's Academy Award-winning legacy and bright future.
"Heading into 2017, Stewart Filmscreen maintains its standing as the only manufacturer with off-the-shelf and custom solutions engineered to the highest quality—each screen is hand-manufactured with expert craftsmanship in our California and Ohio factories," says Shannon Townley, Stewart Filmscreen CEO and President. "From chemical composition to final delivery, we own the entire process, which results in the best possible solution for every application imaginable."
In addition, Stewart Filmscreen is the only manufacturer to boast screen materials that are capable of accommodating 16K+ resolution—and have been since 1947. "Integration professionals around the world don't have to worry about keeping pace with increasing resolution demands. Stewart Filmscreen products have been 16K+ compatible since 1947 and easily able to accommodate technology advances now and in the foreseeable future," concludes Townley.
To see Stewart Filmscreen's line-up of next generation, 16K+ screen materials and projection screen solutions, visit stand #1-F41 in the Amsterdam RAI, Netherlands, February 7 – 10, 2017.
For reviews, interviews, editorial appointments, or media tours, please contact Katye (McGregor) Bennett of KMB Communications, Inc. by phoning (425) 328-8640 or emailing [email protected]
About Stewart Filmscreen
Stewart Filmscreen Corporation is the premier manufacturer of professional projection screens since 1947. Headquartered in Torrance, California, with additional manufacturing facilities in Ohio and Singapore, Stewart Filmscreen is the preferred choice for major movie studios, discerning integrators and consultants, architects, and audio video enthusiasts, alike. With unparalleled ISO 9001:2008 manufacturing capabilities, and unrivaled image fidelity, two-time Academy Award winning Stewart Filmscreen produces the most optically immaculate projection screens for the most demanding customers in the world. Utilizing proprietary material science, innovative manufacturing methods, along with a solutions-driven design team, Stewart can custom engineer a projection screen solution to meet nearly every need. Simply put, if a screen can be imagined, Stewart Filmscreen can deliver it.   
Learn more at www.stewartfilmscreen.com or by following @StewartFilm on Twitter.
All products, product names, trademarks and registrations mentioned herein are the property of their respective owners, all rights reserved.
Media Contact
Katye (McGregor) Bennett | KMB Communications, Inc.
(425) 328-8640 | [email protected] | www.kmbcomm.com |
KMB Facebook | KMB Google+ | KMB LinkedIn | KMB Twitter
# # #