PowerBlock units are small in stature but offer significantly improved AV performance and protection at an affordable price
Toronto, ON, Canada (May 6, 2019) Torus Power, maker of uncompromising, clean, isolation transformer-based power components for AV systems, announces that the PowerBlock PB 5 toroidal isolation transformer is shipping now.

Featuring a compact footprint and rugged construction, the PB 5 is designed to power TVs, projectors, receivers, and source components in compact AV systems. Ideal for isolating digital components from analog equipment, the PB 5 is perfect for residential and light commercial applications where performance truly matters.

The PowerBlock Series, including the PB 5, includes some of the very best of Torus Power technology. Surge suppression and noise filtering through proprietary narrow bandwidth technology (NBT) allow sophisticated audio-visual components to deliver superior performance. Audio comes alive with a lower noise floor, better dynamics, imaging and bass, and video is notably crisper with brighter colors, deeper blacks, and a more compelling overall image.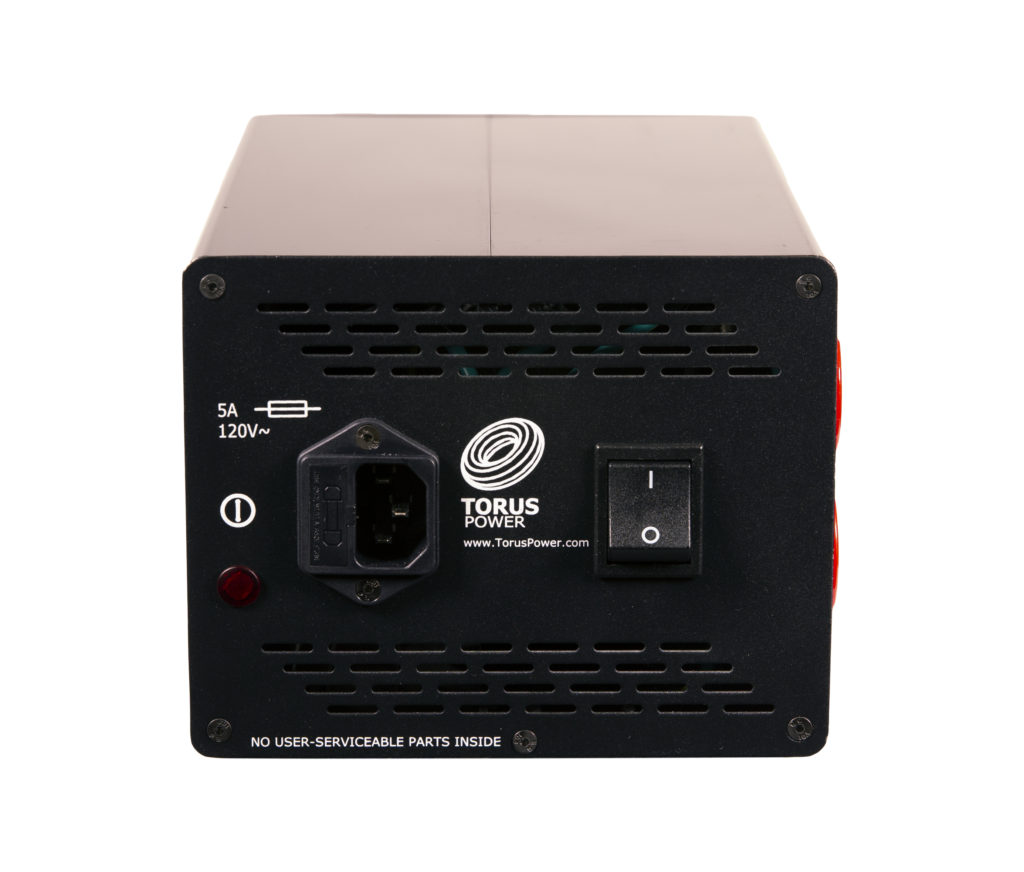 PB 5 PowerBlock units use a 5 Amp toroidal isolation transformer to physically decouple the equipment from the power supply, delivering a lower noise floor and cleaner power for sophisticated AV systems. The resulting performance benefits are noticeable, compelling, and appealing.

Retailing for $799.00 (USD), the PowerBlock PB 5 is the most affordable product in the Torus Power lineup. An ultra-compact and portable toroidal isolation power transformer, the PB 5's compact footprint and rugged construction make it convenient for use in almost any situation. It looks sharp on or near a component shelf, or on any floor surface. It can also be located in a nearby equipment rack or closet if space is at a premium.

The PB 5's bigger brother, the PowerBlock PB 10, will be available soon. The PowerBlock PB 10 isolates outlet pairs to separate source components from power components or switching power supplies from linear power supplies for a cleaner signal, resulting in an enhanced audio video experience. PB 10 models are designed for 60 Hz markets using 120V and boast a small footprint weighing just 35 lbs, making them easy to fit in residential or commercial systems.
"The PowerBlock Series by Torus Power has been anxiously anticipated by our partners and consumers alike, and we're excited to announce that it's now available. The proliferation of higher performance technology in a variety of applications means that clients require perfection from their equipment investment," says Kevin Main, COO and President of Torus Power. "A solid power foundation that is completely isolated from the power supply provides tangible and noticeable improvements in the audio and video quality in any application, from home theaters and recording studios to conference rooms and large performance venues."

About Torus Power
Toroidal isolation power transformers by Torus Power are the world's finest clean power source for audio, video, and control systems. Dramatically increasing performance levels of connected AV components from video displays to amplifiers and powered speakers, Torus Power products utilize Plitron Manufacturing's patented NBT technologies and medical-grade toroidal isolation transformers to eliminate virtually all power-line noise artifacts and protect equipment from potentially damaging AC power line events while increasing system reliability and extending product life. Torus Power products deliver higher levels of instantaneous current which ensures that dynamic components and high-performance systems are never compromised, nor starved for power.
Built to rigorous specifications under Plitron Manufacturing's ISO 9001 quality control system in Toronto, Canada, Torus Power's toroidal transformers—the heart of the Torus Power product line—utilize similar technologies as those found in leading AV amplifiers as well as in industrial, medical, broadcast, telecommunications, IT, power conditioning, and energy management applications. For additional information visit www.toruspower.com and follow Torus Power on Twitter and Facebook.

All products, product names, trademarks and registrations mentioned are the property of their respective owners, all rights reserved.

Media Contact
For interviews or reviews please contact Katye (McGregor) Bennett of KMB Communications, Inc. by phoning (425) 328-8640 or emailing [email protected].