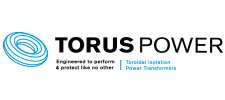 For Immediate Release
CEDIA Booth #1305
 Torus Power Showcasing AVR2 Automatic Voltage Regulating Toroidal Isolation Transformers at CEDIA 2016
Integration professionals and end users observe significant AV system performance improvements when implementing Torus Power products
Toronto, ON, Canada and Dallas, TX —Sept. 12, 2016 – Torus Power, maker of uncompromising, clean, isolation transformer-based power components, announced it will showcase its Automatic Voltage Regulation series models for international audiences at CEDIA 2016. Torus Power's toroidal isolation transformers are used in high-performance residential, commercial, and professional applications and significantly improve the quality and performance of electronic systems installations large and small. Providing a proprietary and highly compelling offering with a collective feature set available only in the Torus Power lineup, Integrators touring CEDIA should take time to view the Torus Power products on display in booth #1305.
The benefits of using isolation transformers are both tangible and significant. Components connected to Torus Power isolation transformers are protected from damaging electrical events and are fed a consistent supply of isolated, clean, and robust power, which enables optimal performance. Completely customizable, Torus Power products are available in the continental United States, with International versions also available for use in Continental Europe, UK, Asia, and Australia. The lineup meets both IEC and Neutrik standards, and shelf, rack and wall mount configurations are available throughout the line for added versatility. Most models can be custom specified to perfectly suit nearly any application.
The AVR2 Series Takes Center Stage at CEDIA
Utilizing Plitron's toroidal isolation transformers to provide high instantaneous power and protect connected equipment from electrical fluctuations and surges, Torus Power's AVR2 series is designed for large-scale custom installations such as professional studios, critical listening environments, home theatres, and other high performance applications. The AVR2 series boasts isolation from the main electrical grid, Series Mode surge suppression, and features enhanced Ethernet (IP) control and monitoring functionality in addition to automatic voltage regulation and remote reboots, automated scheduling options, and individually addressable outlet zones (up to 5 individual zones in 15 Amp and 20 Amp models, and up to 8 individual zones in 60 and 100 Amp models). Wall mounted versions allow for greater flexibility in projects with dedicated wiring.
Torus Power is a Crestron Integrated Partner and a member of Savant's Partner in Excellence Program, which enables seamless integration across platforms. Ihiji has also brought the Torus Power family of isolation transformers to its Invision remote network management software, giving integrators and installers much more control to power cycle (remote reboot) and control settings on Torus Power products.
To experience the Torus Power difference firsthand or learn more, visit the Torus Power team in booth #1305, during CEDIA 2016. For more information about Torus Power, visit www.toruspower.com and follow Torus Power on Twitter @TorusPower and Facebook.
For media tours, contact Katye (McGregor) Bennett of KMB Communications, Inc. by email [email protected], phone (425) 328-8640 (mobile), or direct message @KMB_Comm.
About Torus Power
Toroidal isolation power transformers by Torus Power are the world's finest clean power source for audio, video, and control systems. Dramatically increasing performance levels of connected AV components from video displays to amplifiers and powered speakers, Torus Power products utilize Plitron Manufacturing's patented NBT technologies and medical-grade toroidal isolation transformers to eliminate virtually all power-line noise artifacts and protect equipment from potentially damaging AC power line events, while increasing system reliability and extending product life. Torus Power products deliver higher levels of instantaneous current which ensures that dynamic components and high performance systems are never compromised, nor starved for power.
Built to rigorous specifications under Plitron Manufacturing's ISO 9001 quality control system in Toronto, Canada, Torus Power's toroidal transformers—the heart of the Torus Power product line—utilize similar technologies as those found in leading AV amplifiers as well as in industrial, medical, broadcast, telecommunications, IT, power conditioning, and energy management applications. For additional information visit www.toruspower.com and follow Torus Power on Twitter and Facebook.
All products, product names, trademarks and registered trademarks mentioned herein are the property of their respective owners, all rights reserved.
Media contact
Katye (McGregor) Bennett | KMB Communications, Inc.
(425) 328-8640 | [email protected] | www.kmbcomm.com |
KMB Facebook | KMB Google+ | KMB LinkedIn | KMB Twitter
# # #